Ecommerce is a rapidly growing industry -- in fact, online sales grew at almost four times the rate of total retail sales in 2018 and accounted for over half of the retail industry's growth.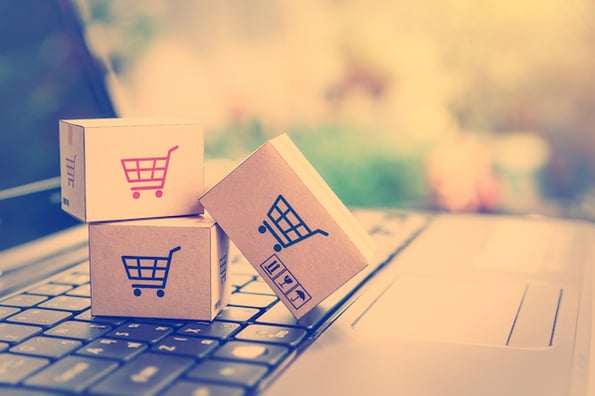 As demand for ecommerce increases, so does the number of software tools and platforms designed to help businesses capture leads, generate revenue, and grow. Finding and using effective ecommerce platforms can help your organization tap into the more than $500 billion consumers spent online last year.
If you're shopping around for the best application to support your ecommerce business, you might be overwhelmed by the number of tools to choose from in 2020.
For example, some platforms are specialized for specific functions like building a website or analyzing traffic, while others integrate multiple components into a one-stop shop. Many have also developed ecommerce mobile apps that allow you to manage your online store right from your phone
Here, we're going to show you some of our favorite ecommerce software for 2020, and help you decide which ones can help your organization grow better.
Best ecommerce software
Shopify
BigCommerce
WooCommerce
Magneto
Squarespace
Wix
Google Analytics
Looker
Online Point-of-Sale
Spotify is one of the most widely recognized ecommerce platforms due to its comprehensive tool bundling and usability. Its easy-to-use software allows customers to create an intuitive online store, even if they have no technical experience.
The point-of-sale web hosting platform offers a suite of tools for businesses to sell their products -- including branding, selling, and order management. Shopify helps its customers jumpstart their business with custom logos, names, and web domains before helping to scale their business by selling and marketing products on major sites like Facebook, Amazon, and Pinterest. Shopify is a comprehensive toolkit to help businesses do everything from building brand presence to payments and shipping.
Image courtesy of Shopify.
Pricing: A basic account is $29 per month, and advanced is $299 per month.
BigCommerce is another online interface designed to help customers sell and grow their businesses through a website builder, customizable checkout processes, and SEO support.
The platforms offers inventory tracking and Amazon integration for ease of selling. BigCommerce also offers other integrations -- Google Shopping, Mailchimp, and Instagram Shopping, to name a few -- to reach your target audiences where they are.
No matter your coding experience, BigCommerce supports ready-made templates that can be tweaked as necessary. Known for its fast processing speed, BigCommerce is especially useful for new companies looking to demonstrate their brand as reliable and speedy.
Image courtesy of BigCommerce.
Pricing: Standard is $29.95 per month, Plus version is $79.95 per month, and Pro is $249.95 per month. Alternatively, you can ask for a custom Enterprise quote.
If you use WordPress, you've likely heard the name WooCommerce. They are the most popular ecommerce WordPress plugin — and they have the highest usage among ecommerce software online with over 28% market share.
WooCommerce is unique in that it's not an all-in-one solution like Shopify or BigCommerce. You first need to use WordPress before integrating WooCommerce. And while the free app adds ecommerce functionality to your store, you may need to install other integrations (some free and some not) to accomplish your other goals.
For instance, the free HubSpot for WooCommerce integration adds abandoned cart, marketing automation, reporting, and other marketing tools that aren't directly built into WooCommerce. Other integrations include Shipstation, Google Analytics, and Stripe.
Image courtesy of WooCommerce.
Pricing: WooCommerce is free to install, but adding extensions to your store can cost money. While many extensions are free, others range up to $300 per installation.
Magento Commerce, which is owned by Adobe, is a platform that is highly customizable, engaging, and secure. They offer products including order management, business intelligence, and a marketplace to help scale your business.
Magento offers software for small, mid-market, and enterprise businesses, but works especially well for larger clients. Its cloud-based services affords the platform greater flexibility and agility.
Additionally, Magento has unique solutions based on organization size, need, and industry to support your specific ecommerce goals. For example, their 'Magento for Fashion eCommerce' platform focuses on creating a dazzling mobile experience and targeting buying options, primarily meeting the needs of retail stores.
Image courtesy of Magento.
Pricing: Ask for a quote.
Website
Squarespace is best known for its sleek and easy-to-use web page builder. The software is a leader of website design and offers drag-and-drop templates. Users can either customize their site or use Squarespace's ready-made designs. Best of all, the tool guides businesses through SEO best practices and domain strategies to boost page awareness and brand recognition.
Organizations can now also build email campaigns through Squarespace, connect with consumers through social media integrations, and track visitor behavior. Squarespace helps entrepreneurs, artists, restaurants, and a variety of other customers create a beautiful and professional online display.
Image courtesy of Squarespace.
Pricing: $12 per month for personal, or $18 per month for business. Alternatively, you can use the Online Store for $26 per month for Basic, or $40 per month for Advanced.
Wix is a super simple website builder that offers features for small online businesses. Choose from over 500 sleek templates or build custom web applications from scratch with Corvid by Wix, their serverless, hassle-free coding integration. Incorporate a blog, galleries, personalized SEO, and a custom domain to make an attractive and effective website.
Wix has ecommerce functionality and an intuitive interface for a reasonable price. It's more effective for smaller business, but it's difficult to scale up for larger businesses since it lacks multiple sales channels and other, more complex features.
Image courtesy of Wix.
Pricing: $23 per month for Basic, $27 per month for Unlimited, $49 per month for VIP, or $500 per month for Enterprise.
Analytics
Google Analytics is a primary source of web analytics. The service tracks data relating to a business's website, traffic, and user interactions. Google Analytics offers comprehensive reports and detailed dashboards to help businesses better understand the behavior of visitors and conversions.
For instance, the tool might help you better understand from which social or website sources your leads are finding your landing pages, or which blog posts convert the most visitors. If you're looking to maintain, visualize, and implement large amounts of data, Google Analytics might be a good fit for your business. However, it can be daunting if you only need to keep track of a few insights, in which case, a simpler analytics tool might be more useful.
Image courtesy of Google Analytics.
Pricing: Free for the basic analytics tool. For Analytics 360, ask for a quote.
Looker is a data modeling platform that offers powerful analytics features to display business intelligence metrics on an intuitive dashboard. The software provides industry-specific insights through SQL that can inform your business decisions. For ecommerce users, Looker provides big data on how web page traffic influences conversions and how to identify trends that might boost brand performance. Through data visualization, embedded analytics, and sleek customized dashboards, Looker can help you effectively grow your business.
Image courtesy of Looker.
Pricing: Ask for a quote.
If you're interested in growing your ecommerce website or scaling your business, check out HubSpot's Free Inbound Marketing Software. The platform integrates an arsenal of tools that tracks a lead's lifecycle as they transform from prospect to delighted customer. Capture, track, and analyze leads to drive conversions -- all for free.