This morning, I woke up to this email from Glossier in my inbox: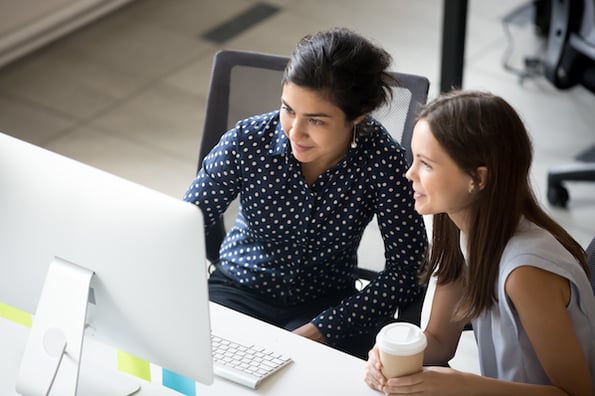 After clicking on the email, I checked Glossier's Instagram and saw the same promotion, plus customer comments raving about the products, which convinced me to purchase.
Ultimately, if done correctly, email and social can work together to drive leads and build brand loyalty with your target audience.
While you've likely felt email marketing and social media marketing are at opposing ends of the marketing spectrum, they can undoubtedly work together to benefit your next marketing campaign.
Here, we're going to take a look at how social media and email marketing are great separately, and integrating the two can transcend your marketing strategy to new heights.
Social Media Marketing
Social media marketing is the act of promoting content on social media channels, including Twitter, Instagram, Facebook, and YouTube. Content should be tailored to the specifications of each channel to boost lead generation and increase brand awareness.
The marketing should also meet the needs of the audience on that medium. For example, you'll want to have high-quality visuals for Instagram and keep the captions short -- inversely, on LinkedIn, storytelling is the way to go.
One benefit of social media marketing in a digital-forward society is that 3.2 billion people around the globe use social media. The challenge? Social media organic reach is getting harder to come by. For example, the amount of people using Facebook to search for new brands is down 11%; not the best odds.
While social media marketers can't rely on organic reach anymore, it's still a viable avenue compared to email marketing. Social channels allow businesses to engage with customers directly, thus building brand loyalty.
Fun, engaging content, like live videos and in-app ecommerce options, are channel-specific perks of social media marketing. For instance, technology company Dell used social media to promote their new laptop during "National Coffee Day", a social media-inspired holiday.
Email Marketing
Now that we've explored how important social media marketing is, what about those emails I scroll through every morning?
Since I willingly signed up to receive emails from these businesses, I'm genuinely interested in newsletters and other promotional materials from these brands -- additionally, these brands are able to cultivate a sense of loyalty through email marketing by providing personalized, useful content to my inbox each day.,
Email marketing is the process of leading prospects down the sales funnel by sending marketing materials directly to those who've subscribed to that content. For example, a fan of Adobe might sign up for their newsletters to catch promotional offers as they arrive.
3.8 billion people are like me -- starting their day by checking their email. Plus, 60% of that three billion prefer to receive marketing materials through email.
Why email marketing? For starters, it leads to sales. Two-thirds of customers make purchases as a direct result of email marketing. And, with a 4400% ROI, that's a pretty sweet deal. That means for every $1 spent, you can expect a $44 return.
At this point, you're probably juggling how to use both of these methods to maximize the benefit of your campaigning. Don't worry -- we'll cover that, next.
How to Integrate Social Media and Email Marketing
As a brand, you don't have to just Tweet out your email link in hopes that your followers will sign up. There are engaging, eye-catching methods you can use to integrate both marketing strategies in ways that will delight your customers.
Email Marketing vs. Social Media
Social media marketing attracts new potential customers and gives a definition to your brand. Email marketing focuses on loyal consumers and strengthens those relationships. These positive can work hand-in-hand to provide A+ marketing to your audience.
By including social media profile links in your marketing emails, you can give subscribers new opportunities to engage with your brand, and your content.
Email promotion should entice readers to check out more about your products, like this email I received from Hootsuite. The links to the company's social pages invite subscribers to check them out and connect with them there.
This tactic is easy to accomplish with HubSpot's free email marketing software. At the bottom of every email, include a Connect with us on social media section with hyperlinked logos to your favorite social media channels.
A holistic approach to digital marketing incorporates both social media and email marketing to reach your customers in a creative and memorable way. Believe it or not, the two rival methods work very well together.
Take this example from Residential Communications Network (RCN). To prepare for a tropical storm, RCN sends emails to their subscribers and lets them know how social will keep them in the know -- Liking the page on Facebook will provide alerts and updates, and Twitter facilitates minute-by-minute updates.
It's Friday! That means #Netflix just added a bunch of new movies and shows. Take 30 seconds to sign up for our weekly All Things Netflix email newsletter to find out what to stream (and what to skip): https://t.co/hvRBmI7KIf pic.twitter.com/x5w6dwWQOf

— Decider (@decider) October 4, 2019
Decider's tweet to sign up for the email newsletter gives followers the heads up about the content they'll receive after signing up, boosting newsletter sign-ups and building a relationship with the customer.
Instagram reminding you to check your email? If you're a Birchbox Ace user, absolutely. The subscription box company uses their social channel to market to subscribers and potential customers. If I were following Birchbox but was on the fence about signing up, this post on Instagram might implore me to see the special offers customers receive.
Brands can integrate both social media and email marketing to elevate their engagement. The next time you scroll through your email promotions, think about how your audience can receive similar content from your social as well.