Since its launch in 2004, Facebook has been the leader of social media innovation and change. We've seen Facebook change the way we talk, text, share, and connect around the world.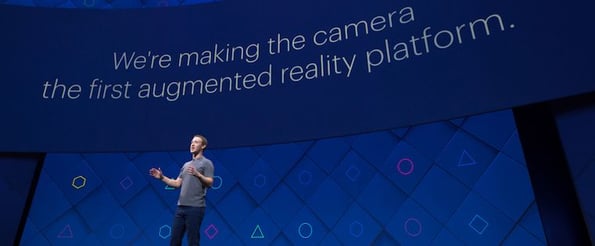 Today, Facebook is no longer an option for marketers. Globally, almost 2 billion people use Facebook, and more than 1 billion people use Messenger. What's more, over 1 billion users log onto Facebook every day. People go to Facebook for news and content consumption more than ever, and they use Facebook to connect with brands and publishers, as well as their friends and family.
Simply put, if you're not using Facebook for advertising, video marketing, and content sharing, you're behind the curve.
Each year since 2007, Facebook has hosted Facebook F8, its annual Developers Conference. This event is when Facebook typically announces new products and innovations marketers and developers can use to connect in different ways. In this post, we've rounded up some of the biggest announcements from F8 2017 and major themes marketers should pay attention to as Facebook continues to evolve.
What is F8?
F8 is the Facebook Developers Conference. F8 2017 was held on Tuesday, April 18th and Wednesday, April 19th, and it included numerous announcements about new products, new features, and future initiatives Facebook would be working on. Although it's titled for developers, previous F8's have included product announcements and demos that are meaningful for social media marketers, too. Facebook also announces changes to other platforms and products it owns during F8, most notably on Messenger, Instagram, and WhatsApp.
In previous years, Facebook used F8 to announce products and features as ubiquitous as the launch of Facebook Live, Messenger bots, Instant Articles, and the mobile Like button, among others. It's hard to imagine Facebook without these things now, right?
Where is Facebook now?
For the purposes of this blog post, it's valuable to quickly recap some of the major changes that have taken place since F8 2016 -- because a lot has changed. If you're caught up to speed, skip ahead to the latest announcements from F8 2017.
Facebook Journalism Project
In January 2017, Facebook launched the Facebook Journalism Project to identify and prevent the proliferation of fraudulent content ("fake news") on the platform. Additionally, the Facebook Journalism Project entails Facebook creating more tools for media publishers to analyze content performance and continuing to improve Instant Articles.
News Feed
In June 2016, Facebook adjusted its algorithm to display content from users' family and friends first in the News Feed -- ahead of content from publishers and Pages. Publishers now have to think more creatively about how to generate engagement and reach on the platform.
Live Video
Facebook Live was announced at F8 2016, and since then, it's exploded in popularity. In fact, Facebook learned that users were spending 3X more time watching Facebook Live videos than traditional videos, so it adjusted the News Feed algorithm again to give Facebook Live videos more News Feed real estate. Additionally, Facebook Pages can now broadcast live from desktop computers in addition to mobile devices.
Facebook also launched Instagram Live in November 2016. It's different from Facebook Live in that live Instagram videos disappear once the broadcast ends. But like Facebook Live, Instagram pages that are broadcasting live get first priority at the top of the Instagram feed.
Ephemeral Messaging
Facebook has borrowed a significant amount of "inspiration" from Snapchat since F8 2016. Facebook has replicated Snapchat's key feature -- ephemeral, or disappearing, photos and videos -- on Instagram, WhatsApp, Messenger, and on Facebook itself. At the time of F8 2017, more people are using Instagram Stories than the entire Snapchat app, so it will be interesting to see the moves Facebook and Snapchat make to keep competing next.
Now that we're all caught up to speed, let's dive into some of the biggest announcements from F8 2017.
The Biggest Announcements from F8 2017
At the start of his keynote address, Facebook co-founder and CEO Mark Zuckerberg declared that the 10-year plan for Facebook was made up of three endeavors: augmented and virtual reality, artificial intelligence, and connectivity. Let's dive into product announcements and future projections from F8 2017.
Augmented & Virtual Reality
One of Facebook's biggest pushes at F8 was improvement upon reality with the help of augmented reality (AR) and virtual reality (VR).
For those of you who might be confused on the difference (don't worry, so were we):
Augmented reality is a real-world view superimposed with technologically-generated images, sounds, and other effects. Recent examples of augmented reality include Pokémon GO and Snapchat's world lenses:
Virtual reality consists of digitally-simulated three-dimensional images that people can interact with by means of headsets and wearable sensors. Recent VR use cases include video gaming and experiential marketing.
Here's how Facebook plans to invest in AR and VR in the coming year:
1) Camera Effects Platform
Facebook is taking its camera to the next level and creating the "first augmented reality platform." Within the camera on Facebook and Messenger, users can already add filters, frames, drawings, and emojis, but Facebook wants to take it even further.
Frames Studio
The Facebook Frames Studio lets anyone design custom frames to surround their profile pictures or other pictures taken with the Facebook camera. You can create custom frames for events and communities or make public frames for anyone on Facebook to use. Here's a draft of a frame I made featuring the HubSpot sprocket. It's very basic (I'm a writer, not an artist), but you get the idea -- you can add any art or effects to a frame that you'd like.
AR Studio
The Facebook AR Studio helps create augmented reality elements Facebook users can incorporate into their photos and videos. Think 3-D images and responsive masks -- Zuckerberg's example was filling an office with 3-D Skittles. Developers can create different camera effects that respond to movement, geography, and surrounding objects. This feature is currently in beta, but developers can apply to start experimenting and creating now.
Check out a few examples:
Source: Facebook AR Studio
2) Facebook Spaces
On the VR side of things, Facebook Spaces is a new virtual reality app where users can hang out with their friends -- in full VR -- with the help of the Oculus Rift VR headset. For now, it's only launching in beta, but the idea is that users can interact with their friends in Facebook Spaces the same way they would in person. It goes to show you how heavily Facebook is investing in VR.
Discover how detailed and advanced some of the movements are in its explainer video here:
3) AR Glasses
They haven't arrived yet, but during the second day of F8 2017, Facebook's Chief Scientist of Oculus Research Michael Abrash said fully AR glasses were on the Facebook horizon. He envisioned glasses that improve vision and hearing, bolster intelligence, and are socially acceptable enough to become ubiquitous. So far, Google and Snap Inc. have created wearable glasses cameras -- with varying degrees of success -- so we'll keep you posted on any Facebook glasses developments.
4) 360-Degree Camera
Facebook announced new Surround 360 technology that will allow users to film highly immersive 360-degree videos with "six degrees of freedom." The circular camera allows videographers to rotate the camera viewfinder like a person's head would to film in full 360-degree capabilities. Here's what the two cameras look like:
Source: Facebook
Below is our video recap from the first day at F8, featuring most of these AR and VR announcements:
Connectivity
In his opening keynote, Zuckerberg also prioritized Facebook's commitment to helping the world connect online -- by means of Facebook, of course. Facebook plans to do this with Terragraph technology; here's the scoop.
6) Terragraph
Facebook is testing its Terragraph technology to increase data accessibility and transfer speeds around the world. It's set new records in data transfer speeds and is testing a citywide mesh millimeter-wave data transfer system in San Jose, California. Technology like Terragraph helps more people get online with the help of their smartphones, so while there isn't a direct takeaway for digital marketers here, it's neat to see Facebook helping get more people online.
Artificial Intelligence
Facebook's camera platform -- for Facebook, Messenger, and Instagram -- is now "AI-infused." This means it can understand facial expressions, surroundings, and movement, as well as understand and annotate videos.
Facebook's new Camera Effects Platform gives developers the tools to use AI for more creative photography and video recording. It's also partnering with companies like Amazon and Microsoft to run AI algorithms on mobile phones.
Building 8
Building 8, Facebook's research team dedicated to creating social-first consumer products, is working on silent speech communications projects that will let users type 100 words per minute -- with their brains. (That's 5X faster than the average smartphone user can type.) Building 8 is also creating hardware and software so users can hear information -- with their skin.
These projects are still works in progress, but the announcements remind all of us that AI isn't right around the corner -- it's now. Read more about how AI could change your job in a recent HubSpot Research report.
Messenger
Over 1.2 billion people use Facebook Messenger, but the platform isn't just for humans. There are over 100,000 monthly active Messenger bots, and they're changing the way businesses communicate with prospects and customers. Facebook reported at F8 that 2 billion messages are sent between people and businesses each month. To that end, it's created new tools and features to make it easier for Messenger users and businesses to get in touch on the platform.
7) New Facebook Messenger Features
Below are some of the biggest Messenger announcements marketers should take note of. You'll notice that most of these changes are designed around getting users to spend more time in Messenger:
A Discover tab on the Messenger home screen so users can easily search for bots that will point them in the right direction
Messenger Codes, which users can scan with the Messenger Camera to easily connect with businesses
Messenger's AI assistant, M, can suggest ordering food from delivery.com when users are talking to friends and bring up getting dinner, for example. (Creepy, or delicious? Both?)
More bots for playing games
Smart Replies, which allow businesses to let bots automatically respond to frequently asked questions submitted via Messenger
Below is our video recap of the second day at F8, which centered heavily on these big announcements from Building 8:
Key Takeaways from F8 2017
Facebook vs. Snap Inc.
Facebook has been copying Snapchat features, and now it wants to take those features and do them bigger -- and better -- than its competitor. Coincidentally (or maybe not), Snapchat announced AR world lenses on the first day of F8. To me, the two cameras appear to be neck-in-neck in terms of capabilities. Facebook and its respective platforms claim significantly more users than Snapchat, so keep your eyes peeled for a race to innovate between these two social media titans.
All About AR, VR & AI
If you're daunted by the idea of buying more equipment, taking more photos, and making even more videos, don't rush to experiment with a bunch of new tools and technologies all at once. Start small -- maybe by creating a custom frame in the Frames Studio -- and add AR elements to photos you share on Facebook to see if your audience responds positively. If you can't determine good use cases for experimenting with AR or VR, don't waste your time and resources, but keep an eye out for events or settings in which these new technologies could be a good fit for your audience on Facebook.
No News for Publishers
Most conspicuous to me was the lack of mention of publishers on Facebook. It doesn't appear that much is changing when it comes to the News Feed algorithm or Facebook Instant Articles anytime soon, which could be meaningful for marketers. It could be that Facebook will start prioritizing AR and VR visual content in the News Feed over links and status updates -- much like how Facebook Live videos are now prioritized. As always, we'll keep you posted on any algorithmic changes that could impact your organic Facebook performance.
Until next year ...
We know this is a lot of information, and it isn't immediately clear how, if at all, these innovations will change the way marketers use Facebook. When it comes to new technology and social media innovation, our advice is usually this: Experiment with any and all new technology. If your audience engages with it, keep going. If they ignore it, don't try to force it.
In the meantime, we'll keep you posted on more news from Facebook and our suggestions for how to keep tailoring your approach to Facebook marketing. And since F8 didn't make much mention of Instagram, we wanted to launch a product of our own: We partnered with Shakr to create StoriesAds.com, where marketers can automatically create vertical videos tailored for the Instagram Stories platform. Try creating an engaging Instagram video -- in under two minutes -- today. No video skills required.
What were your impressions of F8 2017? Share with us in the comments below.