Despite what you might hear, Facebook marketing is not dead.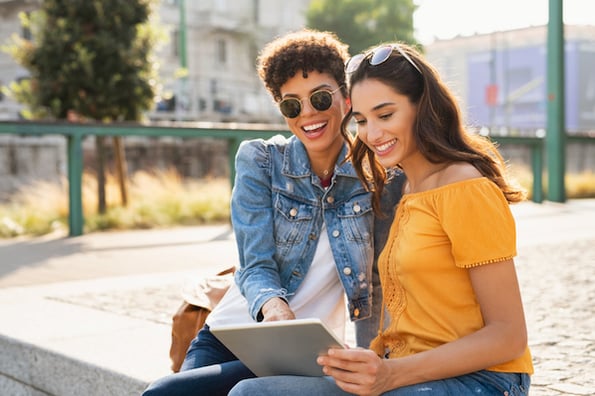 Even with the recent rise of other social media platforms like Instagram, LinkedIn, Youtube, TikTok, and the likes, with over 2.4 billion users, Facebook is still the world's largest social media platform.
And, of those 2.4 billion users, the vast majority spend an average of 60 minutes on Facebook every day.
Let that sink in for a second — considering the average person sleeps eight hours a day, that means about 7% of their waking hours are spent with their eyes glued to Facebook. With those stats alone, it's safe to say that Facebook is alive and well.
But why do so many users spend so much time on Facebook? Well, Facebook appeals to its users because it provides real-time information but with a deeper feel. It may not necessarily break news as fast as Twitter, but when it does, it provides greater detail and a platform for discussion.
The key differentiator that has kept Facebook as the most widely-used social platform however, is this: it takes engagement to a deeper level than any other social media network can.
But, with 94% of businesses still actively using Facebook, how can you make your brand stand out?
Here are seven brands that take their Facebook marketing to the next level, to help inspire your own brand's future Facebook marketing strategy. Keep in mind that the strategies used by these companies can be used by any company out there. Ultimately, you don't have to be National Geographic or Nike to be successful.
Number of Likes: 488,000
Marketing any charitable organization can be tough because there are thousands of organizations out there that need our help. People love to support brands that give back. How can you pick and choose one great cause over another?
Charity: Water — an organization with a mission to deliver clean and safe drinking water to developing nations — takes a unique approach to non-profit marketing with exceptional storytelling.
Everyone loves a great story. People want to feel connected to a group, to belong. And stories give you a reason to communicate and relate. Stories are stimulating and give you something to believe in. And stories make you feel better, smarter, safer, or even loved.
Business storytelling is similar — it's about creating alignment between your business and your prospects and customers. This is where Charity: Water excels. They've mastered the art of storytelling to raise awareness around the global water crisis all while inspiring people to give.
Take CEO, Scott Harrison's own story, for example. Before starting Charity: Water, Scott spent a decade as a nightclub promoter and at 28-years-old, found himself spiritually, morally, and emotionally bankrupt. After volunteering aboard a hospital ship for two years, Scott saw the effects of drinking unsafe, dirty water first-hand. He later returned to New York and started what is now Charity: Water.
This strategy of telling compelling stories is not limited to Scott's background — instead, it's present in all the content the non-profit produces and shares on its feed. Throughout their content, the non-profit consistently shows, in a very personal way, how bringing clean water to those in need impacts the lives of countless people around the globe, including donors.
How can you incorporate this?
Your goal is to make a human connection. It's all about resonating with people, people that need your help or guidance. A story is not just your history. A story is why you're doing what you're doing, and it's critical you tell it in a way that appeals to your audience. Think about how you can capture your story and share it with your prospects and customers. And don't limit yourself to lengthy ebooks, or emails — use video, images, interviews — get creative.
Number of Likes: 10 million
When you visit GoPro's Facebook Page, you're met with videos and images that scream adventure, action, and adrenaline. This can be said about their pages and feeds on other platforms, like Instagram and Twitter, too. It's not rare to see someone scaling a mountain, jumping out of an airplane, surfing, or doing a backward 360-degree flip on their mountain bike, all with a camera strapped to their head.
The brand's feed is saturated with this type of content — and it works. They're able to generate unprecedented engagement with almost every piece of content they produce because they know who their buyer persona is — and as a result, what content will resonate with them.
You'll rarely see GoPro's Page post any images or videos showcasing their highly popular action camera. They're not connecting with their users through their products — instead, they're connecting with their users through the lifestyle their products enable.
GoPro's unique marketing strategy enables the company to capture the attention of their target market and showcase what it means to be a part of the GoPro community. Additionally, much of their content is user-generated. By using particular hashtags, like #GoProMillionDollarChallenge, users can tag their videos with the hashtag and have it featured on the company's Page.
For the #GoProMillionDollarChallenge in particular, users uploaded over 42,000 videos over four months. Talk about driving engagement!
How can you incorporate this?
When it comes to creating great content on Facebook, it helps to know who you're talking to. Understanding the people who are currently interacting with your Page will help you not only create great content — but create the right content, too.
There are many tools out there that can help you understand who your audience on Facebook is, like Facebook's Audience Insights tool. Through accumulated information about geography, demographics, purchase behavior, and more, the tool helps you learn more about your target audience and their behavior on Facebook. While it's easy to jump right into creating content on Facebook, take the time to understand who your audience is. It will pay-off in the long run.
Number of Likes: 33.7 million
Nike is arguably one of the biggest athletic brand names out there. They have a marketing budget that a lot of companies can barely begin to fathom. And yet, when it comes to their Facebook presence, they don't over-emphasize the need to buy their products.
Even though Nike is such a household name, they still have competitors. Adidas and Under Armour aren't just going to sit back and let them maintain the majority of the market share. You would think the competitive nature of the industry would encourage them to step up their promotions.
But they don't have to. They have established and continue to maintain a strong brand image, which resonates throughout their Facebook page. They have quite possibly the most famous slogan out there, so they grab onto that popularity and incorporate it in their cover photo, photos shared, and through a branded hashtag.
Nike's Facebook Page is a balance of new products, science, charitable initiatives, and encouragement. One way they differentiate themselves from their major competitors is by emphasizing the research and development that goes into every design. Their products are seen as the result of extensive engineering or science experiments, which evoke the idea that these items are both cutting-edge and high-quality.
How can you incorporate this?
Think about how you've positioned your business and presence on Facebook as it relates to your brand as a whole. How does your brand message support or complement the products you're delivering? Does your larger brand message run through the products you're delivering?
Instead of saturating your Facebook Page with content about your products, can you use it as a place to establish and reinforce your brand message? Ask yourself some of these questions, look at competitors in your industry, and consider what you can learn from them to take your Facebook marketing to the next level.
Number of Likes: 97 million
If you've been on Facebook for any amount of time, you've likely come across Tasty. The brand, which is owned by BuzzFeed, produces engaging videos about making delicious food items in a short amount of time.
Tasty does such a good job when it comes to captivating users with their videos, but it's not for the reasons you might think. Sure, the videos are visually appealing, they're short, and they're about food — who doesn't love videos about food, right?
But there's something else the brand does better than most: the marketers behind Tasty's brand understands the context and experience of users on Facebook.
For instance, Tasty's primary medium for delivering content on Facebook is video. What makes those videos unique is that the videos don't require audio for a user to engage. This might seem like a minor detail, but it isn't — for instance, consider scrolling through your News Feed and stumbling across a video that auto-plays, and understanding it without audio. That would make you pause for a bit longer, wouldn't it?
Ze Frank, president of BuzzFeed Motion Pictures said: "We were really thinking of audio independence. What kind of videos would work seamlessly within a product like that and allow you to share it with your friends?"
They figured out a way to make their content readily available for users no matter the context, whether on their Page or in users' feeds. So while they benefit from visually appealing video content that's short and engaging, more importantly, they've understood the context of where users would consume that content and crafted an amazing user experience as a result.
How can you incorporate this?
When you're posting content to your Page, try to think about all the areas where users might interact or engage with that content and make sure it's optimized for those areas.
It's unlikely that you'll be able to create content that fits all areas, but that's why you need to diversify your specific areas on Facebook. For instance, a video posted to your Page might not work well if you shared it in Facebook Stories, too. It's critical you consider the context and overall user experience when you're creating content on Facebook.
Number of Likes: 46 million
You'd be hard-pressed to find anyone who hasn't heard of National Geographic. In recent years, the brand has consistently ranked number one among brands on social media in the United States, with well over 2.6 billion social engagements across several platforms.
National Geographic describes itself as being the world's leading multimedia destination for the best stories in science, exploration, and adventure. And I think it would be tough to disagree with that statement.
One particular area National Geographic excels on Facebook is real-time audience engagement. This was on full display in their "Safari Live" series. Throughout the series, National Geographic scientists, photographers, and other teams broadcast their assignments in real-time using Facebook Live.
In one broadcast, viewers were invited to join the team live on a Safari in South Africa, and watch a female leopard consume its prey. Throughout the broadcast, users were able to post comments and ask questions that the National Geographic team would answer right then and there.
Ultimately, the brand understands that communication and engagement are at its best and most effective when it's a two-way street. Their broadcasts opened the door to an unbelievable experience, and initiated conversation and engagement among its Facebook audience.
How can you incorporate this?
Think about how you can use tools like Facebook Live for events, trade-shows, or even company outings to engage with your audience in real-time. Encourage your customers and prospects to engage with your business by asking questions, or creating polls. Instead of creating content that focuses on one-way communication, engage with your audience by creating content that invites them into the conversation and encourages feedback.
Number of Likes: 2.8 million
Fitbit is a relative newcomer to the market in comparison to the brands previously mentioned, but they've made a name for themselves quickly, especially on Facebook.
If you aren't familiar with Fitbit yet, you probably will be very soon. The company offers trackers and smartwatches that track a variety of health measurements, from how many steps you take in a day to how many hours of sleep you get. If you're on a weight-loss plan, Fitbit products can also help you track your daily calories burned and overall progress.
For being a brand in a relatively new industry, you might expect their marketing to push a hard sell, like "our wearable tech is projected to be one of the hottest products in the coming years". However, with Fitbit, you'd be wrong.
They actually do very little product promotion on their Facebook page. Instead, their approach focuses on physical and mental health with exercise tips and encouragement. Their strategy is rooted in empowering fans to set fitness-related goals.
When you like the Fitbit page, it's almost like you're joining a fitness support group. Many of their posts consist of inspirational quotes and resources to stick to your health and wellness regimen.
Another way they create a supportive community is by encouraging Fitbit users to share their stats with their Facebook friends. Everything that your Fitbit tracks can be posted directly, so this is a great way to share your successes and stay on track.
They also have a refer-a-friend program through Facebook, where you can get $10 for every person you refer who purchases a Fitbit. Offering incentive programs like this is financially beneficial for existing customers, and it also sets up a support system of friends who've joined a fitness journey together.
Even if you aren't interested in buying a Fitbit, the company's Facebook Page provides a ton of tips and inspiration that can help you stay on track throughout your fitness journey. Collaborative environments like this can't help but motivate you to strive towards your health and wellness goals.
How can you incorporate this?
Ultimately, Fitbit manages to create a sense of community and support through the content they post. Best of all, you don't need to own a Fitbit watch to benefit from the content they share. Think about how you can provide value for your audience even before they become customers. Yes, the goal is to eventually have prospects purchase, but providing significant value first can lead to long term buy-in and loyalty. Ensure your Facebook marketing strategy creates value for your target audience.
Number of Likes: 63 million
Netflix is easily one of the most well-known video streaming services around the globe. At the end of 2019, the streaming powerhouse had over 167 million subscribers with nearly a third of those being from the U.S. But gaining subscribers by providing well-crafted content is not the only thing Netflix does well.
The brand does a stellar job with its social media strategy too, especially on Facebook. Among others, one thing Netflix does really well on Facebook is creating value by pulling back the curtain and delivering exclusive content that can only be found on Facebook.
Take their "13 Stories" series, for example — a brief series of videos with actors from popular shows on Netflix climbing 13 stories of stairs at Netflix's headquarters while answering 13 different questions. Each of these videos on average receives anywhere from 300,000 - 800,000 views. The content is not available on Netflix.
Think about the value this brings to Netflix's fans on Facebook. There is an added incentive for users to engage with the brand on Facebook because they'll be able to consume exclusive content.
Exclusive content is nothing new in the world of Facebook, either. In fact, 58% of Facebook users expect exclusive content from business pages.
How can you incorporate this?
Think about how you can create value on Facebook that your prospects and customers can't find elsewhere. If you work for a B2B brand, you might offer downloadable content on a targeted landing page on your website, accessed from a link shared exclusively on your Facebook page. If you're a B2C brand, you can offer exclusive coupons or promo codes for Facebook fans only.
Ultimately, you want to give your audience a compelling reason to interact with your brand on Facebook.
Looking at these seven brands, you can find several similarities between their Facebook strategies that help them stand out among their competitors. For instance, these companies all use branded hashtags to connect social media platforms together, as well as share user-generated content. These are areas where Facebook can really thrive because they emphasize collaboration and engagement.
Brands like Charity: Water and National Geographic place an emphasis on giving back and helping those going through tough times. Facebook has always been an effective platform for raising money for important causes, and this will probably continue for years to come.
And, most importantly, all of these brands stay true to their company's core values and mission. Netflix doesn't try to mimic Amazon in its marketing strategy, just like Nike doesn't try to mimic Adidas.
Even though these are all highly successful companies, any brand can take some cues from their Facebook strategies. Here are three of the most important takeaways you can use in your own strategy:
Find what makes you unique from the competition and play off of that. For example, Nike differentiates itself by emphasizing the science and research that goes into developing their products.
Don't force a hard sell in every post. Share content that fans have shared with you, post pictures, and offer valuable tips and advice for free.
Finally, and most importantly, be yourself. People want to engage with authentic brands on Facebook — brands that seem genuine and "get them."
If you can master these takeaways, your Facebook Page will likely achieve incredibly positive results.
If you'd like to learn more about how you can take your Facebook Marketing Strategy to the next level, check out HubSpot Academy's new Facebook Marketing Course.