Web forms allow you to manage your email lists, accept online payments, review shipping and billing information, learn more about your customers and keep track of new leads registering for accounts. Web forms are integral to maintaining a healthy business and increasing your conversions.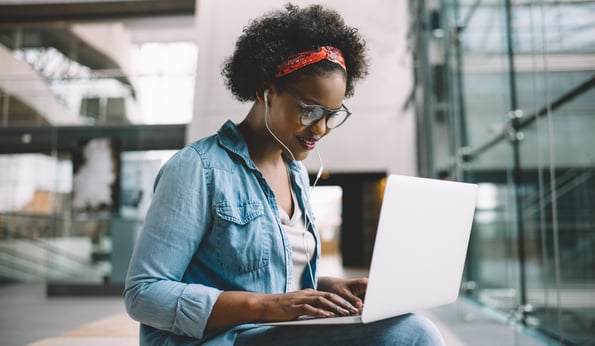 To understand what is and isn't working when it comes to your forms, you need to analyze the interactions between your forms and website visitors. That's what web form analytics tools are for — they help you maximize the impact of your web forms through optimization efforts, in-depth tracking and form insights.
There are a number of tools available that help you manage your forms and learn about what and why specific aspects of the forms are (or aren't) working for your leads.
11 of the Best Form Analytics Tools in 2023
Get the most out of your web forms. Here's our list of the top ten best form analytics tools of the year.
Source: HubSpot
HubSpot's form builder has a traffic analytics integration that allows you to track your web form's performance and better understand the results.
You can organize your form submissions by specific time periods and see details such as the lead's name, the page they converted on, the date and time of their conversion and any files they may have uploaded to the form (this is common with "contact us" forms). Lastly, you can share all of the form analytics with anyone internally with the click of a button.
Since HubSpot's form analytics tool is built into the form builder, you get more value for what you pay.
Source: Formisimo
Formisimo provides you with specific reasons why your website visitors are not completing your forms. With user-behavior insights, you can see how your forms can be improved to increase conversions.
Formisimo has eight types of reports that work with any type of form. You are also able to segment your reports based on format, whether that be desktop, mobile or tablet. The tool provides you with ideas and tips on ways to rectify the issues you're experiencing with the forms, as well as the ability to export and share the data to keep everyone on your team in the loop.
This in-depth reporting tool and traffic analytics tracker has a simple installation process — simply copy and paste the provided source code on the page, and Formismo starts tracking immediately.
There are different payment and subscription plans available with Formisimo, in addition to a seven-day trial period.
Zuko comes from the Formisimo team and is a "next generation" product aimed at organizations that are data-centric. It includes real-time alerting to form issues, advanced data segmentation, event tracking (to track error messages, or clicks on more-information buttons or on terms and conditions links), and a new comparison feature. The platform has been extended beyond aggregate analytics to include the ability to drill down (anonymously) into individual user sessions, to explore the actions of anomalous users and sessions.
Zuko builds on the reporting in Formisimo, thought it includes more form behavior metrics and additional filtering and visualizations. But it retains the simple copy-and-paste installation process, which takes just a few minutes via a tag manager.
Source: Woopra
With Woopra, you can track traffic at every point of the buyer's journey. Whether it's related to customer experience, growth or customer success, the tool has tracking abilities that will show you how your form is performing and the traffic it's experiencing at certain points in time.
Woopra has behavioral segmentation options that allow you to group leads based on any criteria you choose. For example, segmentation may include grouping people who signed up for an account through an email CTA and grouping another set of people who registered for a free trial through a CTA on your website.
There are three Woopra plans that vary in price based on the type and level of analysis you need.
Source: Hotjar
Hotjar is an analytics and feedback tool that gives you insight into your web forms and your entire customer experience for both desktop and mobile. There are also traffic-related insights that help you understand who is visiting your site.
Hotjar's analysis feature provides you with the reasons why people tend to abandon your forms and the exact point in time they are most likely to do so. Hotjar has several plans with different payment options: you can get limited use for free, but there are paid options that provide more features.
Source: Clicktale
Clicktale is an in-depth traffic and conversion analytics reporting tool. It provides you with data to determine whether or not your forms are performing successfully. The form provides detailed feedback about the number of visitors who interacted with the form and converted, as well as the number of people who failed to submit your completed form after an attempt.
Another unique feature in Clicktale is the ability to pinpoint client and Javascript errors so they can be fixed quickly. The tool has features that help you pick out unnecessary words or fields in your forms, and it gives you recommendations on ways to make the form completion process more efficient.
As for pricing, there are several levels to choose from based on features your business may or may not need. There's also a free trial period for you to test out the tool.
Source: SessionCam
SessionCam tells you exactly why website visitors are abandoning your forms. The tool studies the type of traffic to a form and overall visitor behavior. Drop-off metrics, number of retries and the average amount of time it takes for people to complete specific fields are other metrics that this tool tracks.
With SessionCam, you better understand your form metrics, making it easier to troubleshoot issues and improve traffic, user experience and conversions. The tool records all data and changes to the form so you can look back on how certain changes impacted your form's performance. SessionCam has integrations with several other analytics tools, such as Google Analytics and Adobe Analytics, which make it easy for you to keep track of everything in one place.
After a 21-day free trial, you can pick the SessionCam plan that works best for your business.
Source: Inspectlet
Inspectlet helps you determine how effectively your forms engage your website traffic and convert visitors. The tool also gives you an overview of the number of website visitors that make it through each stage of the form completion process.
Inspectlet provides analytics about which form fields are causing issues for leads so you can manage problems and fix them as quickly as possible. The tool also analyzes which fields are causing leads to completely abandon the web form.
Pricing ranges from $0 up to $499 per month with six unique Inspectlet plans to choose from.
With Decibel Insight, you can measure your overall traffic performance as well as individual interactions with your web forms. The tool collects data and tells you which fields cause leads to have issues and abandon your forms.
One unique feature that Decibel Insight brings is the ability to go back and watch session replays of form interaction. You can see exactly what is and isn't working for your website visitors and make any necessary changes based on what you see happening during these replays. You can schedule a demo of the tool and chat with an expert about which package would best suit your needs.
Mouseflow works in real-time to give you data about form drop-off, issues with specific form fields, errors, and blank submissions. The tool provides information about form traffic and details about any difficulties a lead may be facing with certain parts of the form.
By monitoring form interactions, Mouseflow is able to provide you with actionable tips on how to increase traffic and conversions, eliminate form pain points and improve overall user experience and usability.
With five plans for you to choose from, and one being "free forever", there is a Mouseflow option for everyone.
Source: Lucky Orange
Lucky Orange allows you to watch website visitors interact with your web forms. The tool records visitors' actions so you can play the video back and see the exact moment that a visitor decided to abandon your form.
Lucky Orange also includes five other form analytics reports that help you better understand your website and form traffic, including explanations behind abandonment (when someone leaves a process on your website such as checkout), time to start (amount of time it takes a lead to start filling out your form) and field time (how long it takes a lead to complete one of your fields). They also allow you to pinpoint specific changes that should be made to your form to boost conversions.
After a seven-day, free trial period, you are able to select from one of five plans that can be paid on a monthly or yearly basis.
Conclusion
With the myriad of form analytics tools available, there's something that works for everyone. These tools allow you to learn about the type of traffic your forms are bringing in and what you can do to improve conversions. There are several analytics tools that are useful and effective — you should think about what you really need from the tool, consider your monthly budget and sign up for a few free trials to determine which option is your ideal fit.