With over 320 million active users on Twitter, it makes sense you want to use the platform to increase brand awareness and connect with a larger audience.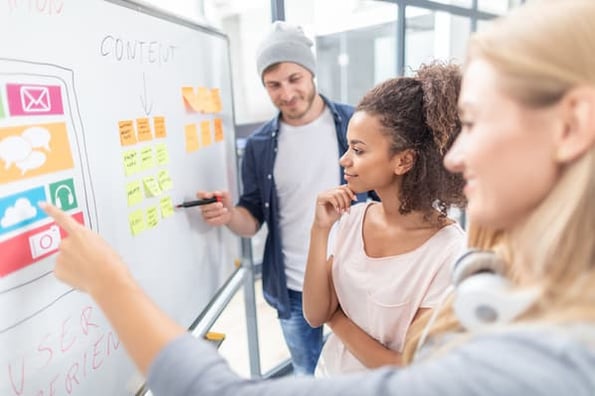 While Twitter's popularity makes it a viable marketing option, however, it also makes it a challenging one -- particularly since algorithms are often changing on the platform, and people are Tweeting upwards of 500 million times per day.
Ultimately, when it comes to social media, the number of followers you have and the amount of engagement you receive is what keeps things moving. But gaining new online followers isn't as easy as it sounds.
Here, we're going to explore a few tactics to ensure you're growing your audience authentically for long-term success.
But first, we want to address the elephant in the room. You may notice one popular social networking strategy is missing from this list -- Twitter follow trains. There's a reason for that.
Twitter Followers Train -- What Are They and Do They Work?
A Twitter follower train is a type of social media engagement pod in which users agree to follow each other and engage with each others' content on social media. They come in the form of a Tweet where one user starts the follower train and encourages other users to comment, like, retweet, and follow each other.
What makes Twitter follow trains different from LinkedIn or Instagram engagement pods is that there is no regulation. On other social platforms where engagement pods are popular, there are certain standards and criteria a user must meet before joining.
Typically, you need to have a following already, create and post unique content, and engage with others in a thoughtful manner.
However, Twitter follower trains aren't regulated, which makes both the quality of the followers you'll gain and the engagement you'll receive subpar at best.
More likely than not, you'll end up following a ton of random Twitter users who will unfollow you in a week's time. Twitter follower trains clog your Twitter feed with spam, decrease the quality of your relationships, and aren't sustainable in the long-run.
This is especially important if you're hoping to use your content as a way to source leads. The random connections you make via Twitter trains aren't nearly as sustainable and useful for collecting leads as the relationships you build on Twitter through genuine interactions.
Ultimately, you're much better off spending time creating genuine bonds and connections with people.
How to Grow Your Twitter Following
There's no one-size-fits-all solution to gaining more Twitter followers. Whether you're using Twitter for business or looking to build your personal brand, having more followers means more visibility.
The internet is full of articles promising five-minute hacks and tools claiming you can purchase real followers for your brand page -- but the truth is that building your network and increasing your Twitter following is about creating an experience that people enjoy.
It takes time, consistency, and quality to build your brand.
Here are 10 ways you can grow your Twitter following in a sustainable way.
How to Get Twitter Followers
Create killer content.
Optimize for social media.
Align your content with trending topics.
Participate in Twitter chats.
Create genuine connections.
Utilize Twitter lists.
Stay active.
Engage with industry thought-leaders.
Optimize your Twitter profile.
Use data to your advantage.
1. Create killer content.
Think of the people you follow on Twitter. Why do you follow them? What do you enjoy about them?
Chances are your first answer is you enjoy what they post. Creating high-quality content that speaks to your audience is the first step in building your Twitter following. Content can come in many forms -- Tweets, articles, videos, whitepapers, e-books, and more.
You can build a following without creating original content. But the added value of original work is what will attract new followers to your account. Offering your followers value and variety with the content you create will encourage more people to share your Tweets and engage with your brand.
2. Optimize for social media.
Once you've created original content, you'll want to share it on social media. A common mistake people make when distributing their content on social media is failing to develop a social media strategy. The fast-paced nature of social media means you'll need a different approach to how you distribute your content, as opposed to other channels.
How to optimize your content for social media:
Include a social sharing option on your blog
Focus on crafting the perfect meta description
Choose images that draw attention
Use new copy on different social platforms
Utilize hashtags
Good social content is visual, informative, and shareable. You've already done the work of creating incredible content, so don't waste it with a bad social strategy! Taking the extra few steps to ensure your content is social media friendly will pay off in the end.
3. Align your content with trending topics.
If you're looking for content inspiration that's social friendly, the best place to look is trending topics. Creating content that centers on trending news or social topics is an easy way to draw attention on social media.
For example, if you're deciding whether the news about Instagram hiding likes is worth covering, plug the term into Google Trends and track the interest of the topic over time:
This strategy works because trending topics will tell you what type of content people are currently interested in reading. In addition to Google Trends, you can find out what's trending by visiting Google News or the Twitter trends sidebar in the platform.
4. Participate in Twitter chats.
If you're not already familiar with Twitter chats, allow me to introduce you to the best kept secret on the platform. A Twitter chat is a public conversation hosted on Twitter that is run by either an individual user, or a brand account. Each chat focuses on a few questions covering a specific topic and runs over the course of an hour.
What makes Twitter chats good for finding followers?
They allow you to position yourself as a thought leader
They give you the chance to plug your content
They're an easy way to find new people to talk to
Everyone in a chat shares the same interests
Let's say you're a freelance writer and want to reach people who are willing to pay for your services. Participating in a Twitter chat centered around content development is perfect for building your brand. You can make connections with industry experts, pitch your services, and show why you bring value to the space.
5. Create genuine connections.
It can be tempting to think of social media as just another sales or marketing funnel. But the truth is that social media works best when you're being social. Consumers don't enjoy being hard-sold, and many will be turned off by an aggressive pitch.
Think of social media websites like Twitter as a top-of-the-funnel resource. You should be using Twitter to build brand awareness, provide value, and attract customer attention.
Focus on the ways you can help people without asking anything from them in return.
It may take a few months to fully nurture a social connection into a sale, but the quality of your connection makes all the difference.
6. Use Twitter Lists.
One easy trick to help nurture your relationships on Twitter is utilizing Twitter's list feature. Twitter lists allows you to create lists based on specific criteria and add people to them. This is ideal for segmenting your followers based on industry, profession, or areas of expertise.
You can use Twitter lists as a sort of customer persona. For instance, if you've recently written an article about sales optimization, you don't have to hunt down each individual person to share with them. Instead, you can simply go to your Twitter list for sales professionals and start engaging with them right away.
7. Stay active.
Have you ever had a friend who's constantly turned down invitations to hang out? More likely than not, you eventually stopped inviting them. Unfortunately, your followers will feel the same way if you're not consistent with your Twitter activity.
Social media is social first. Your followers want to engage with you, chat with you, and learn from you. If you aren't consistent with your posting, replies, and engagement, it can lead to your followers becoming frustrated. It can also prevent your visibility with potential new followers.
In order to stay consistent with posting, a lot of Twitter users use social media management tools like Buffer, Sprout Social, or HubSpot. These tools allow you to schedule Tweets in advance and give the illusion that you're posting in real time. It's the perfect solution for anyone who is looking to stay consistent but might not have the time to dedicate to posting every day.
8. Engage with industry thought leaders.
The best strategy for getting where you want to go is following the example of the people who are already there. You can learn a lot about the right way to build a Twitter following by engaging with and learning from industry thought leaders.
Where can you find thought leaders to follow?
Search popular hashtags on Twitter
Read industry blogs
Sign up for e-newsletters
Ask your followers who they like!
Once you've started following these leaders, engage with them weekly. Don't be pushy -- instead, offer your own insights and opinions on their Tweets. Share their articles, chat with them, and build rapport. Getting thought leaders to follow you and retweet your content can increase your followers and visibility overnight.
9. Optimize your Twitter profile.
Any new user visiting your page is going to interact with your Twitter profile before interacting with your Tweets. Your Twitter bio is like your personal online business card -- you should be using it to sell yourself and your brand.
According to a 2018 study, longer Twitter bios lead to more engagement. More than likely, that's because the more information you put in your bio, the more people will know about you. Twitter allows users 160 characters to tell their story, and people who capitalize on that often see more engagement than others.
Here's a good example of a Twitter bio from e-commerce shop Etsy:
Image Source
Additionally, there's more to optimizing your Twitter profile than just the bio. You should utilize all parts of your Twitter profile to tell a complete story. When people see your profile, they should get a clear sense of who you are, what you do, and why they should follow you.
10. Use data to your advantage.
If you haven't included data in your social media strategy, it's time to start. Twitter offers one of the most robust in-platform analytics tools of any social media website. At absolutely no cost to you, you can track the engagement percentage of all of your Tweets, see what actions people took, and more.
There's also a special feature to see what your organic audience looks like -- these are people who are not following you yet, but have engaged with your content. This is perfect for seeing what interests your potential followers have, which can help inform your content strategy down the road.
Using data to drive decisions works because the numbers don't lie. Instead of wondering what kind of content your audience wants to see, use Twitter analytics to figure it out. Tracking these numbers will also help you know if any new social media or content strategies you're using are working.
Ultimately, increasing your audience authentically takes time, but it will pay off in the long-run. In fact, 85% of followers feel more connected with a small business after following them -- which means increasing your follower count will help spread brand awareness and increase trust among potential future customers.
To learn more about how to use Twitter for marketing purposes, take a look at Twitter Marketing in 2019: The Ultimate Guide.