One of the most controversial phrases in the marketing today is, "pivot to video."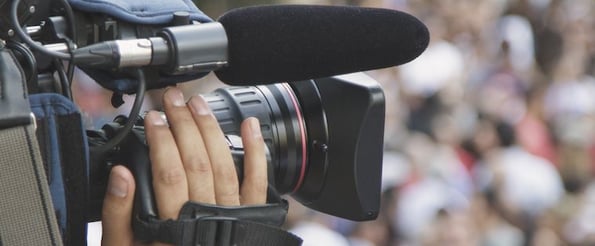 It strikes fear into the hearts and minds of writers, as we worry that our skills will be replaced by the looming popularity of videos.
Luckily, our research has shown that audiences still want to read blog and news content.
But the fact remains: People want more video content, too. So how can marketers get started creating videos that help spread the message of their brands just as effectively as the written word?
We've created a framework to help you figure out where you should focus your efforts when creating your first marketing video, and which type of video to start with. All quiet on set? Let's dive in.
How to Get Started With Marketing Videos
Before you start filming your first marketing video, you first have to determine what the goal of the video will be. Ask yourself these questions to start narrowing down how to get started on video marketing:
1) What resources do you have?
Let's evaluate what resources you'll have to create with.
Do you have an audio/visual production team that can film and edit the video, or will you be doing it yourself?
Do you have enough budget to hire a freelance video producer? Or to purchase equipment and software to create and edit the video yourself?
How much time do you have to devote to filming, editing, and promoting your video?
If you don't know the first thing about producing videos, do you have the time (and patience) to take courses, or teach yourself how to use filming equipment and editing software?
The headcount, budget, skill level, and time you have at your disposal will determine if you're able to invest in creating a high-tech, animated video, or if you should produce a more lightweight video of a talking head to start out.
I asked HubSpot Multimedia Content Strategist Megan Conley what she recommends for marketers just starting out, and she noted the importance of allotting resources to make your first marketing video as comprehensive as it can be.
"The last thing I want is for someone just starting out to create one of those slideshow-style videos with photos accompanied by text and a soundtrack," she explains. "The world needs far, far fewer of those."
It's possible to create exceptional video content with a smartphone and limited skills -- you just need to make sure you're creating one for the right purposes and media. More on that later.
2) Where does your marketing funnel need the most help?
If you're not sure what your first marketing video should contain, take a look at your marketing funnel, and evaluate where a video could be of the greatest help.
"Company explainer videos are good options, but too often people put a lot of time and resources into that and then don't create anything afterward, because they didn't have a comprehensive plan," says Conley. "Or, they create that first -- before they have any real experience -- and it's not as great as it could be ... and will probably have to be redone later."
In case you need a refresher, here's the Inbound Methodology:
Ideally, you'll have videos at each stage. But if you're time or resource-strapped, choose the stage that needs the biggest boost.
Take inventory of your inbound funnel and identify where it needs the biggest boost. Here are some ideas for videos you could make to help each stage achieve its respective goal:
Attract Stage
If you're having trouble generating leads at the very top of your funnel (TOFU), you might want to make an explainer or animated video to attract visitors to your website via organic search and social media. (Click the links to skip down for examples of each type of video.)
An eye-catching animated video, or a comprehensive breakdown of a trending topic in your industry will draw people to your social media platforms and blog pages. Conduct keyword research and review topics that are trending to choose a subject that's captivating to your audience, and create a video that answers a question for potential leads. Then, if your video satisfies their queries, they will keep watching (or reading) to learn more about you, and -- hopefully -- convert.
Here's an example of a TOFU explainer video we created to drive traffic from our YouTube channel to a new research report on a topic we want our audience to learn more about from us: topic clusters.
Convert Stage
If you're having trouble moving leads along your funnel to get them to try a product demo, free trial, or download a free tool, you might want to make a demo video first.
During the convert stage, leads have provided their contact information, but they might not be ready to get on the phone with a salesperson to talk about buying a product. So if you want leads to take steps closer to the bottom of the funnel, consider creating a video demonstrating how to use one of your products or services to achieve good outcomes. Then, leads might be more interested in trying out one of your free products or requesting a demo -- moving them further down the funnel towards your sales team.
Here's a demo video we produced showcasing a new tool available in our free CRM. The video shows, rather than tells, the benefit of using the tool, and it might make people want to download it and check it out.
Close Stage
If your sales team is having trouble closing leads and making the sale, you might want to make a customer case study or testimonial video.
Your brand advocates are the best form of advertising for your business, because people trust other people's recommendations -- it's the principle behind social proof. By showing a real person and a real business that have been positively impacted by your product or services, leads might be more interested in signing a sales contract -- because the video has proven your company's value.
Here's a testimonial video featuring happy, successful customers -- talking specifically about why they chose our product. This is helpful for generating awareness of HubSpot, but it helps make a case for why people should choose us over another product, too.
Delight Stage
If your customer success team is having trouble retaining and delighting customers, you might want to make a how-to video first.
Most customers today want to quickly and easily find answers to their questions by searching for the information online. If they can help it, they want to avoid getting on a call -- they want to save time and solve the problem themselves, with help from a comprehensive knowledge base on how to use your product or service.
A how-to video showing how to do something helps customers succeed on their own time. It doesn't have to be about how to use your product -- it can focus on a widely useful topic that's helpful to your customer and sows good faith with them.
Here's a how-to video that breaks down how to create a Snapchat geofilter. It's not HubSpot software-specific, but it's important to always be helping, and this video helps anyone -- including our customers -- get to the next level with their marketing efforts.
3) Where are you posting?
Based on the answer to the question above -- where does your funnel need the most help? -- you should be able to determine where your first marketing video should live once you've filmed and edited it.
Attract Stage
If you're trying to attract people to learn about your brand -- possibly for the first time -- publish your first marketing video in a blog post, on YouTube, or on social media. That way, visitors will come across your content -- and your brand -- while conducting online searches or while checking social media news feeds.
Convert Stage
If you're trying to convert prospects and move them down your marketing funnel, include your first marketing video in email campaigns, on your brand webpages, or on a landing page that prompts leads to download software or request a demo.
Close Stage
If you're trying to help your sales team close prospects, share your first marketing video in two places: on YouTube and other social media channels to increase general awareness and word-of-mouth recognition, and on your website wherever you discuss your customers' success stories, or why customers should choose your brand to achieve their goals. Videos can show -- rather than tell -- potential customers about your value proposition.
Delight Stage
If you're trying to help customers succeed using your product or service, share your first marketing video within your knowledge base for customers so they can quickly and easily access the information they need to get the job done.
8 Types of Marketing Videos to Create
Here's a quick rundown of the different types of marketing videos you can start creating to achieve results anywhere in your marketing funnel.
1) Demo Videos
A demo video can -- you guessed it -- demonstrate how your product or service works by taking viewers on a tour of your software, unboxing and testing a product, or showing a user setting up a product. Here's one of my favorite examples -- an unboxing video from Casper:
2) Brand Videos
Brand videos bring your company's vision, mission, or products and services to life. Brand videos attract your target audience and help establish your brand as a thought leader and influencer in your industry. Here's an eye-catching example from Slack that's all about its philosophy and product:
3) Explainer Videos
Explainer videos tell stories by breaking down a topic or problem for easier understanding. These can be used at the top of your funnel to explain concepts in your industry, or you can make a brand-specific explainer video all about your products and services.
Vox nails explainer videos -- here's one I loved:
4) How-to Videos
How-to videos teach your audience something new to help them achieve their goals and solve their problems -- hopefully, with help from your products or services.
Here's a how-to video from Adobe Creative Cloud about how to use its products to make fun, shareable GIFs:
5) Animated Videos
Animated videos can be a great format for tricky concepts that need visuals, graphics, and captions to be properly digested. Here's an incredible video from Tech Insider that animates the depth of the ocean:
6) Case Studies and Testimonial Videos
One of the best ways build trust (and convince prospects to close) is by creating videos featuring your happy customers. Customers can talk about their challenges and how your company helped them meet their goals to convince future customers to do the same.
Here's a supercut of happy Evernote customers in one of its videos:
7) Live Videos
Live videos can give your viewers a behind-the-scenes look at your company. Broadcast interviews, events, and presentations live in real-time and encourage people watching to comment with questions to start a conversation -- and prompt them to share.
Here's a live video we streamed here at HubSpot with a behind-the-scenes look at -- what else? -- our team filming a video.
8) Ephemeral Videos
Ephemeral, or disappearing, videos can live on social media platforms like Snapchat, Instagram, and Facebook. Like live videos, they can show a more authentic, behind-the-scenes look at your brand, and you can use them to promote time-specific campaigns and events with your audience through different channels. Follow HubSpot on Instagram or Snapchat to check out our latest stories.
What was the first marketing video you ever produced? Let us know in the comments.