"Make good things together."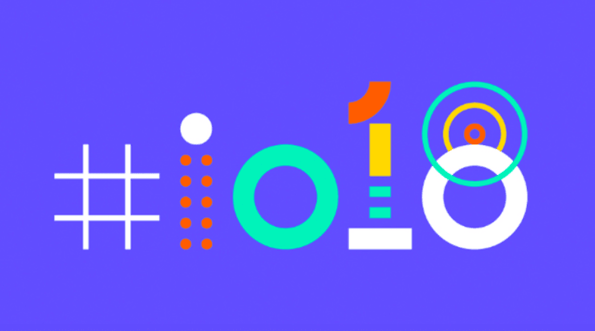 That's the phrase that flashed across the screen at the start of Google I/O 2018, the company's annual conference for developers. Many experts predicted a focus on "responsibility" in light of the recent shrapnel from Facebook's data-sharing and privacy scandal.
But, if there was one theme over the nearly two-hour keynote in front of 7000+ people at Google's Mountain View amphitheater, it was machine learning and the need for the keepers and developers of tech to navigate its waters "carefully and deliberately." Here are 12 of the biggest unveilings from the event.
The 12 Biggest Announcements from Google I/O 2018
1. Updates to Gmail
Many of us have already experienced subtle changes to our Gmail inboxes over the past few weeks, but there's more to come. This flagship product is being redesigned with artificial intelligence (AI), giving consumers tools like Smart Compose, which uses machine learning to suggest phrases in real time as you're composing email messages.
Type a subject line about Taco Tuesday? Smart Compose will suggest body text like, "How about we meet for tacos," and "Does next Tuesday work for you?" These updates will roll out to consumers over the next few weeks, with G Suite users waiting a few months.
2. A more conversational Google Assistant
Noted as "The biggest thing we're tackling with AI," Google Assistant is getting a voice-lift, so to speak. The system's current voice, Holly, will be joined by six new voices (available today), each of which is more conversational.
Google used WaveNet technology to underline raw audio, allowing its voices to understand the human voice, syntax, and natural pauses to develop an assistant that's more natural and comfortable to speak with. Oh, and John Legend's voice will be available later this year … ?
3. Hey Google, what's Multiple Actions?
If you're tired of saying, "Hey Google" before each request you make, you're in luck. Multiple Actions allows Google Assistant users to ask multiple questions at once. For example, you could say, "Hey Google, who was the governor of California when Kevin Durant was drafted and what team drafted him?" and Google would answer both of your questions without flinching.
4. Smart Home
Voice search paired with a visual experience was a big theme for Smart Home this I/O. When you pull up a recipe, for example, you'll be greeted by text directions for the recipe and a video that audibly walks you through each step. Simple voice searches such as, "Who is Camilla Cabello" will also now turn up visual as well as audio results, giving users a more immersive experience Android devices this summer and iOS later this year.
5. Kiss phone calls goodbye
The wishes of collective America have come true and we're one step closer to never having to call another human being on the phone gain. Need to make an appointment for a haircut on Tuesday morning between 10:00 a.m. and 12:00 p.m.? Google Assistant will take that information and actually make the call for you, schedule it, and share the details.
It even works if calls don't go as expected. During one live demo, a Google Assistant called to make a reservation for four at a restaurant that required five or more for a reservation. The assistant uses deep learning to handle these situations "gracefully." In the case of the dining reservation, the assistant knew to ask how long the wait would be without a reservation.
6. Android Dashboard
Another big theme of the I/O keynote was giving users time back as part of a digital well-being initiative. With Android P's Dashboard, customers can see a user-friendly breakdown of how they've spent their day on their device and desktop.
YouTube will suggest you exit your cat video wormhole and take a break, and you can set an App Timer to limit time spent on apps. Once you've reached your limit, Google will grey out the app and suggest you exit. The idea is this will encourage users to put their phones down and actually interact with the world around them -- because it's come to that, folks. We actually need our devices to tell us when to put them down.
An updated Do Not Disturb mode will also silence your phone when you put it face down, and Wind Down Mode allows you to tell your assistant when you'd like to go to bed, at which point, your phone will turn to grayscale, which helps your brain wind down. Android P Beta is now available on seven flagship devices.
7. Full Coverage
Perhaps the strongest "stance" taken during this year's keynote was that of all people having access to "the full story." Google News' Full Coverage feature gives readers a complete look at how a single story is being covered on a variety of news outlets -- all in real time. To combat fake news or "tunnel vision," everyone using this feature will see the same news at the same time, thereby giving us all the information we need to engage in a responsible and lively debate. Here's hoping, Google.
8. Smart batteries
Android P also offers "adaptive battery" which uses on-device machine learning to discover which apps you'll use now, later, and probably not today. Then, it spends precious battery life fueling only the apps you use giving you a longer battery life.
9. Google knows you don't know which way South is
We've all been there. You pull up Maps, enter your directions, watch the arrow populate, and walk in a random direction until you figure out which way you should actually be going. No more! Maps now combines your camera, street view, and directions to provide augmented reality walking directions. Plus, they're playing with fun avatars that may soon be bounding out in front of you and showing you the way themselves.
10. Watch out, Yelp
Now, everytime you rate a restaurant or shop on Google, Google will use that information, in conjunction with its own knowledge of your surrounding area to give local haunts a score based entirely on your preferences. So, if you've rated two nearby Ethiopian restaurants highly and given two Pho restaurants and a burger joint pretty low marks, Google might give that new Eritrean restaurant a high match score for you.
Coming soon, we're adding a new tab to @googlemaps called "For you." Designed to tell you what you need to know about the neighborhoods you care about, see new places that are opening or whats trending, personal recommendations and more. #io18 pic.twitter.com/CtqQsWFyot

— Google (@Google) May 8, 2018
11. Google Lens knows what everything is
The new Lens is integrated with your camera and allows you to point your phone at virtually anything to find out what it is or where you can buy similar items. Want to know what that building to your right is? Point your lens at it and Google will tell you. Like that outfit in the window? Lens will break down each piece and tell you where you can find it. Just like the general style of that lamp? Style Match will surface results that are different from the original but still in a similar style.
12. Self-driving cars are not going away
Proving you can't keep an autonomous vehicle down, Waymo CEO John Krafcik ignored last Friday's crash involving a car that hit a Waymo van and focused on the future. Much of the time was spent discussing measures to increase pedestrian safety, a common concern after one of Uber's self-driving cars killed a Phoenix pedestrian in March of 2018.
Pedestrian safety is something Waymo claims they've increased by 100x, demonstrating their cars' ability to identify pedestrians in blow-up dinosaur costumes, partially hidden behind planks of wood, and poking out of manhole covers. They also showed a Waymo van avoiding a collision with a car running a red light -- something that might have come in handy during last week's crash. Waymo also announced plans to launch its self-driving car service to all Phoenix consumers later this year.
Did we miss any of your favorite announcements? Were you surprised there was virtually no mention of security or information sharing? Sound off on Twitter!
*Header image source: CGM