Even though the majority of consumers research, discover, and purchase products on the Internet, 60% of small businesses didn't have a website last year. A lot of small business owners just don't have the time or resources to develop their own websites.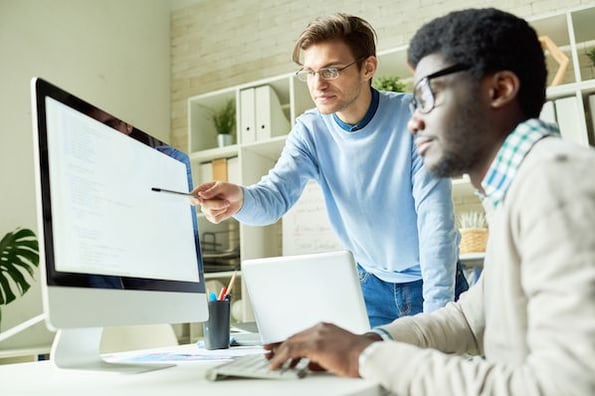 Fortunately, in June 2017, Google decided to help out the backbone of the global economy by giving every business with a Google My Business account access to a free, intuitive single-page website builder. The tool is fully customizable, automatically updates with the account user's GMB listing information, and works with AdWordsExpress much like HubSpot's drag-and-drop website builder.
If your small business wants to build a simple yet striking site in less than an hour, here's a quick rundown on how to use Google's website builder to create and customize your new site.
How to Make a Website for Free on Google
Fill out a free Google My Business Listing.
Once you've filled out your GMB listing, click the "Website" option on the left sidebar.
Customize your website.
Press "Publish".
Buy a domain.
Customizing Your Free Google Website
Google's website builder will automatically generate an initial website for you, pre-populated with your business' name, location, hours, contact information, posts, catalogue, and photos.
The initial website is a template, so you can customize the theme, copy, photos, and language. Here are some screenshots and information about each element.
Theme
With eight themes to choose from, your website's font and color scheme are fully customizable.
Copy
In the edit tool, you can choose from a variety of CTAs to place on your website. You can also edit your website's headline, description, summary header, and summary body. In the summary body, you can bold, italicize, underline, hyperlink, number, and bullet any of your text.
Photos
In the Photos tool, you can upload up to nine photos, product images, or other pictures to the section on your website directly below the summary body. You can also upload your own cover photo to your website.
Language
You can write your website's copy in over 60 different languages.
Section Order
Unfortunately, you can't change your website's section order, but your site will be laid out in a logical and engaging fashion.
With their free website builder, Google has helped millions of small business owners bypass the challenges, time, and costs that hindered the development of their own websites and, ultimately, their business. If you're looking for a free and simple way to grow your online presence, Google's Website Builder can help you too.