In 2018, US adults spent an average of three and a half hours on their phone every single day. What were they doing on their phones for nearly half the work day? While texting, surfing the web, and checking email are the top three mobile activities, using apps is next on the list.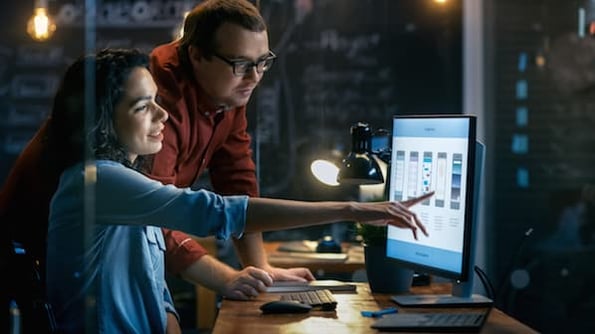 Whether it's a social media, music, or ride hailing app, apps are specifically tailored for mobile devices, making it easier to connect, work, and stay informed. And the convenience of having access to all your loved ones and endless entertainment and information in your pocket drove more than 200 billion app downloads last year.
Needless to say, as people become more reliant on their mobile devices, developing a well thought-out app can compel your potential customers to interact with your brand more, rocketing you up to the top of their minds. To help you make a thoroughly designed and developed app, check out our ultimate guide to creating one today.
How to Develop an App
Research your market.
Determine the challenge your app solves.
Build your app's wireframe.
Design your app.
Test your design.
Develop your app.
Test your app.
Launch a beta version of your app.
Launch your app.
1. Research your market.
Odds are, your competitors will all have an app, or the app market you want to penetrate already has a lot of players in it. But don't get discouraged by your market's competitiveness. You have the last mover advantage, which means you can research each of your competitor's apps and pinpoint their strengths and weaknesses. This information can potentially enable you to make the best app in your market.
To conduct a full analysis on each of your competitor's apps, consider downloading and examining each one. You should also read each app's reviews and uncover what your potential customers like and dislike about them and use this information to drive your app's design and functionality.
2. Determine the challenge your app solves.
If your app is a solution looking for a problem, it'll never catch on. So make sure you have a clear understanding of your customers' challenges and make a concerted effort to develop an app that solves them. These pain and pleasure points should inform exactly what your app does.
To fully grasp your customers' problems and, in turn, the solutions they need, sit down with some of your most loyal customers and ask them what features would truly differentiate your app from the rest of the crowd.
3. Build your app's wireframe.
A wireframe is like your app's blueprint. It'll display your app's design and functionality, and help you understand what your app will look like and how it'll work.
Your wireframe will be tremendously helpful when you actually need to design and develop your app because it will serve as your reference. If you need help building your app's wireframe, check out the following wireframe tools:
4. Design your app.
Unless you're a graphic designer, designing an app by yourself isn't a good idea. Humans are visual beings, so striking the right balance between your app's colors, fonts, and other design elements can be the difference between creating something that is everyone's go-to-app and an app people delete within 10 minutes of their download.
Fortunately, there are two common options for working with professional designers:
Hire a freelancer.
Working directly with a designer can help you develop an app that can exceed even your own expectations. You have a vision for your app, and a freelancer has the skills to turn it into a reality. But they also know what's feasible and what's not, so they can collaborate with you to develop an app that's rooted in reality and more user-friendly.
If you need help hiring a freelancer, check out a designer marketplace that connects brands with talent, like 99designs or Dribbble.
Hire an agency.
If your app is complex and needs a lot of expertise to develop, your best option is to hire an app development agency -- they'll build your app entirely from scratch. Out of all the ways you can develop an app, hiring an agency is the most expensive choice, but they can take care of every step of the app development process, from initial design to launch, which is incredibly convenient.
However, don't just hand your agency your plans, disappear into the ether, and finally check back in on launch day. Make sure you're involved in every step of development to ensure the agency is following your direction. Otherwise, they could spend all your resources building an app you don't even recognize.
5. Test your design.
Before you spend a ton of time and money developing your app, you need to make sure your mockup design is actually usable. Identifying and fixing any early issues gives you the advantage of not having to overhaul the code of a poorly designed app that's already built. It also allows you to release your app on schedule. If you bypass this step and move straight into development, you'll most likely waste all your resources on building an app nobody likes.
To determine if your app is user-friendly, recruit colleagues to participate in a usability test. During a usability study, you'll ask participants to complete a series of tasks while your teammates observes and takes notes. By watching actual users navigate your app and listening to their praises and concerns about it, you can see if people are actually able to complete your intended tasks as well as what they're enjoying about your app's user experience, what they don't like about it, and what confuses them.
6. Develop your app.
After your app design passes a usability test, it's time to develop it. At this stage of the app development process, you'll hand over your design to your development team or a freelance developer.
From here, they'll collaborate with your design team or freelance designer to solve any problems they run into during the development process and keep your app's intended functionality and design on track.
You can also try using an app builder, like Appy Pie's App Builder or BuildFire. This tool has pre-designed templates that you can use to create your own app, from scratch, no coding needed.
7. Test your app.
Now that you have a fully functional and visually appealing app, it's time to conduct a final usability test with another group of colleagues. By discovering any bugs you might have overlooked or some new ways to enhance your app, you'll be able to make the crucial last tweaks to your final product.
8. Launch a beta version of your app.
Launching a beta version of your app attracts early adopters, which is a crucial step in the taking your app mainstream. Early adopters can provide a lot of helpful feedback about your app's pros and cons, and their experience with and pending endorsement of your app is vital for determining whether or not the majority of your market will accept it. This potential support and word-of-mouth marketing for your app will bolster its reputation and help you acquire even more users.
9. Launch your app.
You've designed, tested, and developed your app. Now it's time to launch it. If you want to launch your app in Google Play Store, they don't require any review of new apps, so all you have to do is upload your app file into the store. IOS reviews every new app before they offer it to iPhone users in the app store, but if you follow their guidelines, your app should get accepted.
After you launch your app, the next step is marketing it. If no one knows what your app is, no one will download it. To spread the word about your app and convince people to download it, consider creating videos of your app's functionality and advertise them on social media with a link to your app. This'll give people a glimpse of what your app actually does and how it can benefit their lives.