Picture this: it's the end of the month, and some poor soul at your agency needs to put together the monthly marketing report for each client.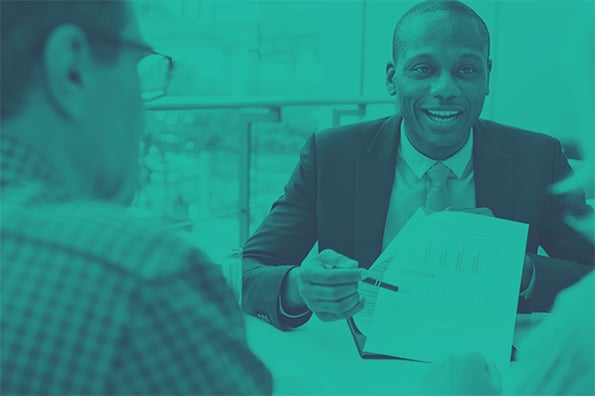 He or she embarks on this mind-numbing journey by logging into every digital marketing service you use, copying the key data points, and entering them into your clunky marketing KPI spreadsheet.
For other metrics that are too complicated to duplicate in a spreadsheet, they cut and paste graphs from different software into powerpoint, and try to craft a cohesive story even though each graph's format is different. Finally, it gets pdf'd and sent over to the account manager who forwards it along to the client or presents it live.
What a pain in the keister.
But your client needs to know what you're doing with their money. All those grueling hours are necessary ... right?
Most agencies see this type of manual reporting as a necessity, but, unforunately, the process is usually a negative experience for everyone involved:
The account manager probably spent 4-5 hours creating the client's presentation.
As a result, your agency wasted hundreds of dollars making a report that's hard to analyze.
The client has a hard time understanding how your services contributed to their business.
As you can see, a monthly metrics spreadsheet and powerpoint presentation is more hassle than it's worth. It's not a viable solution.
You need to stop the madness!
If you're still cutting and pasting data and graphs into spreadsheets and presentation decks, there's a better way. It's called client KPI reporting automation.
To step up your analytics and reporting game, you need to automate the busy work. Leveraging a process that can gather data for you will allow more time for analysis and less time on data collection.
Fortunately, there are now a number of automated reporting tools in the market. And regardless of the one you choose and the digital services you provide, your rollout strategy will still be similar.
Read on to learn the 11 steps for automating your client's KPI reporting.
Step 1) Identify your clients' most important marketing tools.
Make a list of digital marketing services across all client accounts. Then, decide which services and software hold the most crucial data for your agency's and clients' success.
For example, if you offer inbound marketing services, you'll probably need to track data from HubSpot Marketing, HubSpot CRM, Google Analytics, Facebook Ads, and Adwords.
Since most agencies use a wide variety of tools, you probably won't find an automated reporting software that pulls data from all your services in every single clients' marketing stack. But you should be able to find one that covers about 80% of their tools.
Step 2) Choose a client reporting tool that integrates deeply with your key services.
After talking to hundreds of digital agencies about reporting tools, we've found there's no perfect solution. The biggest issues? Being able to report the key metrics your clients need.
With the boom in marketing and sales software, no single dashboard can pull all the data from every known system. But you should look for a tool that allows you to pull a variety of metrics from the services you use.
For example, if you use HubSpot, there's a big difference between a reporting tool that pulls 145+ metrics from HubSpot versus one that pulls just 11.
You need to be really careful here.
If a business intelligence software vendor doesn't offer a full-feature trial that showcases its reporting capabilities, stay away.
A free trial can also help you gauge the software's user experience. Some of these tools can be really hard to setup and use.
There are even tools that require developers, data analysts, and marketing wizards for it to work. That'd be a tall order for anyone to fill, especially if you work at a small agency.
Here's a list of important criteria to look for in a reporting automation tool:
Do they automatically import data from your marketing software or do you have to figure out how to upload your data?
Do they offer standard reporting templates for the tools you use?
How easily can you build custom reports?
How often do they refresh the data? Hourly? Daily?
Do they offer special pricing for agencies?
Can you brand the reports with your or your clients' colors and logos? Can you change the domain name where your reports will be hosted?
Do you need the tool to spit out a monthly report or offer real-time reporting, or both?
Can you add your interpretations and recommendations next to the data?
Do you want to view the data on your desktop, a TV in your offices, and your mobile phone? How will your clients prefer to view the data?
Can you create separate accounts for each client?
How long does it take to fully set up a new client account?
I also recommend using B2B software review sites like AlternativeTo, Capterra, and G2 Crowd to add on to your list of criteria.
Step 3) Make sure you and your client agree upon the most important KPIs.
If you haven't had an in-depth conversation with your clients on the KPIs that drive their business, now is the time. You do not want to build out a series of reports that get ignored.
We recommend starting with their revenue goals and working backwards.
This conversation should be an interview with the client. Start it by saying, "We're revamping our reporting processes to be more focused on what's really important." This is a good time to show that you're putting in the extra effort to drive their business forward.
And by pursuing top-line revenue goals first, your clients will always look forward to seeing your reporting results.
Step 4) Make sure your reporting tool pulls the metrics you need.
This can't be stressed enough.
Imagine you want to increase your client's leads from organic traffic. Think about all the metrics you need to track to support this goal. That list might include metrics from a Google Analytics segment for organic traffic, combined with contacts generated from search, which is measured by a smart list or a lifecycle stage from HubSpot.
To really show your client progress, you should also report search data from MOZ, SEMRush, or Google Search Console.
Now, think about if your chosen reporting tool can pull all these metrics?
Your client may not be an expert in digital marketing terminology, so it depends on you to determine the metrics you pull.
You should list out all the client's KPIs, and form a hypothesis around the specific metrics you need from each service. This does not need to be presented to the client, but it will help you create a set of reporting templates that you can reuse with different clients.
Step 5) Create standardized reports you can use for multiple clients.
Be careful of creating customized reports for each of your clients. Creating templates that are reusable across a group of clients is a lot more efficient. You only have to build one and then you can reuse it as many times as you want.
Every time you create a new template, ask yourself, "What other clients could benefit from looking at their data this way?"
You can keep this process simple by grouping your clients based on their reporting needs and serving a customized template to each group.
Usually, agencies show their clients top-of-the-funnel results first, then drill down further. If your client just needs reporting, though, stick to a high-level overview. If they need a deeper dive, go more in-depth.
Step 6) Design metric-specific visualizations for each dashboard.
Most reporting tools offer a selection of data visualizations like a number block, a line chart, a gauge chart, or a table. It's crucial to choose the best way to visualize your data.
For example, marketers should use a funnel or pipeline visualization to analyze a marketing and sales funnel.
You should also think about how to categorize specific data. For example, you might want to group a line chart of keywords Google's Top 3 from SEMrush, organic search traffic from Google Analytics, and leads from search from HubSpot onto one dashboard.
Or you could display follower and comment counts from different social services like Facebook, Twitter, LinkedIn, and Youtube in another dashboard.
This is the beauty of reporting tools: you can batch data from multiple services and compare them to each other. However, as an agency it's your job, to formulate your reports in a clear way. Be careful not to overload your client with complex metrics.
With automated reporting, weekly, monthly, and annual numbers are always available and you'll be able to introduce all kinds of metrics that might confuse your clients.
Remember, if the client can't understand your data, you must present it in a simpler way.
Step 7) Roll out your reports internally.
Before you roll out your marketing reports to clients, show them to your account managers and service team. Some agencies make their account managers build reports. However, we've found agencies are much more successful when one of their team members builds out reports and then sends them to the account managers for review.
Even though you should standardize your reports as much as possible, each client report requires some customization. Your account managers will most likely know what your client wants to see, so letting them approve the reports is crucial.
Step 8) Position automated reporting as a benefit for your clients.
Automated reporting saves you time, which might be the primary reason why you're implementing it. Your clients also benefit from your ability to reallocate saved time towards analyzing and improving their numbers.
You shouldn't position its value proposition this way, though. Position it in a way that will help them understand how automate reporting directly benefits their business, rather than describing how benefiting yourself will benefit them too.
A way you can do this is by positioning to clients as "real time reporting. Why is this effective? Being able to instantly access their campaign's performance data is a benefit to them. And by transitioning to real-time reporting, they can:
Monitor their results more closely.
Ensure you're achieving daily progress towards goals.
Adapt your plan more frequently based on what's working.
Catch any issues (like getting zero clicks from a PPC campaign you just set up) before they affect the sales funnel.
For more advanced clients who have larger traffic and lead volume, you can also position your new reporting process as a launching pad for more in-depth analysis of their marketing and sales funnels.
Since you can analyze new data more consistently, you can teach all your employees (and clients) how to identify new opportunities for improvement from the data you already have or by using new tools.
If you're going to position it this way, make sure you can follow through on your promise. Consider proactively rolling out a new report to every client each month -- like a "report of the month" update.
Lastly, you can position your new reporting system as a better way to visualize data. Often times, agencies use a mix of KPI spreadsheets and cut-and-paste graphs from multiple tools, so each graph has its own color scheme, x and y-axis, terminology, and formatting.
Scanning a deck with 30 unique graphs is cognitively draining for your client. Consistent visualization makes it easy for your clients to understand and draw conclusions from your reports.
By using a centralized tool to view all your data, you can also synchronize data from different services to different time periods, as you can see below.
Step 9) Determine a plan to regularly share results.
Your reporting strategy should aim to update your clients, not overwhelm them with every little thing that happens over the month.
If your client is pretty new to online marketing and doesn't have a lot of marketing assets, anything more than a monthly review would inundate them. But if your clients have a large amount of traffic, leads, or ad budget, a daily review might be the right call.
Most tools allow you to set up different reporting timeframes:
Real-time or Daily: In addition to reviewing your data on your desktop or wall-mounted TVs, if your reporting tool has a mobile app, email or Slack notifications, you can send automated updates more frequently to internal team members and/or clients.
Weekly: Weekly updates can also be mobile or email-based. Use this to make sure you're not falling too far behind any monthly goals you've set.
Monthly: This is your full monthly report. Use it for analysis, making recommendations, and interpreting your data.
Quarterly: Use this report to propose new, big initiatives. Recap the progress from the last 3 months (or longer) and show your client how you can deliver even more value if they invest more in your agency.
Step 10) Figure out which devices each client uses to view their reports.
Some of your clients will be more excited about automated reporting than others. If they're very data-driven, you can display their reports on an office TV. Or, you can allow clients to view reports on their smartphones. This allows them to constantly monitor their data wherever they go.
We actually know of one agency who purchases a TV for their clients and actually hangs it up on their CEO's wall.
Other clients might want you to do all the analysis and prefer only monthly updates. In that case, just send them a URL to their report, tell them to bookmark it, and continue your monthly meeting cadence.
Step 11) Set concrete goals with your clients.
We've spoken with many agencies that set goals in the sales process but don't revisit them with the client until contract renewal time.
As a result, month six rolls around and neither the client nor the agency remembers what goal they set or why they set it. Don't risk losing a client because you either found out you never actually hit the goal or the original goal became unimportant to them.
Set goals inside your visualization tool, so that it plots your current performance against your goals.
By entering your goals into your reporting software, it becomes significantly easier to review your progress during monthly meetings and adapt the goal or monthly plan with clear agreement between you and your client.
Goals superimposed over performance data provides a monthly reference point. If you're consistently hitting goals, you're much more likely to upsell clients on new services or more of your current work. But, if your outstanding overachievement isn't clear and obvious, it's a lot harder to retain business.
You can also use goals to hold your client's sales team accountable too. You could be generating a ton of demand for your client, but without concrete goals, a dip in sales will likely get you the axe first and not their sales team.
Closing Thoughts
With the crap-work eliminated, your agency can spend more time combing through your client's data for growth opportunities, impress them with careful analysis and data-driven recommendations, and become the trusted partners you aim to be.
Ultimately, automated reporting will help your agency retain clients, upsell them, and boost employee satisfaction.