1. Get your data into Excel.
First, you need to input your data into Excel. This is the easy part! You may have exported the data from elsewhere, like a piece of marketing software or a survey tool. Or maybe you're inputting it manually.
In the example below, in Column A, I have a list of responses to the question, "Did inbound marketing demonstrate ROI?", and in Columns B,C, and D, I have the responses to the question, "Does your company have a formal sales-marketing agreement?" For example, Column C, Row 2 illustrates that 49% of people who have an SLA (service level agreement) also say that inbound marketing demonstrated ROI.
2. Choose a type of chart/graph to create.
In Excel, you have plenty of choices for charts and graphs to create. (For help figuring out which type of chart/graph is best for visualizing your data, check out our free ebook, How to Use Data Visualization to Win Over Your Audience.)
The data I'm working with will look best in a bar graph, so let's pursue making that one. To make a bar graph, highlight the data and include the titles of the X and Y axis. Go to the 'Insert' tab, click 'Charts,' click 'Column,' and choose the graph you wish. In this example, I will be picking the first 2-D Column choice -- just because I prefer it over the 3-D look.
3. Switch axes, if necessary.

If you want to switch what appears on the X and Y axis, right click on the bar graph, click 'Select Data,' and click 'Switch Row/Column.'
4. Adjust your labels and legends, if desired.
To change the layout of the labeling and legend, click on the bar graph, then click the 'Layout' tab. Here you can choose what layout you prefer for the chart title, axis titles, and legend.
In my example, I clicked on 'Chart Title,' and selected 'Above Chart.' To format the X axis title, I clicked on 'Axis Titles,' clicked 'Primary Horizontal Axis Title,' and clicked 'Title Below Axis.' To format the Y axis title, I clicked on 'Axis Titles,' clicked 'Primary Vertical Axis Title,' and chose 'Rotated Title.' To change the placement of the legend, click 'Legend' on the 'Layout' tab and choose your preferred location.
5. Change the Y axis measurement options, if desired.
To change the type of measurement shown on the Y axis, right click on the Y axis percentages, and click 'Format Axis.' Here you can decide if you want to display units located on the Axis Options tab, or if you want to change whether the Y axis shows percentages to 2 decimal places or to 0 decimal places.
The resulting graph would be changed to look like this: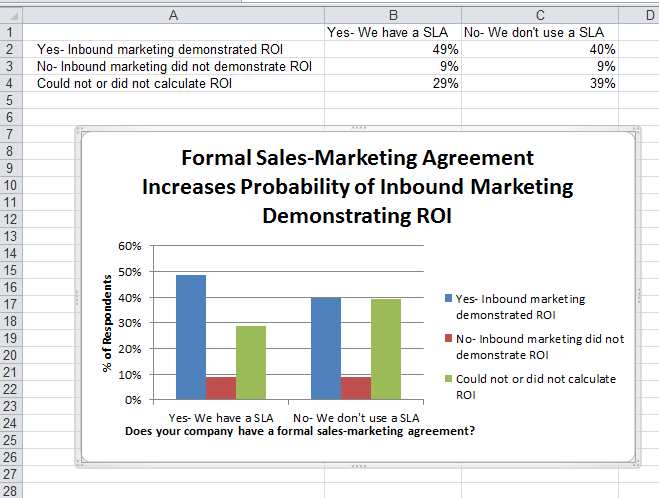 6. Reorder data, if desired.
To sort the data so the software choices appear in descending popularity order, click on the column that is most important to you (in this case, I picked column B), click on the 'Data' tab, and click 'Filter.' Then go back to Column B, click the down arrow, and click 'Sort Largest to Smallest.'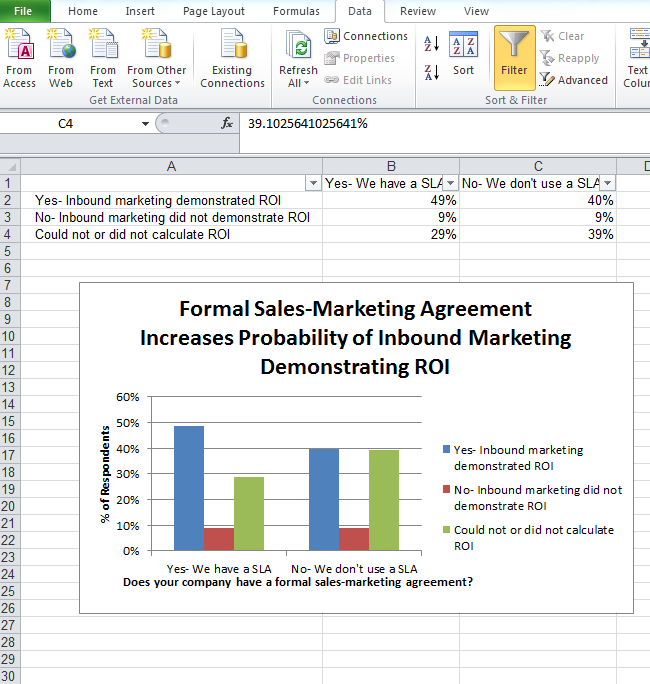 If you click on the downward arrows located at B1 and C1, you can choose to sort based on smallest to largest or largest to smallest, depending on your preference. Here, I sorted largest to smallest on B1.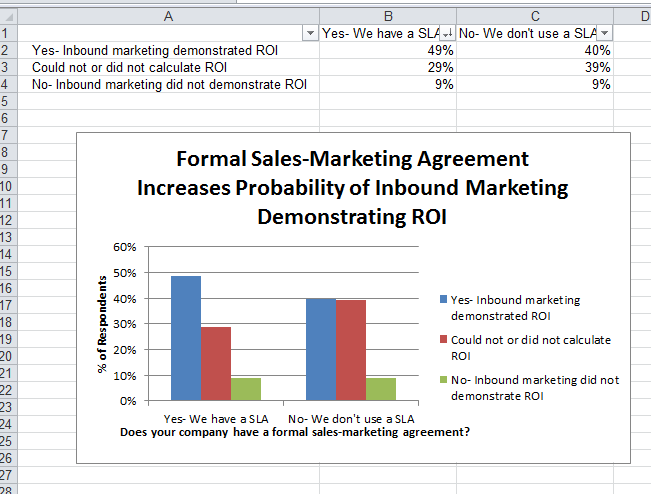 Pretty easy, right? What other Excel functions have you always wanted help with? Check out some additional resources below for additional help using Excel and visualizing your data in smart ways.
Additional Resources for Using Excel and Visualizing Data:
Want more Excel tips? Check out this post on how to add a second axis to an Excel chart.
Editor's Note: This post was originally published in May 2013 and been updated for accuracy and comprehensiveness.