Okay, okay, I'll admit it — to waste time, I start a Google search query and let the suggestions do the rest, hoping to fall into a rabbit hole of interesting facts.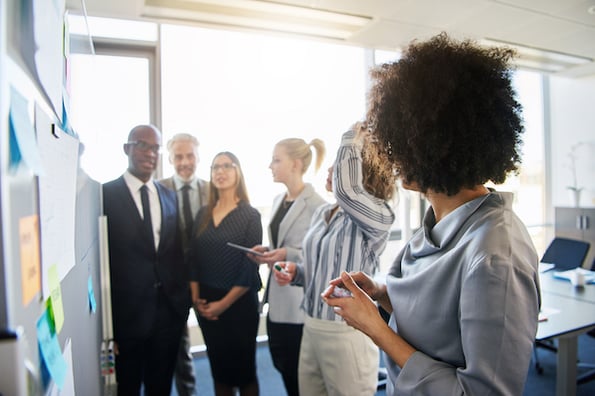 For instance, today's lucky search query was "How many businesses", and I ended up going with "...does Shaq own" (let's just say, I was shocked to see the result.)
Here's what I figured out: Shaquille O'Neal is the joint owner of over 150 Five Guys restaurants, 17 Auntie Annie's Pretzels restaurants, over 100 car washes, 40 fitness centers, a mall, a movie theater, and a few Vegas nightclubs.
With over 30 million businesses just in the United States (and 300 owned by Shaq alone), it's easy to slip into panic mode if you work for a small start-up. How are you supposed to attract customers when there's so much competition?
You might feel like you're constantly throwing darts at the wall and seeing what sticks in the realm of business promotion. Or, perhaps you've hit a plateau with traffic and you're wondering how you can boost lead generation.
Let's talk about how to promote your business.
How to Promote Your Business
Craft a brand image to stick out among the crowd.
Know your audience and what they respond to.
Start using social media to expand your reach.
Make use of an email marketing strategy.
Engage with your audience to build community.
Optimize your content to get found.
Regardless of the motivation, we've provided some tools and tips to help you reach new customers and expand brand awareness. In the next section, we're going to provide some tips you can use to promote your business.
1. Craft a brand image to stick out among the crowd.
Seth Godin once said, "A brand is the set of expectations, memories, stories, and relationships that, taken together, account for a consumer's decision to choose one product or service over another."
Essentially, a brand image is your identifier — how you stick in the heads of the public. It's constructed from your business values, how you sell, and the feelings you want to evoke when customers interact with your products.
A brand identity is what your audience recognizes is unique to your business — whether it be reputation, a tagline, a logo, or a product. These factors work together to create your brand's holistic identity.
For example, if you think about one of your favorite businesses, you can identify things about it, right? How the products make you feel, what the logo looks like, why you're a customer, and what the business's purpose is.
Take Spotify, a company with a strong brand identity. When I think of Spotify, I think of their green logo, their accessibility as a streaming service, how the audio quality keeps me a loyal customer, and their tagline: "Music for everyone."
To create brand identity, think about how you want to create credibility, establish your business in your industry, and incorporate your mission into all your communication materials. You can use marketing tools like HubSpot's branding resources to help you along the way.
Brand identity helps you stay in the mind of customers. If they forget, for instance, your company name, they can still identify you by different factors of your identity, like your logo.
2. Know your audience and what they respond to.
Having a good idea of your audience helps you identify their desires and challenges. Also, knowing your audience establishes brand loyalty and makes them more likely to be an advocate of your brand to others.
To find your audience, start by creating a buyer persona, if you don't have one. Buyer personas are fictionalized versions of your ideal customer that identifies their challenges and desires. Additionally, you can look over data you've collected to gain a more holistic idea of how your audience responds to your business so far.
With tools like HubSpot's marketing software, you can create surveys, segment your audience, and monitor the feedback and comments customers are leaving, all in one place. This keeps your data accessible, automated, and accurate.
Creating content with your customers in mind delights them, and delighted customers love to share their favorite brands with the world, promoting your business through word of mouth marketing. That starts with knowing your audience.
3. Start using social media to expand your reach.
I've found most of my current favorite brands on social media — and it's usually from stumbling upon a post or tweet that makes me feel connected to the brand.
Social media marketing is important to include in promotion efforts because it's how you can interact with your audience. Additionally, you can boost brand awareness, monitor competitor strategy and identify what works for them, and generate leads. If you don't have a social media account, it's a good idea to make one as soon as possible.
You might've already made some social media accounts, but are unsure of how to use them to promote your business. Keep in mind that different platforms are best for different business goals.
For example, Twitter's audience is primarily millennials, impacts both B2B and B2C industries, and is best for customer service. Alternatively, LinkedIn has an older audience (working professionals), impacts the B2B industry, and is best for fostering professional relationships and developing business goals.
By knowing this information, ideally you're able to correctly identify how each social network can help you achieve one subset of your overall marketing goals and reach your intended audience(s) on whichever platforms they prefer.
To organize your business goals, identify how you want social media to accomplish promoting your business and build a strategy to help.
Contents of a social media strategy should include unique content, a schedule, data collection, and determining which platforms you'll focus on.
Once you find your audience on social media and cater to their interests with your content, you can engage with them on a personal level and begin to build your community. If you're confused about how to do that, visit our crash course on social media marketing.
4. Make use of an email marketing strategy.
An email marketing strategy can be a vehicle for promoting exciting things about your brand to segmented audiences that have shown an interest in your brand. Email marketing shares (and gets the word out about) content your audience will see as valuable, such as exclusive offers, discount codes, and pre-sales for new products.
Similarly, on the lead-building side, email marketing can invite potential subscribers to exchange their information on a form to obtain valuable content, like an ebook for free. Then, you can nurture those leads by sending delightful content that helps your audience achieve their goals.
How do you get started preparing an email marketing strategy? The easiest way is to use a content management system (CMS) with tools that help you build and monitor email lists. For example, HubSpot's email marketing software allows users to create and manage lists.
5. Engage with your audience to build community.
Engaging with your audience is one of the most effective ways to do audience research. What better way to know what makes your audience tick than to ask them?
Audience engagement can give you fruitful insights into how to make campaigns that will serve as effective promotion, while making your prospects feel connected to your brand.
There are a myriad of ways you can go about engaging with audiences. If you've been answering comments, asking questions that invite participation, and re-posting user-generated content on social media, you're already off to a great start. These tactics can get you into the groove of communicating with audiences in a way that resonates with them.
You can also encourage email subscribers to leave a net promoter score of your business so you can spot ways to improve upon the customer experience, and ultimately lead to satisfied customers recommending your service to a friend.
In a similar fashion, try engaging with your industry to promote your business. Writing a guest post for a competitor's blog and plugging your business is a great way to grow your audience.
And for those who don't have stage fright, hosting a webinar about an industry topic or speaking at a local university about your career boosts your credibility and generates leads. (Remember LinkedIn — networking on the platform can help you find industry professionals and university contacts).
6. Optimize your content to get found.
Search engine optimization (SEO), in a nutshell, helps your business's content get found on Google. Optimizing your website for search can bring it out of a traffic plateau and generate leads.
A great thing about SEO is that there are things you can do right now to improve it. For instance, one tactic you can do to improve SEO is adding alt text to images. Alt-text is a short description that tells Google what's going on in the image.
Developing a robust SEO strategy is key to making sure your business is being found by the right audiences. For instance, if your business develops sales software, you want to be on the search engine results page (SERP) for those searching "sales software".
SEO isn't a quick fix to promote your business. It does take time to target keywords, create CTAs, and aim for featured snippets. Even so, optimizing content has a huge payoff. Plus, it's 2020 — there's SEO software tools to help you begin the process.
If you're short on time but want a larger overview of SEO, (and how HubSpot learned to master it), check out these 13 critical SEO tips.
Strategies to promote your business are in reach, and with proper planning and execution, you can expand your reach to larger audiences. Not every business needs a Shaq in order to thrive — just patience, knowledge about your business and audience, and consistency.
Remember that not every success story is an overnight one. Your business grows over time, and so will your audience if you're approaching them in the right way. I can't wait for your business to be the one I fall in love with next.