Undoubtedly, search has changed in recent years.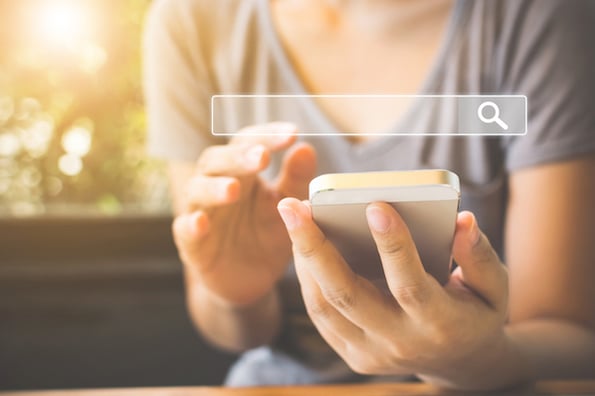 Consider, for instance, what happens when I search for the term "Skiing":
I'm immediately shown images of skiers, as well as top stories related to skiing, and even a local Google Maps panel with nearby ski mountains. I'm even shown videos of skiers before I finally reach the first article regarding the topic of "skiing".
From a user perspective, this makes sense. Most people searching for "skiing" aren't interested in reading a blog post about it — they're interested in seeing it visually via YouTube, or finding nearby locations so they can ski themselves.
In 2020, search is going to continue to evolve in the direction of zero-click search. But that doesn't mean your SEO strategy is futile. It just means you'll need to get creative to rank on page one.
I sat down with Senior SEO Strategist Braden Becker to discuss his keyword research strategy, how you can use featured snippets to your benefit, and what he's most excited to explore in the world of SEO in 2020 and beyond.
Keyword Research is All About Telling a Story
Let's start with the basics.
Becker advises you start your keyword research with competitive analysis, which allows you to see what similar domains are ranking for that you're not. SEO tools like SEMrush can help you do this.
"That's where we start — constantly refining a list of competitors we want to keep an eye on, and whose content strategies we think are worth taking inspiration from," Becker told me. "This is a good first step in keyword research, and you can explore related SEO opportunities from there."
We won't explore this concept too in-depth in this post, since we've covered it extensively before, including in our Ultimate Guide to SEO in 2019.
Additionally, Becker advises, "When you're starting to create content, you should think about your opportunities in groups or clusters, not just one assignment at a time."
"Not every keyword you find is just a single blog post. Instead, it's the potential to create a larger marketing campaign that tells a story around that keyword. Then, you can use that keyword to find related queries you think the same visitor would want answers to."
For instance, let's say you find there's high monthly search volume (MSV) on the long-tail keyword, "How to improve your open-rate."
On the surface, it might seem like that only has the potential to be one blog post regarding "How to improve your open-rate." But this misses the bigger picture you should be exploring.
As Braden told me, "Once you see 'how to improve your open-rate' is one long-tail keyword, you should be thinking, 'Okay, maybe there's a similar keyword with even more MSV, or maybe there's another tangential topic we can cover, as well …' and, as you explore, you might find tons of topics related to email marketing, and your marketing team might decide 'email marketing' as a cluster of content is an avenue you want to explore."
You Can Still Have a Strong Content Strategy if Your Product is One-Dimensional
So — that's all well and good. But what if your product just isn't that interesting to write about?
What if, for instance, you sell socks. There are only so many topics, and so many stories, you can tell about socks — right?
Braden sympathizes with this, but he has a solution in mind: "This problem is equal parts a B2C issue and a reality of e-commerce, where the customer journey is different than it would be for a software-as-a-service (SaaS) company. If you sell socks or clothing, for instance, you have to be a little more creative with the questions you ask yourself -- like 'What kinds of socks are you selling? What's the purpose of these socks? Why are people buying these socks, and what are they using them for, and what else do they care about?'"
For instance, let's say you sell athletic socks. As Becker points out — "Well, then, what sports do they play? What other clothing do they wear when they wear socks, and is breathability a concern for them?"
"If that's the case, suddenly you now have an entire topic around breathable fabrics for which you can create content for your customers."
If your product isn't as snazzy as "email marketing" or as Google-able as "skiing," that's okay. When your product is a little more one-dimensional, you'll want to learn as much as you can about your customers and focus on the purpose of your product when creating a content market strategy and researching keywords.
Ultimately, your customers have other concerns, interests, and passions beyond your product or service. If you can tap into their related interests from a business standpoint, you'll have hundreds of potential topics to explore.
How to Win at The New Zero-Click Game
For many marketers, the introduction of featured snippets, image carousels, and other new SERP features poses a problem, because these new features typically provide the user with an answer right on the SERPs page — so the user no longer needs to click on your website.
Becker admits, "Featured snippets are kind of like the lottery. There's no real rhyme or reason why one publisher wins them over another, but that doesn't mean you can't take action that aligns with helping you win those bigger answer boxes at the top of the results page."
Ultimately, Becker says that high-quality, succinct content always has a better chance at winning a featured snippet. Additionally, he says standard writing conventions, like including a summary at the beginning of your post and a conclusion at the end, can serve you well in SEO.
"High-quality content is also good SEO, and that idea gets lost sometimes," he adds. "A lot of writers think they need to 'SEO-optimize" their writing style, but if you're a good writer, you're already doing a lot of things right without realizing it."
Along with high-quality content, it's equally critical you lean into user experience, rather than trying to fight it.
Ultimately, zero-click search steals traffic from websites, but it's still an opportunity to outrank your competitors.
As Becker notes, "Features like 'How-to' panels, 'People Also Ask' boxes, or 'FAQ' snippets below certain results ... these features aren't going away, and they can steal traffic from everyone on the SERP. So, it's better that you optimize for them over your competitors. Even if some of them steal traffic from you, someone is going to get this real estate. You might as well be the one that gets it. You can still use these snippets to prove you're a helpful, reliable brand through on-page SERP features, even without the click."
Continue Growing Both Vertically and Horizontally
As a marketer whose role depends on a need to constantly publish high-quality content on a 10+-year-old blog, I often wonder, "Is there ever a point where companies have so much content that they've officially hit their ceiling, and all they can really do is update old posts?"
When I sat down with Becker, I thought it was as good a time as any to ask this question. Fortunately, it looks like there's hope yet.
"You can almost always grow both vertically or horizontally," he explained.
Vertical growth means more traffic using your current content channels and verticals. Horizontal growth would mean more traffic by expanding your audience, adding a new content campaign, and adding traffic through a new type of visitor.
Vertical Growth
"Vertically," Becker said, "requires to you to be more creative with the ways in which you're doing keyword research, or figure out if there are pieces of a story you haven't finished telling yet, based on your topic clusters. Additionally, you can look at under-performing posts and decide if you want recycle the URL, re-optimize the content, or cut your losses and remove the URL from your domain -- replacing it with content that better resonates with your readers."
"'People Also Ask' boxes, featured snippets, and other emerging SERP features — yes, they're seen as traffic stealers, but they're also sources of data and opportunity. You can look at these SERPs, use certain tools to pile SERP data into a spreadsheet, compare the features you see to your current rankings, and look for gaps where you can try to be in places you're not."
To try the strategy he mentioned above, you might consider using STAT Search Analytics, a tool our SEO team uses at HubSpot, to pull reports you wouldn't be able to with an average research tool and dive deeper into new areas of your content landscape.
Horizontal Growth
Of course, there's also the option to grow horizontally, which means reevaluating the needs of your customers. Are there topics you haven't talked about yet? Can you open a completely new bucket and explore new terrain to help your customers learn more about your industry as a whole?
However, while it's critical you use data to drive most of your decisions around content, Becker surprisingly advises against leaning too heavily into your SEO strategy as an end-all-be-all approach to marketing.
First off, you never want to prop up your business on one channel. To ensure sustained growth even during natural search engine algorithm changes, it's critical you diversify your channel portfolio.
Additionally, Becker mentions another critical reason you don't want to rely solely on SEO — "You want to make sure your business is well-balanced and doesn't become a copycat. Because SEO is becoming so advanced, everyone knows all the moves and all the players. This means there are redundancies in the information you get on any one SERP, so you need to have a competitive advantage."
"That competitive advantage," he adds, "can come in the form of thought leadership, and making big bets, like 'Okay, there's no search volume on this topic, but it's something we want to take a stance on and it's important to us, so let's be willing to invest in something that doesn't have an immediate attribution path to business.'"
While the majority of HubSpot's blog strategy revolves around SEO, and using traffic or ranking data to drive decisions, we still publish posts that can provide a unique perspective to our readers or involve topics that are at the forefront of the marketing industry but haven't yet become high MSV players. This is still important.
This can demonstrate your brand's ability to both supply content your readers are already searching for, as well as content they don't yet know they need or want.
As Becker points out, "Just because SEO is a very high-intent traffic channel, doesn't mean it's the most important."
A Final Word
Whether you're a seasoned veteran in the SEO industry or brand-new to an SEO-role, it's critical to note there's always opportunity to explore and grow, and that 'uncomfortable feeling' of being in-over-your-head isn't unusual.
In fact, despite Braden's nearly two years fully immersed in SEO, he still admits to having a sense of discomfort around new SEO topics: "If something is not interesting to me right now in the SEO world, it's because I don't know enough about it. In my experience, the more I know about something, the more interesting it becomes. Not having control over a concept is an uncomfortable feeling, so it's easy to say 'That's just not for me', but I'm at the point where I want to start charting new territory, even if it's uncomfortable."
For example, learning how to read, edit, and manipulate a website's robots.txt file is a basic but often underused area of opportunity when looking for traffic growth.
"Things like a robots.txt file, or your blog's sitemap -- these are like your liaisons to Google's index," he told me. "You can tell Google what pages to allow or disallow in its index, make best use of your crawl budget, and ensure you're not blocking pages that should be driving organic traffic for you. To me, that's where technology meets creativity."
Ultimately, one could argue SEO as a whole is where technology meets creativity — which is why there's still plenty of space for you to use search engine algorithm changes in 2020 as an opportunity to explore new strategies and reach new audiences, rather than a hindrance in your way.