Running a marketing team at a nonprofit is tough because you're dealing with two of the toughest challenges to tackle: achieving big goals and operating on a shoestring budget. It's not uncommon to hear about budgets that are pushing $0, outdated systems and tactics, and 'big ideas' that never make their way to the market.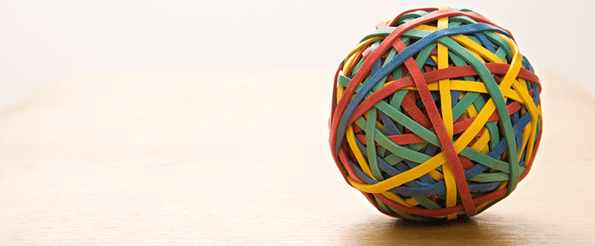 At face value, it may seem like nonprofits have an uphill battle to fight. In a world where big CPG brands have infinite dollars to spend on marketing, how can the smaller players keep up and compete for attention spans that are already spread thin? How can nonprofits afford marketing when their organizations are, by definition, not structured around ROI?
Fortunately, the solutions to these questions may be simpler than you think. Instead of looking at your nonprofit's marketing resources (or lack thereof) as constraints, keep your eyes peeled for new opportunities for creativity. Make your valuable time and dollars count more by focusing on the following, simple steps.
Be a Curator, not a Writer
Can't afford to produce original content? Can't write? No problem. There's a lot of great content floating around the Internet already that your audiences would likely be excited to read about.
Rather than reinventing the wheel and spending your valuable time and resources on writing blog posts (they're expensive and can take a long time to produce), focus on sourcing and bundling together great resources that are already out there.
There are plenty of copyright and SEO friendly ways to do this as well—after all, you can't just re-publish someone else's content word for word on your own site: even if you cite the original author, you still risk copyright infringement (and getting dinged for duplicate content in Google Search). Here are some examples:
Create a regular newsletter with curated content
Publish monthly roundups of 'news clips' about your industry
Write short blog posts that link to industry stats and studies
Round up interesting infographics, share them on your blog, and link back to the original source (remember that infographics are designed, inherently, for sharing!)
When it comes to success with content creation, efficiency is everything. If you're looking for additional tips, check out this list of 5 tips to help you build your process from scratch.
Repurpose Your Assets
If you do decide to create an ebook or series of blog posts, make sure to make the most out of your investment. Turn an ebook into 5 blog posts and 5 blog posts into an ebook. Use templates wherever possible (i.e. if you're hiring a designer, create layouts that you can reuse for multiple assets).
You can also repurpose your content across different marketing channels: in lead nurturing campaigns, through PPC ads, and even top-of-funnel on your blog.
At the end of the day, repurposing works for one reason and one reason alone: your audiences don't have insight into your organization as you do, so their attention spans are fleeting. When you repurpose your content, you increase the chances of it becoming seen to a wider audience, in more marketing contexts.
Looking for ideas for how to repurpose your content? Here are a few ideas that can help:
This article breaks down 5 creative ways to repurpose one piece of content
This roundup explains how to promote the same piece of content across 50 different channels
This piece breaks down 9 ways to recycle blog posts into other content formats
If you're still stuck on ways to get started, bring in a few team members within your organization to help. Do what you do best: brainstorm and plan together. Come up with as many creative (and free) ideas that you can. The end result will be #genius.
Keep Admin to a Minimum
One of the biggest barriers to success with content marketing is all the administrative work. If you're running a blog, campaigns on social media, and email newsletters, you're likely managing multiple moving parts—many of which can quickly become unwieldy.
When you're just getting started, you'll likely feel comfortable spending a few extra hours in WordPress or in your email marketing software. But as your marketing efforts increase in frequency, intensity, and volume, you'll risk spreading yourself too thin. Here are some steps that you can take to make your planning process easier and streamline your marketing budget as a result.
Plan and schedule your content ahead of time (like, weeks or months in advance)
Put parameters around your ideation and brainstorming process
Use a project tracker to monitor your content production (here's a free blog editorial calendar that you can use).
Keep your marketing headache-free and low-key. Planning in advance will help you minimize admin, control costs, and ensure that you're only investing in resources that make an impact among your audience. When it comes to success with marketing, don't underestimate the power of time.
Find Overlaps
Have you written the same email 5 times to answer a common question?
Chances are, you'll write that email again and again. Stop yourself now, and turn that content into a blog post that you can easily publicize. Your audiences will be thrilled because they'll have a resource that they can easily access. You'll be thrilled because you'll have saved yourself some time.
Fortunately, these blog posts are also relatively straightforward to write. Here's a simple process to follow:
Title your blog post based on the question you're asked (i.e. "How does nonprofit X find members?")
Sketch out a 3-part outline that addresses the topics that you want to cover
Take your email content and adapt it to the outline you've created
There are plenty of additional ways to find overlaps. For instance, if you're conducting customer interviews, consider recording and transcribing your conversations: this rich, raw data can be repurposed into interview materials for developing audience personas, and it can also serve a dual-purpose as interview material for a blog post.
Try to see your marketing from multiple dimensions. Find ways to tackle multiple goals with one bat swing.
Last But Not Least
Keep your reporting in one place, and be diligent about quantifying the results of your marketing. The success you need won't happen overnight: it will materialize from a long-continuous journey. Your stakeholders, board, and teammates will want to be informed along the way—to learn and grow alongside you. By having a central repository for your reporting and keeping close watch over your analytics, you'll be in a great position to study and report upon the results of your efforts. Slow and steady is the path to sustainable growth.