To terminate is to bring to an end. And if you've ever had to figure out how to terminate an employee, you know things don't get much harder or sadder. Most managers dread this part of the job more than any other.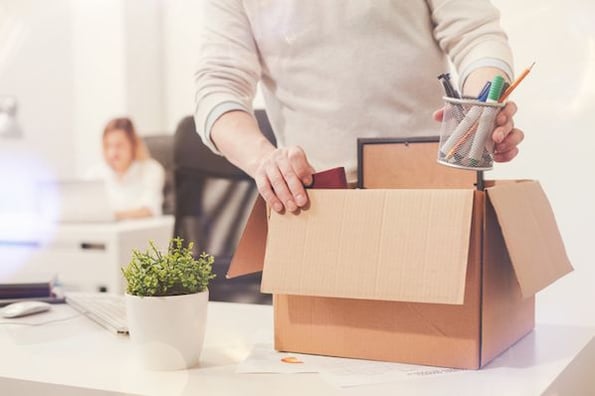 And frankly, you should feel a little dread when parting ways with an employee -- it's what makes you human. Luckily, there are some steps you can take to ensure the conversation goes smoothly.
Due to feelings of guilt, uncertainty about the decision, legal concerns, and excuses by the team member, many managers don't let poor performers go when they should (or at all). And when they do take action, almost every termination conversation is stressful.
But keeping poor performers on the team is a disservice to other team members, clients, the organization, and even to the employee in question. Lower standards are infectious and can bring down the aspiration level of other team members, and poor performers often incite resentment. Taking action puts other low performers on notice, helps managers meet goals, and ensures clients get the value and care they need.
Time and time again I have been told by colleagues and managers who have lost their jobs that the worst part wasn't the termination itself but how the message was delivered. To quote one colleague, "The message was dropped like a bomb."
When it is time to let a team member go, the process you use -- while it does not change the result -- significantly alters the experience and reduces chances of litigation. Knowing how to terminate an employee properly makes managers more confident and compassionate, and team members more accepting of the person's exit.
How to Fire Someone
Inform the human resources team.
Set up a meeting with the employee.
Lead with the bad news.
Reference previous performance goals.
Keep your explanation short but specific.
Listen and repeat your decision.
Provide continued healthcare paperwork and related next steps.
Thank the employee for their services and wish them luck.
1. Inform the human resources team.
Having made the decision to let someone go, review the employee handbook first. Make sure your grounds for termination are in line with company policy and that you're ready to inform the right people beforehand.
Usually, the first people you notify of a firing are human resources (HR) and legal. Both teams will explain how to terminate the employee, and inform IT and security so they can disconnect the employee's office equipment after they leave. Work with HR to calculate final compensation and/or severance, and collect all documentation and paperwork you'll need for the employee's departure (we'll go over paperwork in Step 7).
Don't have the termination conversation alone. Ideally include a colleague from HR or one of your peers as a witness during the termination.
2. Set up a meeting with the employee.
Once HR has been notified of the intended firing, set up a meeting with the employee. Having the meeting right away is ideal, but if their schedule simply doesn't allow, it should be fairly soon after the meeting invitation. If asked what the meeting is about, use your discretion, but say that you prefer to flesh out the details during the meeting.
Or, if the discussion will be by phone, focus the exchange on when there will be adequate time to talk (we'll talk about how to fire someone over the phone following the final step of this process).
If you have the choice, firing an employee is best done face-to-face in a private setting. This allows you to set a serious but supportive tone and present everything the employee will need to know -- including any relevant paperwork about health insurance, severance, or unemployment.
3. Lead with the bad news.
The very first thing out of your mouth in the termination meeting should be to let the person know he or she is being let go. Offering too much context or lead-up before the firing itself might seem mature, but it can ultimately make the termination feel unofficial and leave the employee with too much to dwell on after they leave.
Do not rescind the decision to fire this person unless new and compelling evidence is presented. But don't go looking for this information. You may let the employee offer their point of view, but it's unusual for it to invalidate a firing at this point in the process.
4. Reference previous performance goals.
The fourth step in a proper firing process depends on something you were (hopefully) doing in advance of this meeting: tracking their performance and supporting them every step of the way. When letting someone go, it's important that you politely allude to the warnings and guidance they were given at various points during their employment.
With enough coaching sessions, the termination meeting will have followed a 'final consequence' meeting, where you clearly spell out the objectives to be accomplished, the time frame in which to accomplish them, and most importantly, the consequence if the objectives are not met -- i.e. the person will lose their job.
Document all of these coaching sessions in writing prior to the termination meeting. Don't have documentation? Meet with HR and consider putting the person on a 30-, 60-, or 90-day performance plan before officially severing them from the company. This gives them a chance to actually improve, while providing you with the right paperwork if the person ultimately doesn't.
The value of a performance improvement plan is, among other things, to ensure the employee doesn't feel blindsided if they end up getting fired. In fairness to the person, termination should never come as a surprise (unless it's due to an egregious act or part of corporate downsizing).
5. Keep your explanation short but specific.
When referencing the employee's past performance, there's a fine but important line between explaining why they've been terminated and simply making them feel worse. Keep your reason brief and clear.
For example, "We set [objective X] to be accomplished by [date Y] and unfortunately this wasn't met." More detailed feedback on this objective should have been given in performance reviews.
There are two reasons to keep the meeting short:
You don't want to get into an argument or long discussion. The decision has been made and is non-negotiable. While clear feedback is very important for growth, it should have already been given at this point.
There's no need to further hurt the person's feelings. The employee may vent and ask questions, but just listen and repeat your concise message.
Don't give a long list of failures. It will only pour salt in the wound, create resentment, and provoke an argument.
6. Listen and repeat your decision.
Despite your best attempts at making a termination quick and painless, you might still receive lengthy responses of rebuttals from the employee. That's alright -- they should feel willing to express themselves. What they shouldn't feel is that the decision to fire them is still being made.
Listen to what your employee has to say and genuinely take heed in their feedback -- this is probably a conversation you'll have again in your career, and the employee's viewpoint is valuable. But unless they offer any substantial evidence that there's been a mistake, continue to reiterate that their employment is no longer needed.
7. Provide continued healthcare paperwork and related next steps.
Clearly define next steps with the terminated employee (yes, there are some important ones you need to take). The first is to clarify the effective date of termination; in many companies, this means immediately.
Then, communicate your severance policy, if you have one, and explain how the employee may continue their health insurance for a limited time after they leave. The Consolidated Omnibus Budget Reconciliation Act of 1986 -- commonly referred to as COBRA -- allows terminated employees to extend their health insurance coverage after they depart. HR normally hands over COBRA paperwork during terminations, but it's important that you show your awareness of this crucial step, too.
Once you've gone over each next step with the team member, identify who will accompany them back to their desk to gather their things.
8. Thank the employee for their services and wish them luck.
Your last step during a firing is to thank the person for the services. Don't apologize, but say you wish things had worked out differently and extend best wishes for the future.
One last tip: Avoid Friday terminations. Monday is widely preferred because the employee can start making contacts more easily during the week.
How to Fire Someone Over the Phone
To fire someone over the phone, set up a phone call or video chat meeting with the employee, and have HR present. Make sure the employee has time to respond after they hear the news, confirm if they have any belongings they need mailed to them, and have a follow-up email ready to send once the call is over.
Firing someone via a phone call isn't ideal, but sometimes, the nature of their employment justifies it. Maybe they're a remote employee who can't easily travel to the office -- and doing so just to lose their job would make the whole conversation even more off-putting. Perhaps they're a freelancer for the company, and a short phone call is all that's needed to take them out of your contractor rotation.
No matter the reason, there's a right way to handle a termination over the phone.
1. Set up a phone meeting with the employee.
Just as you would for a face-to-face termination, make sure you set up a meeting with the employee in advance of the call -- and make sure he or she is aware it's taking place over the phone.
If you have the means, consider hosting the call via video chat instead, allowing you and the employee to see each other even if they're not present in the room with you (it's an integrity move, trust me).
As a gesture of courtesy, be the one to call the employee yourself, and let them know you'll be the one to do so. Given the nature of the phone call, it's more polite to do as much of the heavy-lifting to get the call off the ground, and having the employee call into their own termination can make you seem uninterested in what should have been a tough decision.
2. Have human resources present (and introduce them).
Make sure a member of your HR team is present on the call with you. But because the employee on the other end won't know there's three of you on the line, make sure you introduce the rep. HR might be speaking in this conversation too, and having them randomly interject without the employee knowing they were in the room can seem rude and negligent.
3. Have next steps and healthcare paperwork ready to email to the employee.
Before you call this employee, work with HR to get the proper next steps and COBRA healthcare paperwork ready to email to them after the call ends. Getting fired gives an employee a lot to chew on, and giving them all the resources they'll need to land on their feet is crucial when they're not in the room with you to receive this information.
4. Lead with the bad news.
You heard this advice in the above steps to firing someone in person. Well, the same principle applies to a phone-based termination. Always begin with the fact that the company is parting ways with the employee, whether that employee is in the room with you or not.
5. Reference performance goals and give the employee the floor to respond.
Alluding to the employee's past performance goals, and how they were not reached, is just as important on a phone call as it is in person. But because the staff member can't see how this conversation is unfolding, give them a verbal invitation to respond once you've informed them of the news.
6. Inform them that you'll be sending a follow-up email.
Pending any evidence by the employee that their employment shouldn't end, reiterate that the company has agreed this is the best decision for both parties.
To minimize resistance even more, and to keep the phone call moving in the right direction, inform the employee that you (or HR) will be sending them a follow-up email with all the necessary paperwork confirming their departure. This is also your opportunity to send an electronic COBRA healthcare document, allowing the employee to sustain their healthcare coverage for a limited time after employment. Give your HR rep the opportunity to comment on this document if they need to.
Does the employee have any belongings that are in the office with you? Ask the employee to confirm, and make a note on this email that you'll mail each item to the employee at their desired address.
7. Thank the employee for their services and wish them luck.
Don't linger too much just because it's a phone call. It can be hard enough to bring conversations to a close over the phone, and while you want to give the employee time to react, you don't want to leave too many awkward silences when they can't see your reaction on the other end of the line (just another reason to have this meeting over video chat). Simply thank them very much for their services to the company and wish them all the best in their future endeavors.
While termination is often the best thing for both parties in the end, it's hard for most people to recognize this at the time. What the steps above help you do is dismiss your employee as considerately as possible. Compassion and making sure nothing in the meeting is a surprise are the keys to avoid burning bridges.
Concerns about litigation have tempered termination conversations and added another dimension of stress to these already challenging conversations. Nevertheless, I think it is important to express at the conclusion that you regret things worked out as they did and wish the person success in the future. When thinking about how to terminate an employee, keep your message objective but your tone human.
I started with the definition of termination -- to bring to an end. Professionally, that is what you are doing. But the emotional tone you set -- one of caring and respect -- will make a difference in the short- and long-run. No matter how bad the team member has been, show you have heart.
This blog post has provided information designed to help our readers better understand the legal issues surrounding HR. But legal information is not the same as legal advice -- the application of law to an individual's specific circumstances. Although we have conducted research to better ensure that our information is accurate and useful, we insist that you consult a lawyer if you want professional assurance that our information, and your interpretation of it, is accurate. To clarify further, you may not rely upon this information as legal advice, nor as a recommendation or endorsement of any particular legal understanding, and you should instead regard this article as intended for entertainment purposes only.