This post is a part of Made @ HubSpot, an internal thought series through which we extract lessons from experiments conducted by our very own HubSpotters.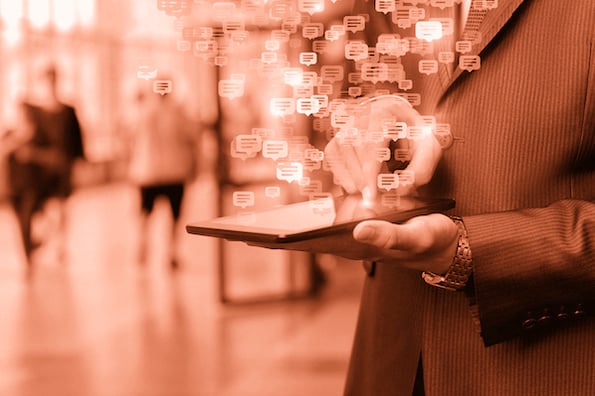 Over the last few years, HubSpot's audience has gotten chatty. Chatbots and live chat became some of the most popular ways to reach HubSpot and the humans here. For years, prospects have wanted to ask questions and get direction while navigating the website.
In the past, we met this need with live chat that handed off to "coaches". These coaches answered questions about pricing and features; they also helped free users better use their tools. Demand on this channel grew faster than our ability to hire coaches, so we scaled our live chat programs with chatbots.
Those chatbots triaged, qualified, and routed prospects to the right team or content resource. Over time, we found that folks who engaged with chat used the product more often than those who didn't. Here's what we did about it.
Reducing Chatbot Friction
Above all else, our goal was to create a remarkable customer experience with conversational marketing. Enabling prospects to cut through the noise and ask for help in their own words removed friction in the flywheel.
We believed — and still do — that it's always easier for users to see value in the free tools they're using. This came from our deep belief that "how you sell is why you win". Growing businesses often have to juggle dozens of tools, but don't often have the opportunity to ask questions about how to use them together.
Ambitious businesses deserve great software and experiences to power it.
Aligning Marketing, Sales, and Chatbot Technology
The hardest part of conversational marketing isn't the technology — it's the empathy and alignment that takes lots of time and energy to get right. To solve this, our marketing and sales teams met to understand the start-to-finish chat experience.
It was interesting to see how two departments viewed the same situation through varying lenses. Marketing gained empathy for how Sales handled conversations, including repetitive processes.
Sales came to appreciate what chatbots could do to make their lives easier. From there, both departments came up with shared metrics that aligned us around a holistic customer experience.
Here are some that may apply to your business:
Deflection rate: the % of engagements with chatbots that don't reach a human.
Handled chats: the # of conversations that coaches have with prospects.
Pass rate: the % of handled chats that are a good fit for sales.
Customer Satisfaction (CSAT): the % of bot and human engagements that prospects marked as positive.
These shared metrics gave Marketing a better sense of which types of chats — and how many — should or shouldn't reach the coaches. They could build tasteful conversational experiences that sifted incoming messages.
Standard questions could be self-served, and nuanced ones could escalate to coaches. This approach created a more delightful interaction for the humans on either side of the screen. Users didn't have to wait for a human to answer documented questions, like "How do I add a user to my portal?", and coaches could spend more of their day answering questions like "How do e-commerce businesses use email?"
This was a better use of everyone's time. As the mix of questions shifted, so did the knowledge needed to help users. Sales made material investments to develop the coaches and get them more comfortable with the nuances of the product.
Despite the performance gains in this time, there was more work to do. Conversational marketing is not a set-and-forget channel — it's a living, breathing engine that needs attention and love.
One thing we noticed was that response times had a direct correlation to the quality of the conversation. As such, response time became a "North Star" metric for the Sales team. The sales team began to goal and coach the team towards getting back to prospects as fast as possible.
This process gave us most of the pieces for a great customer experience, but we had to close the feedback loop. Conversational marketing is an iterative strategy, one that works best when we listen and act on what users want.
What's great about live chat and chatbots is that people will tell you what they want in their own words, so you don't have to read between the lines about their goals. To do that, we connected Feedback Surveys and Conversations, so users could provide feedback after their chat ended. Quantifying how users felt helped us a smoother, data-infused roadmap.
Analyzing the Results
At the start of 2019, our hearts were in the right place with conversational marketing, but we weren't meeting the needs of our audience. By aligning Marketing, Sales, and the technology to get there, we built a conversational marketing engine we could be proud of.
We more than doubled the mix of chats that came from high-value free users inside the HubSpot portal. Coaches were able to help users get more value out of their tools, which had a notable impact on the value those users saw from the product. When we closed out 2019, more than 30% of HubSpot's total revenue came from our conversational marketing efforts.
But none of that mattered if we weren't solving for the customer. These conversational marketing programs had to feel good for users. There's an expected sense of immediacy from chat, which is why we chose to prioritize response time.
Today, 80% of conversations get a response in under 20 seconds — a 10x boost from the start of 2019 (when only 8% of conversations saw this response time). The alignment between chatbots and coaches paid off, too, as customer satisfaction scores went up by more than 50%. Listening to your audience and acting on their feedback goes a long way.
Conversational Marketing in 2020 and Beyond
2019 was a huge year for building the conversational marketing engine at HubSpot. But there's more work to do in 2020. The teams will continue to invest in a consumer-grade and world-class experience. The next frontier we'll face is meeting users where they are.
Messaging platforms like SMS and WhatsApp continue to be where people spend more time. We're working towards our audience reaching HubSpot wherever it feels natural. None of this would be possible without the alignment and investments made in 2019.
It goes to show that a remarkable customer experience is everyone's job.