We debate a lot at HubSpot about how much of our marketing playbook to share with the world. That's the tricky thing about marketing to marketers (and sales and service teams for that matter) — your instinct is to share everything, but if you do, you run the risk of losing your competitive edge.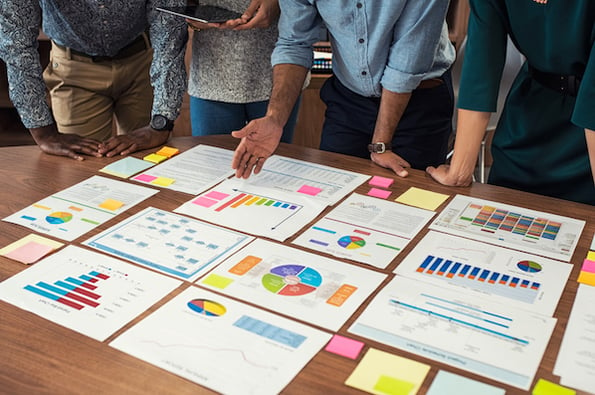 So, you keep your biggest wins, worst failures, and deepest insights under lock and key, safe from the prying eyes of your competitors. But in doing so, you also keep them hidden from your customers and the wider community.
Start-ups tend to lead the way when it comes to sharing. They shine a light on their strategies, successes, and shortcomings, and in doing so, they encourage others to do the same. And the whole industry grows better. The same cannot be said of large enterprises. As they grow, they have more to lose, they become increasingly risk-averse, and they forget that sense of openness.
Not only does this make the enterprise marketing world feel like an isolating place, it leaves enterprise marketers starved of inspiration, and it zaps innovation across the industry.
In the early years of HubSpot, we were an open book. We shared everything. And it helped us go from a no-name startup in the mid-2000s to a global, publicly-traded enterprise just 15 years later. We haven't done everything right, but we've scaled substantially over the years, generating more than 68 thousand customers globally and $513 million in revenue in 2018 with the highest customer satisfaction of any CRM.
Like any rapidly scaling company, our strategy has evolved over the years to better match our stage of growth and buyers' expectations, but we never want to lose the sense of openness that helped get us here.
So, we've decided to share our enterprise marketing playbook. Everything from how we drive awareness and convert leads to how we think about our talent and our tech stack is outlined below. We hope that by opting for openness over secrecy, more large enterprises will do likewise and we'll regain some of the sense of community and collaboration we loved so much when we were startups. Ok, here goes.
Our Enterprise Playbook for Driving Brand Awareness
Let's start with where most good marketing playbooks begin — brand awareness.
Our awareness playbook consists of two strategies: a content strategy and an ad strategy.
And, within our content strategy, we have two sub-strategies — one that is all about getting found through search (our "SEO strategy"), and another that aims to change minds through opinionated content that spreads through word-of-mouth and social engagement (our "POV strategy").
To execute our two content strategies, we've split our team into two separate purposes. One team is focused on optimizing informational content to spread through search, and the other is tasked with creating influential content to spread through word of mouth. Both teams are playing to algorithms and what we know about our audiences, but each has a vastly different marketing approach.
Let's take a closer look.
Content Strategy Part 1: SEO
With our SEO strategy, we're not just playing for top placement in SERPs, we're targeting the entire first page — ads, featured snippets, top organic results, directory listings, you name it.
I also have to mention review sites, which have become increasingly important for SEO in recent years. To paraphrase Digital Marketing Strategist, Ross Simmonds; review sites like G2 are becoming an undeniable influence for B2B software — they already rank #2 for 70+ branded terms and #1 for hundreds of bottom of the funnel pages.
To perform well across all of these areas, we have adopted a diversified search-geared content strategy that comprises long-form educational content, shorter content optimized for snippets, pillar pages, YouTube optimization, and audio courses.
The culmination of these approaches has led to robust growth in our organic traffic, and a blog readership that is in the realm of major publications like HBR, Adweek and Fast Company.
Content Strategy Part 2: POV
In a world where options are seemingly endless and products are increasingly becoming copied or commoditized, what you stand for is just as important as what you sell. Having a strong point of view isn't about taking a contrarian stance and throwing up a bunch of hype content.
We've all had more than our fill of articles sounding the death knell for certain marketing tactics, heralding the birth of others, and passing off truism as new insights. Breaking through with a strong point of view starts with having a clear brand identity, sharpening that identity through thoughtful product positioning, and then bringing it to life with strong messaging and complementary creative execution.
Our POV mix includes thought leadership articles, brand videos, social content, speeches, and editorial podcasts. The opinions we advance outside of HubSpot are infused internally through our open culture and foundational documents like our customer code, which has garnered 1.3 million views and helps guide our own customer-affecting decisions daily.
Ad Strategy
When a message strikes a chord with an audience organically and earns above-average social engagement, we catch it early and amplify it through ad spend.
But, as with any marketing expense, we have specific goals and purposes behind each ad, each of which falls into one of the following three buckets:
Transactional ads — these ads generate HubSpot software users
Informational ads — these ads grow our content leads
Awareness ads — these ads drive content views and website visits
For established products that already have some search demand, we spend most of our digital ad budget on transactional ads, but we have thresholds for both direct and assisted returns on ad spend. Once we've maxed out our return on our transactional ads budget, we move the budget into the informational ads bucket, and then into the brand awareness bucket.
For new launches and lesser-known products, we flip that playbook. New products have lower brand recognition in the market, so the cost of transactional ads is far higher. So, we first invest in brand awareness, and as our direct and assisted returns on these ads begin to reach our thresholds, we put that budget behind transactional ads.
Awareness Strategy Summary:
Grow organic traffic globally through on-site content, including pillar pages and our blogs
Manage SERP presence through partnerships and snippet strategy
Empower customer advocates to talk about our business on review sites and through word-of-mouth
Executed a linked ad strategy across transactional, informational and brand categories
Build influence by publishing strong points of view designed to spread organically, through social media sharing for example
Our Enterprise Playbook for Converting Traffic
Many enterprise companies assume that the buyer is willing to follow a rigid, extended sales process, and they build their engagement strategies accordingly. They seek to collect enough information to qualify a lead, communicate through long email chains, book multiple meetings, and perhaps most painfully, hide pricing so a buyer has to talk to a rep.
We followed a similar playbook for a number of years — everything except hiding pricing. As we started to see customer expectations shift, however, we realized how essential it is to create options for different purchase preferences.
Today our conversion playbook is built to reduce friction. We've made a number of changes over the years, including reducing our form fields with progressive profiling and data enrichment (which increased our form conversion rate by 5%), but the real difference has come by diversifying our conversion options.
Today on our pricing page visitors are given multiple ways to connect — they can book meetings, email, call, or chat. Old-school advice about conversions tells you that choice breeds hesitation and that you should reduce the number of CTAs on a page, but we experienced something quite different. By providing interested visitors with the freedom to choose their preferred way of connecting with us, we actually increased our conversion rate by 170%.
Conversions on HubSpot.com
In addition to offering multiple ways for people to connect, we allow buyers to choose between getting a demo or getting started with our free software and upgrading through the product at a time that suits them. By doing so, we have increased the number of self-purchases by 10X while still growing our inside sales model.
The product qualified lead (PQL) has proven to be a stronger indicator of the buyer's intent than the marketing qualified lead. As Kieran Flanagan, HubSpot's VP of Acquisition has argued, the PQL is what an MQL promised to be but never lived up to. The PQL fulfills that promise as it's based on someone getting real value from a product, and showing intent to use it much more deeply than the traditional MQL. PQLs also open the door to new marketing levers including in-app targeted chat and automation based on user behavior.
Conversion Strategy Summary:
Optimize conversion paths by providing a range of options to site visitors
Drive engagement with conversational marketing and targeted chat
Grow touchless sales through our freemium model
Our Enterprise Playbook for Building a Flywheel of Momentum
Ten years ago, companies could win on the strength of their product alone. Today, in a world fueled by word-of-mouth, the most disruptive companies are winning, not just on the strength of their products, but on the overall quality of their customer experience.
It sounds straightforward, and no one is going to argue against solving for the customer, but maintaining a cohesive customer experience gets much harder as you get bigger.
As you grow, you add more technology, more divisions, and more processes to your mix and, despite best intentions, your customer experience can suffer. This is especially damaging for sales teams at enterprise companies, where existing customer bases have the greatest revenue potential.
So, over the last few years, we've gone all-in on customer experience. We've united marketing, sales, and service under a single chief customer officer, run UX sessions to find friction in our product and sign-up process, and released the customer code.
Our marketing strategy has evolved, too. We've invested in customer marketing at an outsized pace to other teams, and we've developed robust strategies to eliminate friction for customers, recognizing the critical role they play in our growth. A big piece of this is simply applying the same strategic lens to our customers as we do to our prospects:
Companies tend to reach automation maturity in three phases. They start with automating and optimizing marketing communications, then follow with sales communications, then finally get to customer communications. And it is in phase three that a lot of unique growth at enterprise companies can be unlocked.
In addition to growing our focus on enabling customers to succeed so they retain, upgrade and cross-buy, we are intentional about finding and empowering our most successful customers to advocate on our behalf through reference programs, review sites, and event participation.
We dedicate teams to finding interesting customer stories, setting up customer referral programs, holding events where customers can learn from one another, incorporating customers into our product launches, and driving people to review sites and our own forums to give feedback. These advocates are just as much a part of our success as any team member, and recognizing their value to our company and empowering them to support our growth has played a key role in accelerating our momentum as a business.
Customer Marketing Strategy Summary:
Optimize customer experience with automation
Drive engagement through a customer-focused content strategy
Grow referrals through our customer advocacy program
Our Enterprise Talent Playbook
Much of our ability to keep innovating relies on the recruitment, retention, and development of a diverse and talented team. As we've scaled, we've heightened our focus in this area and have ramped up accountability.
In the last few years, we have started measuring and reporting on our progress towards broadening the diversity of our team and deepening the sense of belonging people feel at HubSpot. We've developed employee resource groups for underrepresented groups, hired a Director of Diversity, Inclusion and Belonging, modernized our prospecting and recruiting practices, and made every hiring manager accountable for building diverse slates of candidates.
One of the most impactful things we've done to broaden our reach and pull in top talent from around the world is to commit to being a remote-friendly company. We now have over 300 remote employees across the globe, from individual contributors to managers to directors, and our remote workforce has grown exponentially in the past few years — in 2019 alone, our global remote population grew by 86%.
In some cases, being remote-friendly has helped us hire top talent who wouldn't have otherwise taken the role, and in other cases, it has helped us retain exceptional HubSpotters who wished to move to new places for personal reasons. As we've become increasingly remote, we've built support systems around remote workers and their direct reports including training for managing remotely, peer groups, and technological support.
Talent Strategy Summary:
Prioritize and invest in building a diverse and inclusive workplace
Build a remote-friendly organization
Our Enterprise Tech Stack
Behind every good enterprise marketing playbook should be a powerful, easy-to-use tech stack. Here are some of the tools and services that help us at HubSpot to execute our strategy.
HubSpot: No surprises here, we have built our entire system on the HubSpot platform. That includes everything from CRM and marketing automation to data enrichment and helpdesk. All HubSpot. We also take advantage of many of the powerful integrations available with HubSpot to customize our strategy.
Advocately: for enabling customer advocacy
Ahrefs: for advanced SEO tools
Airtable: for content tracking and tagging
Bizzabo: for event management
Canva: for scaling design globally
GitHub: for developer project management
Invoca: for inbound call tracking
Memoq: for translation and localization
MoveableInk: for dynamic email content
OneTrust: for privacy and compliance
PieSync (acquired by HubSpot): for two-way data syncing across our platform
Usability Hub: for UX
Vidyard: for video marketing
Thanks to the wide range of powerful integrations available on the HubSpot platform, we have the freedom needed by rapidly scaling companies to choose their preferred tools for growth. To learn more about our expanding app ecosystem, read Scott Brinker's piece, 'It's An Open Platform World. HubSpot's Growing App Ecosystem Helps You Thrive In It.'
Opting For Openness
All of these strategies have detail and nuance too great to comprise in a single article, but I hope this piece gives a sense of where we're placing our priorities. We bet on the compounding value of search, develop distinct points of view, prioritize the reduction in friction everywhere, and make meaningful investments in our customers and in our team. And we tie it all together with a central and expansible platform on which every customer-facing team is aligned.
When HubSpot was a start-up, we opted for openness. As an enterprise, we're continuing to do the same. We believe it's better for individuals trying to crack the enterprise marketing code and for the industry as a whole. We'd love to see more enterprise companies do likewise so that we can challenge one another, spot opportunities for collaboration, and perhaps most importantly, build a stronger sense of community across the enterprise marketing space in 2020.