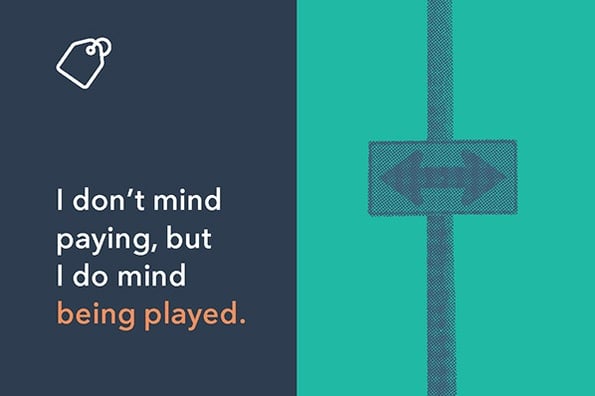 This post is part 9 of 11 in a series on HubSpot's Customer Code.
Here's a secret -- I wanted to launch the first version of The Customer Code at INBOUND 2017. I was excited about the idea, and wanted to start talking about it.
But our leadership team pushed back on me. They said there was no way we could ask other companies to step up and embrace their customer-first ideals when we still had so far to go ourselves. Of particular concern was the communication around our pricing and how customers got billed.
We had to be the change.
The way our pricing works varies quite a bit throughout our product lines, for customers at the Starter level, it tends to be extremely simple, but as our customers' businesses gets more sophisticated, pricing tends to get more sophisticated as well. And feedback made it clear that, when it came to pricing, our most unhappy customer segment were customers at the Marketing Hub Professional and Enterprise levels -- so that's where we dug in.
Like many SaaS companies, we lock-in pricing for customers during their billing period so what they're paying won't increase even if their number of contacts does increase. It's a way to show value before we extract value. But of course:
Customers often wouldn't remember pricing was locked in for the billing period (they're busy)
During the year, usage would increase
(If you want to get into the weeds, you can read our Terms of Service here, but that's the high-level gist.)
So year two renewal would roll around, and a lot can change in a year -- a customer's business may have grown, people forget about the details of a contract they signed 12 months ago, or perhaps the person who originally signed the contract is no longer with the company and a new person is now managing the account -- and suddenly customers were getting a bill that was noticeably higher than the prior billing period with little context on why. Yes, many were very (and rightfully!) unhappy about this.
The change needed on our end was actually quite simple–we simply changed the communication approach in our renewal process. First, we adjusted the timing of our communication about the new bill and made a change to our Terms of Service which reduced the number of days notice we needed to honor a non-renewal request – dropping it from 45 days to 10 days. Second, we now go out of our way to inform customers about growth in their contact database before the notice of non-renewal window closes. These changes give our customers far more time to evaluate the product, the value delivered over the past year, and decide if HubSpot still made sense for them. But most importantly, we can feel confident that we're not surprising customers with an unexpectedly large bill.
And with those simple changes in place...no more upset customers.
Because our customers don't mind paying, but they do mind feeling played.
The same is true for your customers.
No one should be surprised by an unexpected bill.
No one should need a math degree to figure out what they'll pay you.
No one should need to jump through hoops to figure out what it might cost to do business with you.
If we had gone live with The Customer Code in 2017, I would have given HubSpot a 5 on Tenet #8: I don't mind paying, but I do mind being played. Today, I give us a 6. We've been doing some things right for awhile – our pricing is transparent and available on our website – and we've made substantial improvements on improving communication around renewals, but we're not done yet.
We recently asked our customer-facing teams how we're doing when it comes to pricing transparency. Our support and success teams care deeply about the customer, but also understand the needs of the business, and we wanted to know how they think we're doing when it comes to pricing.
The vast majority of our customer-facing team members feel that our pricing, discounting, and cancellation process are all fair. But when we asked them what one thing they would change for our customers today if they had a magic wand the #1 request was simplifying pricing, packaging, and renewals.
Fair isn't enough to create a great customer experience.
Transparent doesn't always equate to simple.
We're being honest, transparent, and fair; but our customers don't always feel that way.
We can do better, and we're going to. We have two plays kicking off that pair VP-level executives with our Voice of the Customer team to improve the billing and contract experience.
Confusing pricing is a negative force on the flywheel of every business. Sixty-nine percent of people said that confusing pricing keeps them from making a purchase.
After seeing this data at INBOUND one HubSpot customers, WashCard, went back to work and decided it was time to give transparent pricing a try. While the industry standard is to require a conversation with a salesperson before giving pricing, WashCard saw this as creating friction in their flywheel so they pulled back the curtain–boldly displaying pricing on their website for all to see.
Amy Olson, the Director of Marketing at WashCard said, "A month into this, we're getting more leads out of our pricing page than any other page on the website, they make up two thirds of our online conversions. Our sales staff can see that a prospect has looked at the pricing page, and it totally changes the conversation when contacting new potential customers. Game. Changer."
Customers don't mind paying, but they do mind being played, they mind unexpectedly big bills, and they mind jumping through hoops to figure out how to budget for your product or services.
If you want to grow, you have to charge for your services. But companies that are open and honest about their pricing, while making it simple to understand – grow better.
This post is part 9 of 11 in a series on HubSpot's Customer Code. You can find more info on The Customer Code and how we score ourselves here, and watch my INBOUND talk on this topic here: