From a marketing standpoint, the great benefit of online channels is the ability to track and measure how effective they are.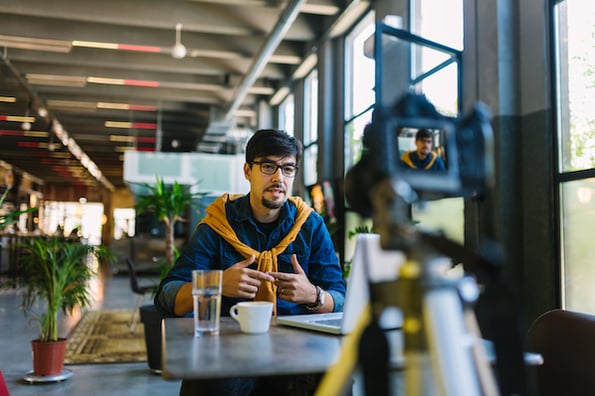 Knowing which social links led to a conversion, or which web pages ultimately influenced a customer to purchase your product, makes us better and more effective marketers.
But what about the power of in-person events? How do you measure the value of a speech or understand the influence a conference had amid all the other interactions a prospective customer had with your company online?
Linking the online and offline activities has long been a challenge for marketers — but it's not impossible.
Here, let's dive into a few ways you can bridge the gap between in-person and online lead generation. Additionally, we'll explore how to transition to online lead generation if you find some of your traditionally in-person events are now cancelled and replaced with virtual customer interactions.
How to Transition In-Person Events to Online Lead Generation
1. Provide an option for your attendees to download slides.
Speaking at an event carries with it a tremendous amount of potential — more than any vendor table or collateral seat-drop can offer. You have the capacity to captivate an audience, teach them something new, and form a lasting impression.
But even the best speeches are lost opportunities if you don't translate them to visits to your website and potential conversions. Giving your email or website URL alone may not be enough to get audience members to look you up. Instead, take a page from the inbound marketing playbook and offer them something of value.
When I first started speaking at events, I'd often get requests over Twitter or in-person for a copy of my presentation slides. Having the slide deck makes it easier for people to bring what they've learned at the conference back to their colleagues.
One strong way to provide attendees who are really interested in what you said with a takeaway is to create a landing page on your website where attendees can fill out a small form and download your slides or any other materials you presented.
Creating a landing page with your presentation materials offers two benefits:
It gives those who are interested in learning more or evangelizing what you've presented the materials they need to do so.
The conversion on your website bridges the gap from in-person to online activity, enabling you to better track the lead and further nurture the relationship.
Put up the landing page before your speech and optimize it just as you would any other landing page. Position it both for the attendees of your talk and the larger audiences who may hear about it through social media or other means.
In the last slide of your presentation, include an easy-to-remember short link to your slides. We often use bit.ly because it's free and allows you to customize the link to a more memorable phrase like the conference or talk name. In addition to including the link in your presentation, share it out on social media with the conference hashtag after the talk.
2. Zap business cards right into your contact database.
In the basement of my apartment next to my washing machine sits a collection of business and partnership opportunities gone to waste. I'm not proud of it. But I'm coming clean because I'm guessing a few of you have been there too. You go to a conference or a trade show, meet scores of interesting people and, like summer camps of years past, you promise to stay in touch.
Then you stuff their business cards into your pockets, leave the conference, grab a coffee, catch a plane home, unpack your bags, go to work, wince at your swelling inbox and fail to remember the treasure trove of business cards piled up at home.
Now, maybe you're better than me at this, or maybe you've already discovered a useful app like FullContact Card Reader.
Card Reader is an app that translates in-person business cards to online contact records. I first learned about them because HubSpot has a new integration with them that allows you to take pictures of business cards at an event which then automatically translates into contacts in your HubSpot database, enabling you to toss the business cards, send follow-up emails, and better understand the contact's future activity on your site. If you're a HubSpot customer you can log in here to try the integration yourself through Zapier). But you don't have to be a HubSpot customer to use FullContact Card Reader. You can download their iPhone or Android app for free and start using Card Reader at your next event.
A business card left abandoned in a contact database is just as lonely as one left to gather dust by my abandoned sock bin, so to get the most out of this tool, you want to have a good follow-up strategy. When you digitize the business card, include a note to remind you what you and the new contact discussed and make sure any follow up is tailored, relevant, and in the words of Dharmesh Shah, "human."
I asked Brad McCarty, Content Director at FullContact, what tips he had for quality post-event follow up. He offered the following advice — "My philosophy is three fold: segment, wait, make it personal," he explained. "After any big event, I like to wait until the middle of the following week before touching base with the people that I've met. That gives those people a chance to catch up from the out of office time, and it seems to increase my response rate versus faster follow ups. I don't do phone calls unless someone specifically asks for one, mainly because I find them to be invasive. That being said, I do try to make sure that my email to them is as personal as possible. It takes more time, but any good relationship requires that investment."
3. Offer an exchange.
When he was CEO of Gemvara, an online custom jewelry company, Matt Lauzon came to speak at our company about his approach to growing a business.
At the end of his talk Matt did something that was equal parts old-fashioned and innovative. He made us a deal. He held up a collection of printed gift cards to Gemvara, each with a unique code on them. He thanked us for attending and told us he would give the free gift cards to anyone who wanted them so long as they promised to do one thing in return.
His one request was that if we used the gift card, we had to promise to drop him a note afterwards to tell him how our experience was with the company.
People have been giving out discounts and coupon codes for a while now at companies, but often they're handed out as an after-thought. By asking for something in return, Lauzon not only added more significance to the exchange, he also furthered the relationship. He's able to link the event and the online purchase with a code from the card, and can isolate the portion of highly engaged customers based on who followed through on their promise to email with feedback.
Robert Caldini, professor of psychology and marketing and author of Influence: The Psychology of Persuasion, explains this as the rule of reciprocity. There are six key principles of influence, he writes, the first of which is reciprocity.
By offering someone something of value and requesting, even lightly, something in return, Lauzon brought his audience to a deeper level of engagement and commitment.
Not everyone followed through, but he certainly gained more post-talk connections than he would have otherwise.
I've given you a few tips on what to do to bridge the gap between in-person and online lead generation, now let me close with one to avoid. The fastest way to ruin a good in-person interaction is to follow it up with a canned and robotic email response. Sometimes emails are hard to get out right away. It takes time to follow up in a personal way.
Ultimately, tailored and relevant follow-up communications are always more meaningful and memorable than a form email. Whenever possible, leave the canned emails to ... well ... just leave those emails in the can. Focus on the person, what stood out about your conversation and the real reason you decided to follow up.
How to Implement a Lead Generation Strategy Entirely Online
If your in-person event is cancelled for any reason, or you don't have the opportunity to attend in-person events, you're in luck — you can still create a highly effective lead generation strategy entirely online.
Here's how to get started:
1. Host an online webinar with a CTA at the end.
Similary to the strategy outlined above, if you can't attend an in-person event, you can still create meaningful video content online with the option to download your webinar materials at the end on a landing page.
Webinars are incredibly effective — in fact, 73% of B2B marketers say a webinar is the best way to generate high-quality leads.
To host a webinar, you'll want to begin by considering some of your prospects' primary questions or concerns and how you might be able to answer them. For instance, if you work for a SaaS company, you might consider hosting a fireside chat on "Technology and AI 2020 Predictions" with some industry leaders.
Alternatively, you might explore a more niche topic if you feel your research has uncovered specific questions your audience wants answers to, such as "How to Leverage Instagram Advertising".
To ensure you're covering topics your audience cares about, you can explore LinkedIn communities to take note of highly-asked questions in your industry, or even post a poll on your social pages to get input from your followers.
What's great about webinars is the ability to access them even after the live premiere, whenever and wherever your prospects want to tune in — to fully leverage this option, you might consider creating a webinar landing page with all your webinars posted for viewing, like Sprout Social did.
Once you've completed your live webinar, use the same strategy above to let viewers download webinar content to share with colleagues by filling out a landing page form.
Take a look at How to Setup and Promote Your First Marketing Webinar to learn more about how to create and promote your first webinar.
2. Create online learning courses to further nurture leads.
At HubSpot, we have an entire Academy team dedicated to creating a wide variety of courses and certifications to further educate our prospects and help them grow their own careers.
By offering educational content to your own prospects and customers, you're able to position your company as an industry expert, while proving your value even before prospects make a purchase.
The more value you can provide prospects upfront, the better. With online learning courses, you're able to build both brand awareness and credibility, and when prospects are eventually ready to make a purchase, they'll already see the value in your brand.
Creating learning courses doesn't have to be expensive, either. Consider Moz's Whiteboard Friday's, which are incredibly valuable and educational — and yet, only involve a whiteboard and a camera.
As next steps, you can include ebooks or additional downloads to further nurture leads once they've seen value in the courses you post, either to your website or social channels.
3. Use email, social media, or blog posts for the ultimate lead generation strategy.
In-person events are great for building rapport and meeting face-to-face with potential prospects, but they're also limited in scope. A typical conference enables you to meet a few hundred people, at most.
Online, of course, your audience is much larger — with over 3.4 billion of the world's population online, it's critical you optimize your website, blog content, social media pages, and email to ensure you're able to nurture leads from around the globe, even when those leads can't meet in-person.
To learn more about how to create a lead generation strategy from start-to-finish, take a look at Lead Generation: A Beginner's Guide to Generating Business Leads the Inbound Way.
For now, though, let's provide a few quick takeaways:
Use keyword research and, if possible, align your content team with your SEO team to ensure your blog content can reach and convert the highest possible number of potential leads
Ensure each blog post has a CTA (call-to-action) that invites leads to build a deeper relationship with your brand
Use email marketing to create a newsletter with valuable information for leads who are interested in inviting your brand into their inbox — depending on your leads and strategy, you might send a bi-weekly, weekly, or daily newsletter (of course, ensure your emails are GDPR compliant)
Have your social media team analyze a diverse range of social platforms to decide which ones work best for attracting your ideal audience. Depending on your business's needs, you might take advantage of Instagram, Facebook, Twitter, Snapchat, LinkedIn, Pinterest, Quora, TikTok, or a variety of others to ensure you're engaging with your prospects wherever, and whenever, they want
In an ideal world, we'd have the resources to connect with our prospects both in-person and online — but ultimately, if you have valuable content, your leads will be interested in learning more about your business regardless of where they hear of you first.
Try some of the tactics listed above to reach and convert as many potential customers as possible, and whether you meet in-person or online, always ensure you're ready to provide next steps to cultivate deeper relationships with prospects from across the globe.