If you're a child care owner, director, or start-up who's tired of struggling to find new ways to fill the enrollment for your daycare, then inbound marketing might be the golden ticket you've been looking for.
In this article, you will learn what stages a parent goes through when selecting a new child care facility and discover fresh marketing techniques proven to help you boost enrollment immediately with inbound marketing.
The Parent's Journey
Let's face it, selecting a daycare can be a stressful process for parents. Families are seeking a community or facility to entrust their children's future in and it's your job to establish an authentic connection with them on why that future is with your daycare. The key for accomplishing this is through understanding the parent's journey and providing a meaningful experience to help attract, convert, close, and delight more families to your child care center.
We'll be translating the traditional buyer's journey into various stages and examples of what a parent goes through when selecting a daycare. If you're looking to significantly boost your enrollment, you need to be capitalizing on all stages of the parent's journey to ensure you're building a solid pipeline of opportunities from the past, present, and future.
Although this is not always a linear path, it is important to understand these stages in order to effectively market and nurture them down the funnel.
Awareness Stage
The awareness stage is the first step in the parent's journey. This is where initial research and general education is gathered to help inform the parents of their options. An example of a buyer persona in this stage would be a pregnant mother who is researching the options between staying at home, taking her child to daycare, or hiring a nanny.
This is often referred to as the 'emotional' stage. The buyer may not even realize that there is a problem to solve, but they are impacted in some way and looking for help.
As a child care provider, it is important to establish an early connection and relationship with the parent-to-be as an informational resource that is there simply to help with common questions and to provide general information for topics that are fairly new to them.
It's key to position your brand as helpful and informative. Remember, these are future prospects that are simply looking to become more educated and are still gathering facts and information to help them establish a criteria of what they will be considering at a later phase.

Recommended marketing tactics:
Blogging

topics such as "Benefits of a daycare vs staying at home."

FAQ

items to provide general information and commonly asked questions for new parents.

Infographics

outlining the advantages of early child development from a daycare.




Trend reports

and statistics of the value of child care development through areas of education, socialization, stimulation, and general child development.

Checklists

and sample timelines of when they should be considering their options.
Marketing techniques to nurture the parent to the next stage of the journey
Now that you've provided wonderful and informative resources for the parents, it's time to start considering how you can know when they are ready for the next stage of their journey. There are numerous ways to accomplish this, but here are a few recommended approaches.
Gather an email right away. This allows you to start generating a profile on the parent and monitoring their progress and activity with your brand. Examples: subscribe to our new parent newsletter, download our new parent guide, subscribe to our blog, download the child development trends report, etc.

Survey the prospect. This doesn't have to be a traditional form survey, but you can create follow up tactics that will help us designate the parent's answers through various actions. Examples: Tactics/Topics to try: email focused on things to consider for child care when going back to work, blog articles related to consideration stage topics, ebook downloads for evaluating considering a daycare vs hiring a nanny.

Organize your contacts in smart lists. Based on the actions these parents are taking with your follow up tactics, make sure you are creating workflows that will help accurately track what leg of the journey the prospect is currently in. You don't want to be selling a parent who isn't ready to make a decision, and you don't want to be educating someone on topics that isn't relative to them anymore.
Consideration Stage
Once the parents have made the decision that they are going back to work and/or are in need of care for their child, this is when the consideration stage begins. This would typically involve a parent who is now considering what the important criteria are for what they want for their child from either enrolling their child in a daycare or hiring a nanny.
Your daycare should continue to help educate and guide the parents without "selling" them directly. This can be accomplished by enabling your website to provide relevant content and advice on what they should be considering.
This stage is our problem solving stage. The parent has realized that there is a problem associated with their emotional search and they begin to look for solutions available to them.
Recommended marketing tactics:
Blogging

topics such as "Advantages of a daycare vs hiring a nanny."

Comparison white papers

to assess the evaluation criteria for the parents options.

E-Books

outlining the top reasons to enroll your child in a daycare.

Webinar

to provide pre-recorded or live discussions on the advantages of enrolling your child in a daycare over alternative child care.

Case Studies

of real families who were on the fence when considering their options.
Techniques to nurture the parent to the next stage of the journey
You still needed to be committed to helping these parents research and understand their options during the consideration stage. Helping build an authentic connection with these parents will give you an incredible advantage for when they are ready to make a decision.
Provide a follow up E-Book. A great way to know when someone is moving into the decision phase is to provide them with a follow up E-Book on "How to select the right daycare for my child" or "Free evaluation checklist for selecting a daycare." Track to see if they click the call-to-action and download these resources.

Email them additional blog articles. Provide resources in your email follow ups that are related to blog topics inside the decision phase. If the parent has moved on to gravitating to these articles they are getting much closer to the next stage.

Additional surveying. Some great examples would be to survey the parent and ask them to select the most important criteria for their family such as: location, hours of operations, price, curriculum, activities, etc. Not only will this help identify if they are ready to be moved into the next phase, but you have flagged motivational drivers that can be important for qualifying the prospecting parent.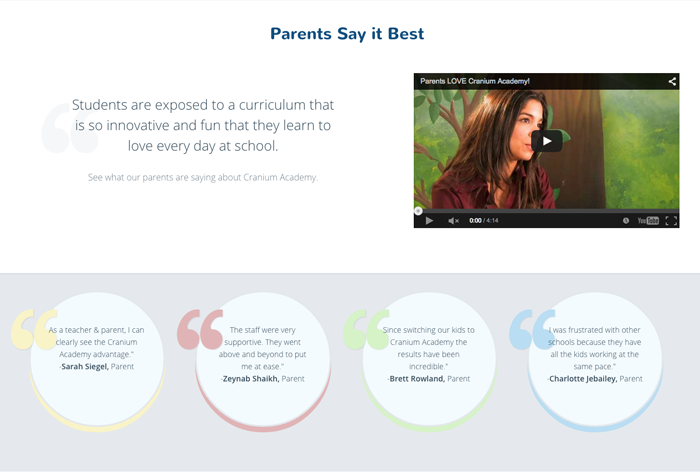 Decision Stage
The Decision Stage begins once the parents have made the commitment to enrolling their child in a daycare. They have finalized the criteria that are important to them (location(s), hours of operation, price, curriculum, activities, etc.).
This is where most marketing and advertisers focus their initiatives, but if you have been successful with helping and educating the parents through the awareness and consideration stages, they will be much more likely to consider your daycare because of the brand loyalty that you've created. In this stage, you can position yourself through your unique value proposition (UVP) and why the consumer should consider your daycare now that they are "sales ready."
Logic and justification drive this stage for our parents. They are ready to choose and since they view you as a trusted resource, your chances of winning their loyalty and your business is higher than your competitors.
Recommended marketing tactics:
Schedule a tour

is the ultimate action a prospecting parent can take with your daycare. Provide a clear call-to-action which leads to a conversion form for scheduling a tour of your facility.

E-Books

to continue to help provide resources for these parents on key decision factors when selecting a daycare.

Live Webinar

can be a great alternative call-to-action if the parent is not ready to schedule a tour. This can create a strong connection with your staff and the parents.

Take a Virtual Tour

by providing a video walk-through of your facility, classrooms, and staff.

Video Testimonials

to showcase the values that are important to your daycare and community. These videos can be of other parents providing real-world testimonies of their experience with your daycare.

Live Chat

offers a great way of answering common questions with parents who may be on the fence. Live chat is an easy website implementation, but it does require operational maintenance and it's own strategy.

Social Media

is an incredible outlet for connecting with parents and showcasing your brand's values and culture.
Delight Stage
Now that the parents are your customers, your job doesn't end. Keeping your families loyal to your daycare is a key objective for retention. This is known as the Delight Stage, where your brand can recognize your customers through various marketing techniques to help keep them happy, engaged, and satisfied with their decision.
Loyal customers are 10 times more likely to refer your daycare than those who aren't continuously engaged with your brand. This stage is often neglected and it's a key opportunity for continuing to grow your business through referrals and a stronger retention rate.
This stage is typically referred to as the re-assurance stage. Most businesses forget how important it is to continue to engage and delight their customers after they have purchased. Without that extra reassurance that you are still a partner in their life decision, you may loose them to the next daycare that engages them newly.
Recommended marketing tactics:
Social Media

by staying active and providing relevant and enjoyable news about your facility and community.

Parent's Newsletter

to keep the parents abreast on what's new.

Referrals

can be a great resource for growing your daycare enrollment with the help of your loyal customers.

Requesting Testimonials

from the top parents and ask if you can feature them on your website.

Parent Reviews

are important opportunities for displaying the ratings that other families have given your daycare.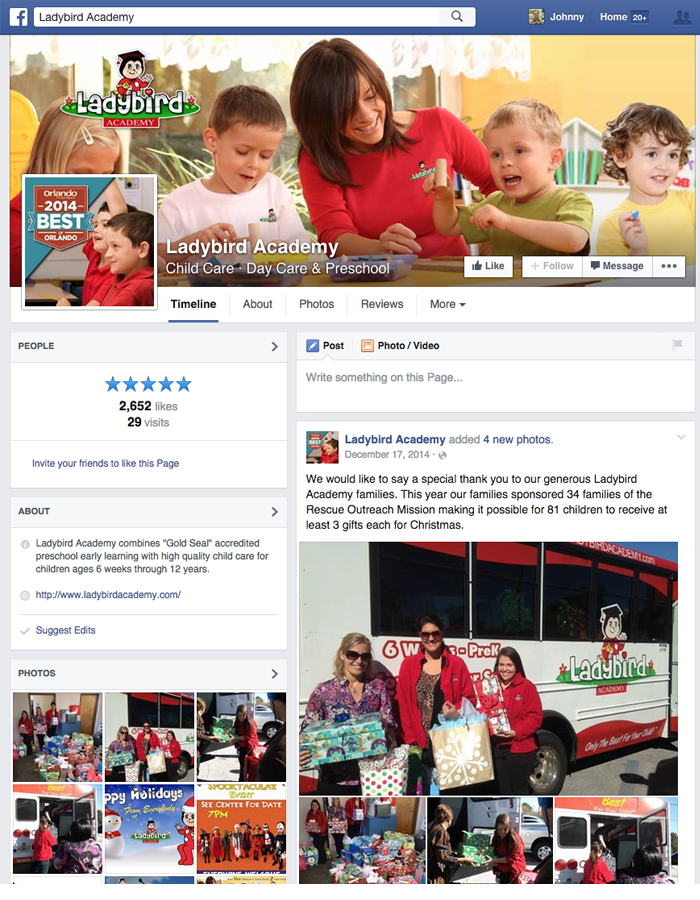 Hiring for Experience
Our inbound marketing agency works with clients in early childhood education who are passionate at what they do. However, we've discovered that most child care centers have not been trained on how to effectively market their organization to maximize their ability to attract, enroll, and retain families.
Working with a child care marketing firm provides you with the flexibility of running your business while allowing an experienced team of marketers maintain your brand's online presence.