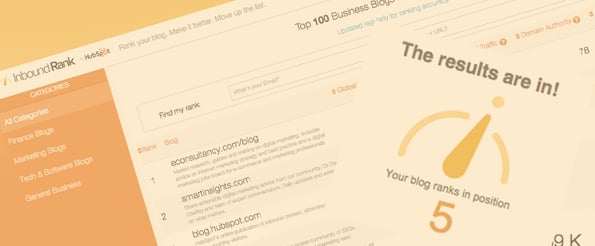 Wondering how your business blog ranks among the best in the U.K.? Would you like to know what parameters are preventing you from being number one? Do you know what the best blogs are doing to be number one? Looking for a list of the top 100 U.K. business blogs that you can add to your reading list or pull inspiration from?
If you're wondering about any of the questions above, then you're going to love the update to our InboundRank tool, which is tailored specifically to U.K. marketers running business-related blogs. In addition to marketing, InboundRank is now open to the following categories: finance, software & tech, and general business.
So you might wonder -- how was this tool built, and how does it work?
InboundRank uses three awesome APIs: SimilarWeb, Moz, and Buzzsumo. The SimilarWeb API pulls web traffic data and blog categorisations; the Moz API pulls domain authority; and the Buzzsumo API pulls average social shares. Together, numbers from these APIs are used to calculate your InboundRank score -- the closer you are to 100, the higher you'll rank.
How You Can Use InboundRank
You can use the tool in six ways.
1) Rank your own business blog.
To rank your own blog, all you need to do is enter your email address and URL and click the "Rank" button -- it couldn't be simpler.
After you click "Rank," you'll receive your rank.
2) Add to your following/reading list.
If you're looking for some new, quality blogs to follow, InboundRank is a great place to find them.
(P.S. Click "Close Contenders" at the end of the list and you'll get a further list of 50 sites which are moving towards the top 100 -- and this will grow as more sites are ranked.)
3) Find your competitors.
If you run a business-related blog, this place is a great place to go to figure out who your competitors are. Competitor intelligence is a great asset to have on your side when developing content strategies, and can even help to inform your targeting strategies when it comes to paid advertising.
4) Find guest post opportunities.
Looking for great blogs for guest posting? No problem! InboundRank provides a ready-made list of the best business blogs in the U.K. Have a look through the list, find a blog that aligns with your brand, and reach out!
5) Build an influencer list.
Sometimes when you are building out an influencer list, it can be difficult to know where to start. This list can be a great starting point.
6) Benchmark your progress.
Once you get a ranking for your blog, you can concentrate on improving your ranking and moving up the list by doing one of three things -- increasing your traffic, your domain authority, or your social shares.
Ready to rank your business blog? Click here if you are -- and don't forget to share your ranking on Twitter. :)
"Rank your #business #blog using @HubSpot's latest version of #InboundRank: http://www.inboundrank.co.uk/

"
Editor's Note: This post was originally published in March 2015 and has been updated to be more accurate.