In 2019, Instagram is an undeniably powerful marketing tool -- in fact, it now has over one billion active users, making it one of the top social media platforms.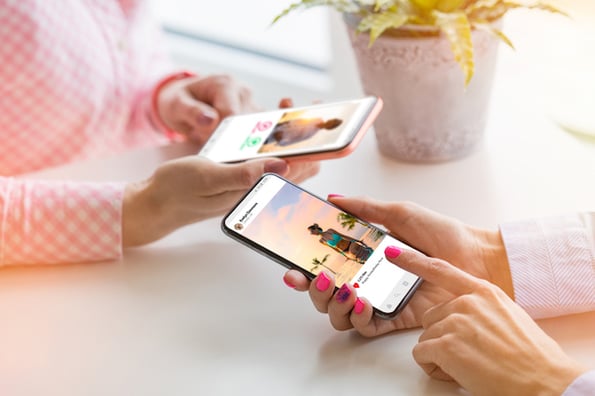 For many marketers, Instagram is a critical component of their marketing strategy. There are 25 million business profiles on Instagram, and 60% of Instagram users say they've learned of a product or service through the platform.
However, the popularity of the platform makes it difficult for brands to stand out and attract a large audience. Fortunately, there is an opportunity for you to reach a new audience quickly -- Instagram's Explore Page.
Here, we'll dive into what exactly the Explore Page is, as well as six tricks you can use to get your posts and Stories featured on the page for maximum exposure.
What is the Instagram Explore Page?
In a 2019 press release, Instagram's Explore Page is described like this --"People turn to Explore when they want to branch out from the accounts they already follow on Instagram."
In other words, the Explore Page is just how it sounds: a page that helps users explore new accounts based on their previous likes and follows.
You'll find the Explore page in the search section of Instagram (by clicking the magnifying glass logo):
Instagram continues to make updates and changes to its Explore page. Now you can find both IGTV and Shopping shortcuts within the Explore Page, topic channels that make it easier to browse posts, and Stories -- all on one page.
As previously mentioned, this page is tailored to a user's estimated preferences, based on previous activity on Instagram -- my Explore Page, for instance, has a suspicious amount of cute cat-related posts.
Additionally -- and most importantly for brands -- the posts I see in the Explore Page aren't from accounts I already follow. They're all from new ones.
Ultimately, the format of the Explore Page makes it a lot easier for your brand to get noticed in organic ways.
Next, let's take a closer look at the specific algorithm Instagram uses when choosing which posts to feature on the Explore Page.
Instagram Explore Page Algorithm
The Explore Page uses a special algorithm to select which posts get featured. It takes into consideration a variety of factors that allow your content to get selected by monitoring engagement with your posts and the niche categories that your posts fall under.
From what we can observe about the algorithm, here are some of the top conclusions we can draw about it:
1. The top input for the algorithm is based on the content the viewer already follows and engages with in their personal feed. The app takes note of these interests and tries to provide similar content that would match or expand on these interests. This means that if someone likes a post from a brand with similar content to yours, you might also begin to show up in their Explore section.
For instance, I recently took a look at HelloFresh on Instagram. When I perused my Explore Page a few days later, I saw posts from competitive accounts like Blue Apron and Home Chef.
2. Instagram is moving in a more video-oriented direction, so it appears that videos tend to rank higher in the Explore algorithm. The auto-play feature on the videos also means they draw more attention than still pictures, increasing the likelihood of interaction and bumping them up in the input.
For example, when I open my Explore Page, I see a video of Jojo and Jordan from the Bachelorette at the very top -- a video which captures my attention, since it immediately starts playing:
3. Other key factors in boosting a post's likelihood of showing up in the algorithm include stories that focus on visuals over text, and content that is most closely related to the main focus of your account.
4. Reposts don't do as well as they are usually not picked up by the algorithm.
You can work around the algorithm by repurposing your content and links across Instagram and other social media platforms. Once you understand these key aspects of the algorithm, you can use them to help generate the highest quality content possible to best ensure that you'll end up on Explore Pages everywhere.
How to Get on Instagram's Explore Page
Use hashtags
Tag people or brands
Follow viral trends
Use calls-to-action
Don't repost
Focus on video content, or add motion to still content
One of the easiest means of getting onto the Explore Page is to be conscious of not only the content you're posting, but the type of content.
With Instagram's other features, like Instagram Live and IGTV, it's clear that the app's focus has moved into video content. Videos or pictures with movement are more likely to capture a user's interest for a longer period of time. Taking advantage of that is key to finding success on Instagram and getting your posts onto the Explore Page.
Instagram's Explore Page algorithm also seems to grab content that has more engagement, especially if said engagement happens in the first few hours of posting. In Instagram's case, quality is better than quantity, and getting interaction from influential users (i.e. having a higher follower count) is one of the best ways to do it.
Here are some additional quick tips to help you get started:
1. Use hashtags. You can have up to 30 hashtags on your posts. Hashtags categorize your posts and help users find your content -- for instance, if I'm looking for dinner recipes, a quick "#dinnerrecipe" search will show me some of the most popular posts in that category. They can't see it if you don't tag it.
2. Tag people or brands. Tagging invites a lot more engagement, especially if you know the right people to tag. People who get tagged are more likely to share and interact with your post. Try creating partnerships with other companies or influencers -- when you tag them in your posts and they tag you in theirs, you're both mutually benefiting from exposure to new audiences.
One big-name example of this is Target's partnership with superstar Taylor Swift.
This mutually-beneficial partnership has helped Swift's albums consistently top the physical sales release charts for the past decade, and has no doubt been equally fruitful for Target, as well.
If you find brand representatives or Instagram influencers and create partnerships with them, you'll likely drive more traffic and engagement to your posts.
3. Follow viral trends. If you can find your own humorous or entertaining take on something that's trending that is also relevant to your brand, adding your post to the mix will help increase your exposure. Everybody loves a good meme!
For instance, check out how SparkNotes uses viral memes and reaction images to humorously promote their brand, while educating the masses about classic literature in the process:
By using these well-known memes from popular media to illustrate their content and make users laugh in the process, SparkNotes effectively promotes their brand.
4. Use calls-to-action. This increases the likelihood of user interaction. For instance, you might write "tag a friend who needs this" or "comment below and tell us what you think" to incentivize your followers to engage further with your content.
For instance, look at how Lush Cosmetics uses a call-to-action to encourage users to interact with their post by suggesting certain emojis for them to use:
Obviously, you don't always have to use emojis. Instead, you can use other strategies to encourage people to interact with your content, like asking a question and encouraging people to respond in the comments, or using a phrase like, "Like if …" to further incentivize responses.
5. Don't repost. Only post your own original content, because reposts are demoted in the algorithm.
6. Focus on video content, or add motion to still content. You can use boomerang, motion filters, animation, etc. to bring more life to your pictures, but overall you want to have a video content focus. Videos or pictures with movement are more likely to capture a user's interest for a longer period of time, and as we saw, they tend to rank highly in the algorithm.
With the introduction of the Explore Page, Instagram has created a unique and exciting opportunity for you to get your brand noticed more than ever. Once you understand the inside scoop on the algorithm, you can make sure you're creating the perfect content to reach your audience and achieve maximum exposure.