With one billion monthly active users, Instagram is undoubtedly one of the most popular social media platforms today. But the sheer volume of users can make the tool feel intimidating -- how is your business supposed to stand out?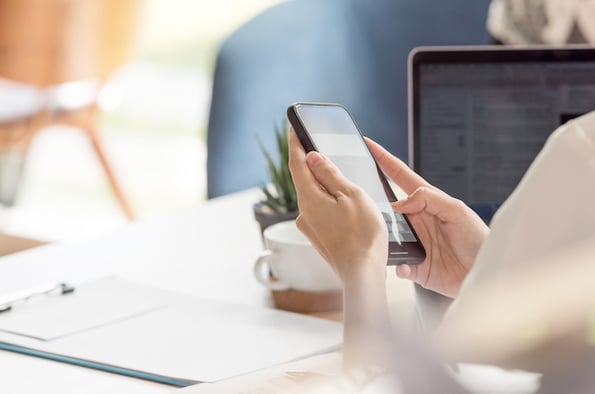 It can feel difficult to validate your brand on Instagram, particularly when there's eight million other business accounts on the platform. If you're a small business, you know the struggle of growing an audience and engaging with your followers.
Ultimately, when you spend time and effort curating the perfect Instagram presence, it can be frustrating when you don't see an immediate return. For some, this is when buying followers or using a growth service becomes an option.
Here, we're going to explore what a growth service is, options of growth services you can use to increase your follower count on Instagram, and alternative ways to boost your audience and engagement without using a third-party service.
What is a Growth Service?
A growth service is a third-party tool that can be purchased to grow followers and engagement on social media. Growth services can be organic or automated, and can sometimes violate a social media platform's Terms of Service.
Purchasing followers is becoming more common as influencers rise and followers become a sort of currency. But your audience -- your real audience -- knows better. Buying followers is a tactic that is easy to see through, doesn't impact long-term engagement, and can actually lower your brand's reputation.
For a long time, the place to purchase followers was Instagress. Instagress was a growth service that used automation to artificially engage users through likes and follows.
The fall of Instagress can't be pinpointed to one specific thing, but could be attributed to Instagram's Terms of Service updates that make using a third-party service risky business, especially if it involves automation. If Instagram senses your followers are bots, or bots are engaging with users on your behalf, your account can be temporarily or permanently banned.
With that warning in mind, if you're looking to increase your following, here are some Instagress alternatives you can use to increase your follower count, followed by ways to boost your following and engagement without relying on a third-party service.
Instagress alternatives
SocialSteeze
Magic Social
Kicksta
Combin
Upleap
Jarvee
SocialSteeze is a growth service that uses machine learning to engage followers by targeting accounts through usernames, location, and hashtags. SocialSteeze assigns you a dedicated account manager to build growth in engagement and increase followers over time. Since there is a real human behind this growth service, it complies with Instagram's Terms of Service -- therefore your account is safe from deactivation.
Pricing:
Regular plan: $15/week or $38/month. Includes a targeted audience, a guarantee of real followers, and a fully managed service.
Elite plan: $25/week, $99/month, and has the option of one payment annually of $449. Includes everything in the Regular plan, plus priority support and double the engagement.
Magic Social also connects your account to a dedicated growth manager, who engages with people on Instagram for you. Magic Social also uses targeting to connect you with relevant followers.
Like SocialSteeze, Magic Social is a low-risk alternative to Instagress and has great reviews for their services, plans, and pricing.
Pricing:
Regular plan: $15/week or $38/month. Includes a targeted audience, a guarantee of real followers, and a maintained service.
Professional plan: $25/week, $99/month, and has the option of one payment annually of $420. Includes everything in the Regular plan, plus priority support and double the engagement.
Kicksta uses human outreach to connect with Instagram users through likes, comments, and follows. You provide Kicksta with Instagram accounts that have followers with whom you'd like to attract. Then, via your account, Kicksta likes photos from those individual users to spark engagement. The hope is that since these accounts have similar interests to your brand, it will increase the chance that they'll follow your business.
This service is similar to having an Instagram Community Manager liking pictures for you all day. And for less than $1.65 a day, it's extremely affordable. But Kicksta only provides likes from your account, and cannot contribute to discussion via messages or comments -- a vital point of the inbound marketing strategy you'll be missing.
Pricing:
Moderate Growth plan: $49/month. Includes up to 1,000 engagements a day, video onboarding, and 10 unique targets. This plan is marketed towards Instagram savvy influencers or entrepreneurs.
Maximum Growth plan: $99/month. Includes up to 1,500 daily engagements, 40 targets, premium support, and more.
Combin is a follower engagement app that you can download on Windows, Mac OS, or Linux. The app provides you with an easy-to-use set of tools to organically boost your following. The tools it offers are focused on growing your followers and fostering relationships. With search tools and machine learning, you can find users who are already engaged with similar accounts and prioritize the users that are most likely to become your new loyal followers.
The interface itself is pretty easy-to-use. This is more of a self-management tool than a growth service. You aren't paying someone else (or a bot) to do the work for you. It requires brand knowledge and time to input searches and discover potential followers.
Pricing:
Starter plan: Free. This is a good way to try out the functionality of the application before purchasing.
Personal plan: $10/month. Includes management of one account, 1,000 instant search results for posts and users, and in-app actions.
Business plan: $30/month. Includes management of five accounts and everything in the Personal plan.
Upleap pairs you with an account manager who is dedicated to growing your account. You can also sign up for a trial period to test if this growth service is right for your Instagram goals. Upleap uses targeting to find users who will want to engage with your content. Upleap guarantees that it will only interact with real users, which will hopefully help your engagement in the long-term.
Pricing:
Lite plan: $39/month or $349/year. This plan is best for personal accounts and upcoming influencers.
Standard plan: $69/month or $579/year. If you are looking for faster growth, this plan is for larger influencers and businesses.
Premium plan: $99/month or $709/year. The fastest option for businesses and influencers.
Jarvee is Instagram marketing automation software. With Jarvee, you can automate responses to new followers -- such as direct messages, likes, and comments -- to engage with your audience. Instead of spending hours interacting with users yourself, Jarvee automates this process. The software also includes audience targeting based on hashtags and location. This growth service works across multiple platforms, not just Instagram, and you have the ability to set different automation settings for each account, including time between interactions and when to deliver messages.
With this service, you are managing your own accounts instead of giving an external agency access. You can also schedule your posts directly from Jarvee, a feature that is hard to find on other Instagress alternatives. Jarvee is currently only available on Windows.
Pricing:
Starter plan: $29.95/month. Includes all scheduling and automation features, allows you to connect 10 accounts with premium customer support.
Personal plan: $69.95/month. Includes all scheduling and automation features, allows you to connect 70 social accounts, and also includes premium customer support.
Premium plan: $99.95/month. Includes everything on the other two plans, but allows connection to 150 social accounts.
Now that we've explored Instagress alternatives, here are some ways to grow an engaged, real following without a third-party service.
1. Implement an Instagram Ad Campaign
If you have the money to spend on followers who won't actually increase your engagement in the long run, why not put that money behind a paid promotion? Start a campaign with the intent of brand awareness, and target an audience that is likely to be interested in your account.
You'll have to create a high-value visual ad to ensure it performs well. Take a look at other ads from companies your target audience is following. Instagram ads are becoming more and more popular, so you'll want to strike a balance between advertised content and content that your audience regularly interacts with, so your paid campaign isn't disruptive.
To create your campaign, you'll need to use Facebook Ads Manager. Ads Manager lets you choose your target audience through various demographics, your ad objective, and analyze your campaign's performance.
2. Experiment with Content
When do you post to Instagram? How many hashtags are you using? Are you sticking to a certain aesthetic when you could be branching out?
If you post at the same time every day, you may be missing some of your target audience. Instagram best practice recommends posting between 2 p.m.- 3 p.m. on weekdays. While that's the case for most accounts, best practice can be individual. Maybe your target audience is more active on their morning commute than during lunch. Try testing different posting times to see if your engagement increases.
Another thing to experiment with is the type of content you're posting. If your account consists of only product photos, try a graphic quote or a meme. The posts that stick out from your usual content tend to capture attention. Who knows -- maybe you'll find a new content execution that you've never considered before.
3. Interact with Followers
One sure-fire way to increase engagement is to interact with your followers regularly. It may seem simple, but a lot of business accounts drop the ball on this.
Interacting with your audience shows them that you care about what they have to say, and that makes them more likely to stick around. If someone uploads a photo and tags your account, like and comment on it. Reply to comments on your posts. You don't have to reply to everything, but your customers will notice the effort. This makes your brand feel more personable, and therefore easier for people to engage with.
At the end of the day, Instagram is an incredible marketing tool. It's important to build a following, but following means nothing if your audience isn't taking action.
Bots and unengaged followers may look good on the surface, but customers who are interacting with and buying your products are what grow your business.
4. Establish a Story Strategy
Instagram Stories can drive engagement and value, and are a great way to connect with your audience daily. You can use stories to grow brand awareness, increase traffic to blogs or newsletters outside of Instagram, and share sponsored content.
One-third of the most viewed Instagram Stories are from businesses, so make sure you aren't neglecting this engagement tool. Try posting about industry news and using engagement tactics like polls or questions. Just like your feed, your Stories should consist of a good mix of promotional content and lighthearted, entertaining content.
When establishing your Instagram Stories strategy, you should look back at your brand and social media goals. This will help you focus on the right content to post.
Because of the ephemeral nature of Stories, there isn't any danger in posting a few every day. Your completion rate may start to dwindle after seven to eight frames, though. And unlike feed posts, there isn't an optimal time for you to be posting. Stories are a great way to get creative and stay current.
To increase the discoverability of your stories, be sure to add a location tag and hashtags. Users have the ability to search for Stories by hashtag and location, and if your engagement is high you might end up on the Explore page -- which will bring new users to your content.
While using an Instagress alternative is an easy option for quick Instagram growth, there's no better way to ensure your audience is engaged than targeting and attracting them yourself. Ultimately, if you're not managing your own brand voice and engaging with followers directly, you aren't going to be able to turn those followers into long-term customers.