As AI has grown smarter, more and more people are wondering, "Is my job safe?"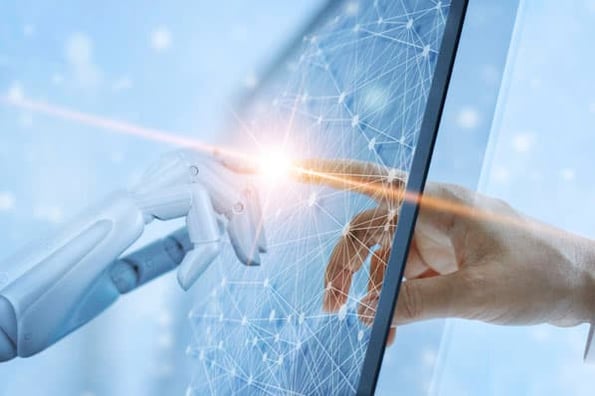 This is such a growing question that there's even a website called, "Will Robots Take My Job?" With the website's name speaks for itself. You can look up a job title and see the its likelihood of AI-driven doom.
When we started looking up our own jobs with it, we were thrilled to learn marketing managers had only a 1.4% chance of our jobs being automated or replaced by robots and artificial intelligence. And although I breathed a sigh of relief that writing has only a 3.8% chance of being automated, it made me think about job roles that weren't so lucky.
But, those with a higher percent chance of losing jobs to AI shouldn't panic just yet. Although this website makes you think more deeply about the jobs that can and can't be replaced, it's not perfect.
Just like AI predictions, it's probably not 100% accurate -- simply because job titling isn't always a one-size fits all approach. While one type of writer may draft adventurous novels, others might write news stories or blog posts. And while one marketing manager might manage social media marketing, another might manage content.
While this site is pretty fun to explore, we highly recommend making your future career decisions based on expert advice. This will prevent you from unnecessarily panicking when AI could help your career rather than hurt it. And if you're one of the few jobs in danger, experts can show you which skills will truly future-proof your career.
To give you an idea of what jobs might be most vulnerable and which might be safe, we've compiled lists of jobs AI can and can't replace based on advice from experts, stats from the website noted above, and other research.
But before we jump into that list, we'll dive into the current state of disruption.
Artificial Intelligence Disruption is Already Happening
If you think job disruption by AI is limited to the assembly lines, think again: AI is doing a better job than humans at some aspects of sales and marketing, too.
AI can analyze sales calls far faster than any sales manager could -- in fact, it would take nine years of nonstop sales call analysis for a human being to compete, and that's if they didn't take vacation or sleep. And AI is already being used to develop marketers' content strategies and email marketing playbooks -- it's only a matter of time before it plays a bigger role in the process.
HubSpot co-founder and CTO Dharmesh Shah has a more positive outlook on the future of AI, In fact, he thinks bots and AI will make us better at our jobs and more secure in our careers, not the other way around.
The truth probably lies halfway between these camps -- in many cases, AI will serve to make our jobs easier and will make us more effective and data-driven. But the fact remains that some jobs will be replaced by machines -- it's the essence of any industrial or technological revolution. The good news is; some jobs won't be strictly replaced -- they just might be adjusted to account for new technologies' "careers."
Based on the landmark 2013 study that inspired "Will Robots Take My Job?" we've rounded up some of the marketing and sales roles most likely to be replaced by robots, bots, and AI in the next few years.
This study analyzes the likely probability that a job will be replaced by automation and computerization -- based primarily on the level of routine a job has and the specialized training and social intelligence required to complete it. It's not an exhaustive list, but it gives you an idea of what your life could look like in a few years.
10 Jobs AI Can Replace
Telemarketing
Bookkeeping Clerks
Compensation and Benefits Managers
Receptionists
Couriers
Proofreaders
Computer Support Specialists
Market Research Analysts
Advertising Salespeople
Retail Salespeople
1. Telemarketers
Score: 99%
Why: You probably already receive robo-calls on behalf of various products and services, and career growth in the telemarketing space is expected to decline by 3% by the year 2024. This is largely in part because of the requirements to be successful: Unlike other sales roles, telemarketers don't require a high level of social, or emotional, intelligence to be successful. Think about it -- are you likely to purchase from a telemarketer? Conversion rates for direct telephone sales are typically less than 10%, making this role a ripe opportunity to be automated.
2. Bookkeeping Clerks
Likelihood: 98%
Why: Jobs in this role are expected to decline 8% by 2024, and it's no surprise why -- most bookkeeping is becoming automated, if it hasn't been already. QuickBooks, FreshBooks, and Microsoft Office already offer software that does the bookkeeping for you that's much more affordable than a person's salary, so it's no surprise this job has such a high probability.
3. Compensation and Benefits Managers
Likelihood: 96%
Why: This one is surprising because the job growth is supposed to increase 7% by 2024. But just because there's demand doesn't make you safe from automation. As companies grow in size -- especially across multinational markets -- a human and paper-based system can present more hurdles, time delays, and costs. Automated benefits systems can save time and effort for providing benefits to large numbers of employees, and companies like Ultipro and Workday are already being widely adopted.
4. Receptionists
Likelihood: 96%
Why: Pam predicted this back on The Office, but in case you're not a fan, automated phone and scheduling systems can replace a lot of the traditional receptionist role -- especially at modern technology companies that don't have office-wide phone systems or multinational corporations.
5. Couriers
Likelihood: 94%
Why: Couriers and delivery people are already being replaced by drones and robots, so it's only a matter of time until this space is dominated by automation altogether. At the same time, this space is expected to grow by 5% by 2024, so it might not happen as quickly as you think.
6. Proofreaders
Likelihood: 84%
Why: Proofreading software is everywhere -- and we use it a lot here at HubSpot. From Microsoft Word's simple spelling and grammar check to Grammarly and Hemingway App, there are a lot of technologies out there that make it easy to self-check your own writing.
7. Computer Support Specialists
Likelihood: 65%
Why: The field is projected to grow 12% by 2024, but with so much content on the internet with instructions, step-by-step guides, and hacks out there, it's no surprise companies will rely more heavily on bots and automation to answer support questions from employees and customers in the future.
8. Market Research Analysts
Likelihood: 61%
Why: Market research analysts play an incredibly important role in the development of messaging, content, and products, but automated AI and surveys can compile this information more and more easily. GrowthBot, for example, can conduct market research on nearby businesses and competitors with a simple Slack command.
9. Advertising Salespeople
Likelihood: 54%
Why: As advertising shifts away from print and TV and towards web and social media landscapes, people simply don't need to be managing those sales for marketers who want to buy ad space. More social media platforms are making it easy for people to buy space through free application program interfaces (APIs) and self-serve ad marketplaces to remove the salesperson and make it faster and easier for users to make money -- and that's reflected in the projected 3% decline in the industry.
10. Retail Salespeople
Likelihood: 92%
Why: If you've visited a mall, car dealership, or furniture store lately, you might not have been assisted by a salesperson at all from start to finish. Companies are democratizing the shopping experience with features like self-checkout, and the modern buyer is much more internet-savvy and more likely to do internet research and make a buying decision on their own.1
10 Jobs AI Can't Replace
Human Resource Managers
Sales Managers
Marketing Managers
Public Relations Managers
Chief Executives
Event Planners
Writers
Software Developers
Editors
Graphic Designers
1. Human Resources Managers
Likelihood: 0.55%
Why Not: It's kind of in the name -- but your company's Human Resources department will likely always need a human at the helm to manage interpersonal conflict with the help of non-cognitive and reasoning skills. The field is projected to grow 9% by 2024 as companies grow and need more robust structures for supporting and helping employees.
2. Sales Managers
Likelihood: 1.3%
Why Not: Sales managers need a high level of emotional intelligence to hit their quotas each month, network and collaborate with customers, and motivate and encourage the larger sales team. Managers also have to analyze data and interpret trends, and the high levels of intelligence required -- plus the constant need to adapt to new situations -- makes this role safe from automation.
3. Marketing Managers
Likelihood: 1.4%
Why Not: Marketing managers have to interpret data, monitor trends, oversee campaigns, and create content. They also have to nimbly adapt and respond to changes and feedback from the rest of the company and customers, making this another human-forward career AI isn't quite ready to replicate.
4. Public Relations Managers
Likelihood: 1.5%
Why Not: Successful PR managers rely on a network of relationships and contacts to procure press placements and buzz for the companies they represent, making this another completely safe role. PR managers who have to raise awareness around an issue or mission need a particularly human touch to raise funds or get people to participate in a campaign, too -- and jobs are expected to grow 7% by 2024.
5. Chief Executives
Likelihood: 1.5%
Why Not: It's nearly impossible to automate leadership -- after all, it's hard enough to teach it. Chief executives have to inform broad strategy, represent companies' missions and objectives, and motivate huge teams of people working for them. Companies may answer to stakeholders and boards of directors, who likely wouldn't want a robot giving them an earnings report, either.
6. Event Planners
Likelihood: 3.7%
Why Not: Event planning is a growing field, and if you ask anyone on our events team here at HubSpot, whether you're planning an event for employees, customers, or an industry event with tens of thousands of attendees, the planning process has many, many moving parts involved. Planners have to coordinate and negotiate with vendors, contractors, and freelancers to make things come together, and the organizational and people skills involved will make this another near-impossible role to automate.
7. Writers
Likelihood: 3.8%
Why Not: (I breathed a sigh of relief on this one.) Writers have to ideate, create, and produce original written material. AIs can do some of this with title suggestions, writing prompts, and automated social media messages, but blog posts, books, movies, and plays will likely be written by humans for the foreseeable future.
8. Software Developers
Likelihood: 4.2%
Why Not: Software engineering and development is hard enough for human beings to do, and the time and skill investment needed to create applications, software, and websites will be tough to replicate -- especially since developers need to execute perfectly to create great products for customers. The field is expected to grow by 19% by 2024, so if you're a software developer, you're sitting pretty for now.
9. Editors
Likelihood: 5.5%
Why Not: While some of the load can be lifted from editors with the automated proofreading technology mentioned previously, editors have to review writers' submission for clarity, accuracy, comprehensiveness, and originality. While there is some software that can spot-check for clarity and scan for plagiarism, the editor role must be carried out by a human in order to read work as another human would.
10. Graphic Designers
Likelihood: 8.2%
Why Not: Although there are some AIs taking small (and somewhat creepy) steps in the graphic design space, graphic design is both artistic and technical, making it an ideal role for a human being to carry out. Like writing, all work needs to be original and created to the client's wishes, so graphic design needs to be created with a human artist and editor all-in-one.
Navigating Artificial Intelligence
To get a better idea of the state of AI and how it could impact future job landscapes, we talked to two experts: Mike Lieberman, CEO and Chief Revenue Scientists at Square 2, and Kate O'Neill, author of Tech Humanist and Founder of KO Insights.
"Right now, marketers and sales leaders are applying AI to high-level generic situations like personalization and selection of content to present to prospects," says Lieberman. "Another great example is smarter email marketing like knowing when people open emails and using that intelligence to send at those times."
He adds, "What's great about this application is it does produce better results--which should be the goal of smarter AI-powered marketing."
When asked about industries that could evolve do to AI, Lieberman says, "It's highly likely that AI will supplement the advice, guidance, and recommendations from marketing agencies."
"As an example, today consultants help companies know what to do, when to do it and how to do it but soon AI-powered insights and recommendations software will give marketers their to-do list and that list is prioritized based on their specific goals," he explains. "This application is going to help them improve program performance every single day."
When it comes to roles and tasks AI can't replace, O'Neill explains that jobs which require emotional intelligence will be safer in the immediate future.
"This is going to be a continuously moving target, but for the time being, what AI can't do well is use emotional intelligence, understand situational context, make judgment calls, and generally see nuance and meaning like we do," she says.
"That means any kind of job that benefits from these kinds of human attributes is better off done by a human. A computer or robot may assist you in performing efficiently, but for now, you're the one who adds the expertise on how to perform appropriately," she added.
However, she explains that this could change in the long-term.
"Machines will become increasingly more sophisticated and will be able to distinguish between, say, happy and sad occasions for people, or interacting with children or adults, or what tone to use in what message, and so on. And those examples are just the tip of the iceberg."
But, although some jobs may change drastically in the near or distant future, she emphasizes that AI will allow humans to spend more time on work they're passionate about rather than time-consuming tasks.
"What's exciting about this is it means we have a stage of development ahead of us where we can create more meaningful work for humans while also helping make machines more capable of offering contextually appropriate interactions."
How to Future-Proof Your Career
While AI will take over smaller, more time consuming tasks, it can't easily replace human emotions and behaviors that customers and audiences identify with. Even today, some customers prefer to talk to human customer service reps over bots when they have a problem.
Additionally, a company might always need a chief executive or managers with strong emotional intelligence or other teamwork-oriented skills.
Similarly, AI might not easily replace a creative role or service that requires employees to think outside the box or try something that hasn't been done yet.
The best way to fend off the robots is to determine the skills and traits that are irreplaceable, hone in on them, and improve upon them whenever you can.
For example, if your job requires a lot of tasks that could be done by a robot, you might want to consider taking on a project that will teach you about management or leadership.
If your company offers professional development, you could also take a course in a more creative skill, like public speaking, writing, or graphic design. This way, if your job shifts, you might easily transition into another role or seem more valuable to a hiring manger due to your unique combination of logistical and creative skills.
To learn more about how you can keep working with AI to improve your work and optimize efficiency, read our research report here.
Want to dive even deeper into these topics? Mike Lieberman and Kate O'Neill, quoted above will be speaking at INBOUND 2019 -- running from September 3-6. O'Neill will run a session titled, "Technology, Your Company, and the Future of Meaningful Human Experiences," while Lieberman will host, "The Robots Are Coming—How to Use AI to Make Smarter Marketing Decisions."