In the world of marketing, there's no shortage of new strategies designed to engage audiences and inspire purchases.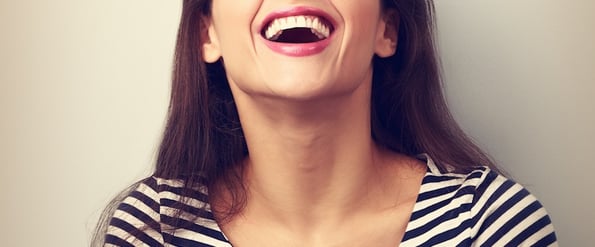 From scarcity marketing to viral marketing, there are a ton of different options for businesses to explore. But if there's one thing we know for sure, it's that emotions rule our decision-making.
Considering the relationship between our actions and emotions, it should come as no surprise that finding ways to incorporate joy into your marketing efforts can have a profound impact on the way people perceive your brand. It's a concept called joy marketing, and it's worked for a lot of big brands.
Want to learn more? Keep reading.
What's Joy Marketing?
Joy marketing is a term used to describe campaigns that elicit a specific emotional response: joy. From sentimental adverts to inspiring quotes, this approach allows brands to connect with their audience on a deeper, more meaningful level.
The concept of using joy marketing as a tool for boosting sales has quickly gained strength following the surfacing of research by psychologist Sonja Lyubomirsky. Lyubomirsky's research on behalf of ConAgra's Reddi-wip found that 93% of Americans were on a quest to experience more joy in their lives.
What exactly does joy marketing look like? And how can you use it to boost business? We've got you covered with 7 noteworthy examples from brands like Coca-Cola and West Jet.
7 Examples of Joy Marketing From Top Brands
1) McDonald's: #Imlovinit24
Following their worst sales results in over a decade, McDonald's re-launched their "I'm lovin' it" campaign ... with a twist.
While the original campaign asked people to talk about their happiest moments in McDonald's, the new campaign actually created memories. Taking shape over the course of one day, McDonald's set out to bring "moments of joy" to 24 cities across the globe.
As a result, people associated feelings of happiness with the McDonald's brand, creating an emotional connection built on joy.
Joy marketing at its finest, perhaps?
2) Johnnie Walker: Joy Will Take You Further
Another high-profile brand to get in on the science of joy was the world's top-selling Scotch whisky brand, Johnnie Walker. The brand called up psychologist Matt Killingsworth -- who studies human happiness -- to create a campaign that embraced the notion that the emotion of joy is key to progress.
Armed with a new tagline, "Joy Will Take You Further," the brand has created a set of joy-centric adverts which will appear in over 50 countries and be seen by over 270 million people.
3) Coca-Cola: I'd Like to Buy the World a Coke
Although joy marketing is a relatively new term, the concept is long-standing. In fact, this feel-good, joyful sentiment can be seen as far back as 1971, when Coca-Cola released this iconic advert.
The man responsible for the campaign, advertising executive Bill Backer, was clear about what he was trying to achieve:
"I began to see a bottle of Coca-Cola as more than a drink ... [it was] a tiny bit of commonality between all peoples, a universally liked formula … I could see and hear a song that treated the whole world as if it were a person – a person the singer would like to help and get to know," he explained.
Backer's vision played out successfully and the ad went on to resonate with millions of people across the globe. Coca-Cola received over 100,000 letters praising the advert and thousands of requests for sheet music – spreading the joy certainly worked!
4) Reddi-wip: Unleash the Joy
ConAgra's award-winning "Unleash the Joy" campaign was the 2013 predecessor to 2015's "Share the Joy." Designed with joy in mind, the ads aim to position Reddi-wip as a brand that helps people create lasting moments.
Launched in an effort to increase sales, the campaign not only resulted in higher monthly sales, but it ultimately helped the company exceed their goal by boosting sales by 3.1%.
5) West Jet: Christmas Miracle Campaign
One look at WestJet's 2013 "Christmas Miracle" campaign – which sees the airline hand out personalized Christmas gifts to unsuspecting flyers – proves the worth of joy marketing instantly.
According to shortyawards.com, this ad was Canada's most shared viral ad of 2013 and in the top five globally – the relatively unknown Canadian airline gained in excess of 40 million YouTube views of their advert and increased sales by 86% on the previous year. A very merry Christmas indeed.
To keep up with the tradition, West Jet released a 2015 variation of the campaign -- "12,000 Mini Miracles" -- in which they set out to perform 12,000 random acts of kindness in a 24-hour period.
6) John Lewis: Man on the Moon
John Lewis recently launched its eagerly anticipated Christmas ad for 2015 ... and it's pretty joyful.
After spotting an old, lonely man on the moon through her telescope, a young girl tries and fails to make contact with him. Eventually she manages to deliver him a present, just in time for Christmas, by attaching it to some helium balloons. When he receives the gift, the old man sheds a tear of (you guessed it) joy.
Within an hour of its launch the ad had generated over 16,000 mentions on Twitter and was well on track to smash the record set by the previous year's #MontyThePenguin ad (97,257 mentions over the first 24 hours). Compare this with the 2013 #BearandHare campaign (just 6,826 mentions in the first 24 hours), and it's easy to see just how beneficial adopting this marketing tactic has been for John Lewis.
7) Beringer: Better Beckons
The "Better Beckons" campaign by Beringer Vineyards was inspired by, and features, Russian Instagram sensations Murad and Nataly Osmann. The couple gained an Instagram following of over 3 million with carefully framed hand-holding shots of their world travels using the hashtag #FollowMeTo.
Beringer was quick to bottle their joy-inducing power by commissioning a photo series of their very own.
The result? Six simple images that scream love, joy, and adventure. One look at Beringer's Instagram page and it's clear to see the positive impact of the campaign on increasing interaction -- on average, a typical post featuring the joyful couple generated significantly more likes than those without.
How to Create Your Own Joy Marketing Campaign
Want to give joy marketing a shot? Follow these four simple steps to creating your own winning campaign:
Identify the joy. Identify the ways that joy is linked to your brand. Is your company ethos underpinned by a desire to create joy for both customers and staff? Does your product or service bring joy? Use this to underpin your entire campaign.
Locate your audience. How can they be reached and communicated with? Some brands will exclusively use social media as a platform for their campaign while others branch out to television advertising, email marketing, or print media. Identify the right route for your business before creating your content.
Plan and create your content. Would a documentary-style video best convey your message of joy? Will you opt for imagery? Animation? Look to the examples above when planning your content to stay inspired.
Monitor your campaign's success. Use analytics, social media listening tools, and surveys to gauge responses to your joy marketing efforts, learning as you go. Remember to focus on your ultimate goal and set KPIs.
What examples of joy marketing have you seen? Share them with us in the comments section below.