In the age of the 24-hour news cycle, it's tough -- scratch that -- it's impossible to keep up with every single story that comes out.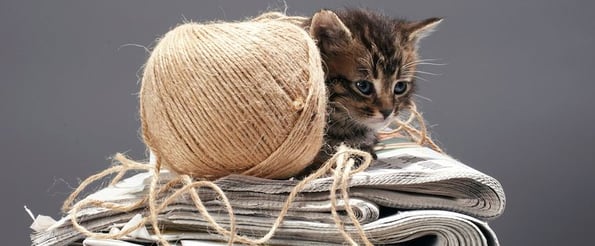 And that's especially true of social media, where new features and apps are launched at a speed that leaves social media marketers wondering, "So ... where should I post today?"
That's why we've written this monthly news roundup -- to help you keep up and start testing out new features, new products, and stay up on trends.
From Facebook to Snapchat, from new product launches to small tweaks, here's a list of what's new in social media this month. The list isn't exhaustive, but you can expect to learn the major highlights -- what was launched, what changed, and what these stories could mean for marketers.
9 of the Biggest Social Media News Stories This Month
1) Snapchat adds links to posts.
One of Instagram's biggest competitive advantages over Snapchat was the ability to drive traffic: Brands and verified users could add links to Instagram Stories to drive followers to landing pages, blog posts, and purchase pages. This feature made Instagram a more formidable traffic and lead generation tool -- and social media marketers could tie social media efforts directly to traffic generated.
But now, Snapchat offers the same capability -- and it's available to all users, not just a select few.
Users can add links by filming a Snap and tapping the paper clip to add a link, like so:
(HubSpot customers: We recommend creating a tracking URL when adding links to Instagram and Snapchat Stories so you can calculate direct traffic numbers from the post. Learn how to set one up here.)
2) Snapchat users can add voice filters, change colors, and film multiple Snaps at once.
Another big rollout from Snapchat this month came in the form of expanded filming and editing capabilities.
Now, users can record up to six 10-second Snaps at the same time by holding down the recording button (so as not to interrupt filming) and can quickly and easily post the Snaps all at once. Try this feature out by holding down the record button for as long as you'd like and you'll see the recording turn over after each 10-second video. Then, the snaps you've filmed will show up on the side of your screen that you can pick and choose from when it comes time to post. If you don't like a Snap, you can click and drag it into the trashcan:
Other new features include the Tint Brush, which lets users change the color of elements of a Snap, and backdrops, which let users choose a fun background, and then highlight a part of their Snap they want to be in the foreground. To access these fun editing tools, tap the scissors icon once you've recorded a Snap:
Finally, you can now change the way you sound in Snaps with voice filters, too. Once you record a video, tap the volume icon to choose a squeaky animal voice, a robotic monotone, or an alien accent:
3)
Instagram users can now reply to Stories with photos and videos.
In an effort to keep up with Snapchat, on the other hand, Instagram launched the capability to reply to Instagram Stories and direct messages with photos or videos.
This feature has been in place for a while on Snapchat, so it's a smart (and competitive) move to roll out a comparable camera feature. This will allow users to connect with friends and brands in the way they please -- whether that's with text, photos, or videos. Neater still -- users can add a sticker of the story they're replying to in order to make it extra meta:
Source: Instagram
4) Facebook is rolling out custom audiences based on interaction with Instagram Business pages.
Facebook has started the rollout of targeting audiences on Facebook based on their prior interactions with Instagram Business profiles. Advertising on Facebook and Instagram was already advantageous, because advertisers could analyze user interactions with different topics and types of content -- but soon, Facebook advertisers will be able to see which business pages specifically convert well. Then, advertisers can target users -- and curate ad content -- accordingly.
Source: Adweek
5) Users can broadcast on Facebook Live in Spaces, Facebook's VR communities.
Remember when we announced the launch of Spaces earlier this year? Facebook launched a new capability with Oculus that lets friends connect 1:1 or in groups of friends -- in full virtual reality (VR).
Depending on your opinion of social media eroding in-person relationships, Spaces is a unique way to connect and engage in a high-tech way. And now, users can broadcast from Facebook Spaces using Facebook Live, so their entire Facebook audiences can see what they're up to.
For brands and individuals who've seen success and engagement using Facebook Live, this could be a cool way to stand out in the busy News Feed. Check it out in action below:
6) Facebook may begin testing a subscription service with publishers this fall.
Source: Facebook
The Street reported this month that Facebook would be launching a subscription service with publishers later this year.
Tests will begin in October, and the service will involve Facebook's Instant Articles -- the already successful and popular publishing platform on the social network. Facebook and publishers will create a paywall after users read 10 articles per month, at which point they'll be directed to a landing page encouraging them to subscribe.
This announcement is part of Facebook's ongoing partnership with publishers as part of the Facebook Journalism Project, a Facebook spokesperson told TechCrunch. This move will be sure to make publishers happy -- especially considering 66% of Facebook users get their news from the site.
7) Twitter users can mute new accounts and people they don't know.
In another step toward improving user safety and preventing harassment, Twitter added a capability that lets users mute newly registered accounts, or accounts that don't follow you. If an abusive user is blocked or suspended from tweeting, they might simply open a new account to continue harassing other Twitter users, and this measure lessens their visibility and prevents targeted users from seeing abusive content.
Now you have even more control over your notifications. Mute accounts that don't follow you, new accounts, and more. https://t.co/UapP6DtTtY pic.twitter.com/RcBQGx219k

— Twitter Safety (@TwitterSafety) July 10, 2017
8) LinkedIn launches native video.
LinkedIn started rolling out a native video feature in a nod to the growing popularity of this content format across platforms. My colleague, Ryan Bonnici, noticed this on his LinkedIn feed recently, and once it rolls out to all users (it's currently being tested among a few users and brands), we'll give you a full rundown of how to use it.
9) Amazon launches Spark, the shoppable social network for Prime users.
In a nod to the popularity of shoppable Instagram posts and lifestyle content on Pinterest, Amazon launched a social sharing platform for Amazon Prime subscribers. It's available within the Amazon mobile app, where users can share visual content and tag different products available for purchase -- where else? -- on Amazon.
Download the Amazon mobile app and check it out:
Did we miss any news this month? Start a discussion in the comments below.