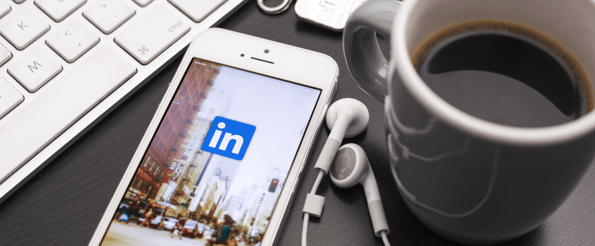 If you're a B2B marketing professional, chances are you've already heard about all the changes that LinkedIn plans to introduce to its Groups feature.
Unfortunately, over the years, Groups have built up a poor reputation online. Once hailed as the most valuable social media channel for B2B lead generation, with time, they've became over-populated with promotional posts and too much spam.
Hopefully, that's about to change. The biggest announcement to date is that LinkedIn recently made all of their Groups (over 2 million!) private. The goal of this is to encourage more meaningful conversations, based on user feedback.
So, what do the new Groups mean for your B2B marketing strategy?

Increased Privacy
The new Groups will increase your privacy level online, so you can have in-depth conversations without worrying that what you write will be available for anyone to read.

In fact, the new privacy setting makes it impossible for content to be indexed by search engines. As a result, if you're talking about sensitive information within your LinkedIn Group, this content will stay private and cannot be found by anyone searching on Google.
B2B Marketing Implication: These increased privacy settings offer you new opportunities to engage with your groups in a much more meaningful way. You can now provide exclusive announcements, information, or offers to your groups that may not have made sense to promote openly.
Vetted Members
Prior to the update, LinkedIn Group members were divided into two – public ones, which anyone could join, and private ones, where membership requests needed to be approved by an administrator. The open nature of the public Groups led to many of the posts being promotional, which turned off many members from participating, and ultimately led to hundreds of posts with no engagement.

With the recent changes, all members will need to be vouched for in order to gain admission. Joining a LinkedIn group now requires either an invitation or approval of your request.

So, all of your Group members will need to keep their credentials up-to-date to show that they are valuable contributors.
B2B Marketing Implication: Moving forward, you'll be able to have professional and detailed conversations only with individuals who fit your detailed guidelines. This will result in smaller groups with much higher levels of engagement as members don't need to worry about sifting through dozens of spam posts.
New Groups App
LinkedIn also announced a new app specifically for Groups—similar to Facebook's messenger app. The app is standalone and offers a slew of features, which show engaging discussions, highlights, and compelling content.

The algorithm that LinkedIn uses for its mobile app makes sure that you'll see the Group content that matters most to you, not just anything that's being discussed.

The app will also make it easier to discover new and interesting groups and people based on your industry experience, previous Group memberships, and more. So now, your marketing department will have an easier time keeping up on the latest LinkedIn news and conversations.
B2B Marketing Implication: With Facebook Messenger and the revamp of Twitter Direct Messages, there has been a major push for social networks to help their users create an ongoing communication. This new app will give you the option to have lengthier conversations with your group members that will lead to deeper engagement.
Updated Features
Users within Groups can now tag someone in their posts using @mention, although you cannot tag individuals who do not belong to the group. It's also possible to add images to posts now, and the design is cleaner and less spam-like.

For your social media marketing, these updates will make it easier to get your ideas across and connect with specific companies or individuals by mentioning them directly. It stops the run-around and allows you to be direct.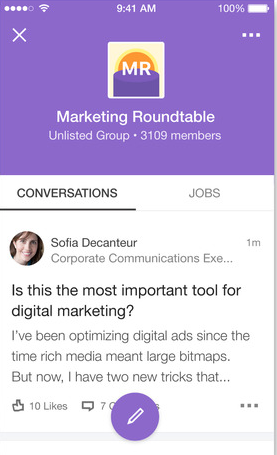 B2B Marketing Implication: A relationship doesn't form after commenting on one post. This new feature allows you to target specific group members to help build your relationship up with multiple communications. Just be sure the members you are @mentioning will have a genuine interest in the topic.
Recruiting Tools
The final update to LinkedIn Groups is the ability to recruit individuals without distracting from the important conversations. LinkedIn made this possible by creating a special tab within Group pages that can be used as a hub for job discussions.

So, if your company has joined a manufacturing group and you have an opening for a new warehouse manager, you can post your job ad within a page made for that type of discussion so you can be sure it won't get lost in the hustle and bustle of the other conversations.
B2B Marketing Implication: LinkedIn has become so much more than a job search site, but that is still a major focus of the network. Putting this important information in its own tab greatly increases the likeliness recruiters will find candidates and also prevents that recruitment from getting in the way of the day to day engagement these new LinkedIn Groups are expected to encourage.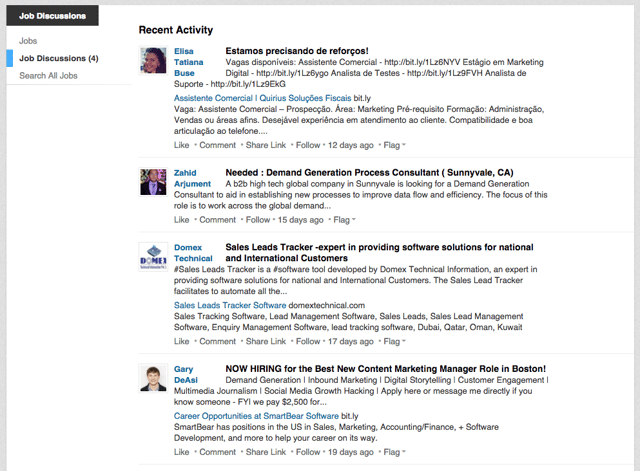 Whether you liked or used the old LinkedIn Groups, the new and improved release could be a game changer for your B2B company.

Now, you can use LinkedIn to have meaningful and private conversations with current and potential clients without worrying that your discussions will make it to the wider web. And the new updates have made conversing easier than ever, saving your marketing department time and frustration.
Interested in learning more from Penguin Strategies? Check out their on demand webinar, How to Make Sure No One Converts on Your Blog.