In 2019, global internet users watched 1.1 billion hours of live video. That equates to 12,557 decades of online content.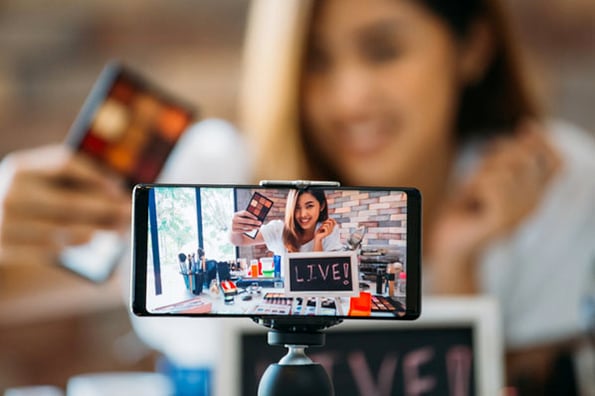 And the craziest part? People are probably spending even more time streaming content in 2020.
The statistic above is just one of many that shows how popular live video is becoming. And, with any social media or online video trend, marketers are taking notice and learning how to implement it in their own tactics.
If the mounting research about live video has intrigued you, you might be asking more questions about live video in the near future.
Specifically, you might be wondering, "Which types of live content are driving people to tune in?"
To figure out what's driving the world to watch multiple lifetimes' worth of content in one year, I decided to conduct a Lucid survey of over 400 consumers to learn which types of content they watch the most.
Which live videos do consumers actually watch?
If you've followed live stream trends, you might think content that focuses on entertainment such as behind-the-scenes content, or video game streaming, might make the top of the list as the most popular type of live content.
However, when I asked consumers, "Which type of live video are you most likely to watch if you see it on one of your social network feeds?", their answers surprised me.
The top three live videos that people say they're most likely to click on actually emphasize content that's educational or allows viewers to learn something new.
In fact, the type of live videos consumers are most likely to view is "A Q&A with an influencer, celebrity, or expert in your industry," which received nearly 30% of the votes.
Below is a quick look at the top four live video types that polled consumers selected:
Live video formats that consumers were less interested in were behind the scenes video streams, theatrical stories with a script or plotline, and virtual conferences or events. These topics received between three to eight percent of the votes.
While the least popular types of live video focus more on gaming and entertainment, the top three formats are informational and can be used by brands to discuss their industry, grow awareness, or highlight a product online.
Below, I'll walk you through the three most common live video formats, note how you can leverage them as a marketer, and offer branded live video examples to inspire you.
3 Types of Live Video Consumers Love Watching
1. Live Q&As
Live Q&As can be affordable to produce, engage multiple audiences at once, allow you to interact with your fans, and highlight your brand's expertise at the same time.
If you host a Q&A with an influencer or thought leader, you boost the chances of their followers tuning in to comment with questions or learn more about the guest. In the process, they'll learn a bit about you and your brand. If you appear on a Q&A, the host's audiences will learn more about you and potentially get the opportunity to interact.
Can't book a thought leader or influencer? You can also coordinate Q&As with experts from your own company. This will allow experts in your industry to learn about a topic your employees are highly skilled in. This provides audiences value and allows them to engage with your brand in a new way. Additionally, prospects and customers that view this type of live video will see the depth of knowledge that your team has, which might result in them trusting the quality of your product.
2. Product Tutorials
While brands have been recording, editing, and publishing online product demos and tutorials for years, this process can also take place on live platforms.
Although a pre-recorded product tutorial has the benefit of being edited, a live product tutorial authentically highlights a product with no added editing.
Here's an example of a live product tutorial streamed by The Nail Prop Shop which highlights tools that help consumers paint their nails like professionals:
In the product tutorial above, you're seeing how the product and the host authentically without edits, artificial lighting, or anything else that could boost the aesthetics of the product. Because of this, you can easily imagine what it would be like to use the product in your own life.
3. Educational Content
People crave knowledge. And, even when you don't directly discuss your product or service, you can leverage your audience's curiosity by launching live how-tos or explainers related to your industry.
For example, if you're marketing a restaurant, you might create a recipe or food-related how-to video. Or, if you're marketing a fitness brand, you might stream a workout that audiences can try.
Like Q&As, a how-to or explainer gives you the opportunity to show off your brand's range of knowledge and expertise in your industry. Audiences who see this content might value your expertise and trust your brand because its team has shown a strong understanding of the industry and what audiences want to learn about.
Here's an example of a live how-to streamed by Planet Fitness. Rather than discussing what customers can get from a gym membership, a trainer from the gym shows audiences workouts that they can use to stay in shape -- even outside the gym.
Creating Your First Live Video
If you've been inspired by the data or the videos above and are interested in coordinating your first live video, here are a few things you should consider before going live:
Picking the Right Platform: Platforms like Instagram, Twitter, Reddit, Twitch, TikTok, and LinkedIn offer a live video feature. Before you go live, research the audiences of each platform to determine which will best align with your own targets.
Planning and Rehearsing: Once you go live, people will immediately be able to watch your content. To prevent any major blunders, you might want to rehearse prior to streaming or create an outline of what you plan to do while live.
Including Interactive Elements: To engage with audiences further, consider encouraging them to ask questions or share their thoughts in the video stream's comment section. Try to answer a few of these questions or respond to one of the comments to show viewers that you're interested in what they have to say.
To lean more about the things you should check before going live, check out this helpful guide.