March is known for a few major holidays and events. St. Patrick's Day, U.S. college basketball tournaments, and the start of spring, to name a few.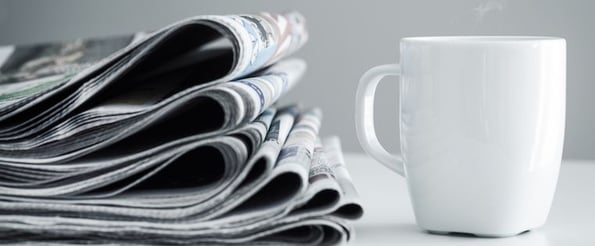 After this year, in the marketing world, March 2017 will also be known as the month when Facebook officially took on Snapchat.
The world's biggest social network launched ephemeral sharing apps on Messenger and Facebook itself to compete with Snapchat's key feature. Facebook-owned WhatsApp and Instagram have also recently launched disappearing sharing features on Status and Stories, respectively.
But Facebook isn't the only story in social media this month. We'll discuss new features on Instagram, a new social video app by YouTube, and of course, Facebook. The list isn't exhaustive, but you can expect to learn the major highlights in the social media space this month -- what was launched, what changed, and what these stories could mean for marketers.
Check out our quick roundup of what's new in social media below, and read on for more in-depth explanations and insights:
13 of the Biggest Social Media News Stories This Month
1) Facebook launches Messenger Day
Source: Facebook
Facebook launched Messenger Day, its answer to the popularity of Snapchat Stories. Facebook previously launched ephemeral, or disappearing, messaging features on Instagram and WhatsApp, and this installment is the latest attempt to dominate Snapchat in the photo and video-sharing space.
Facebook is likely banking on Messenger's huge user base -- 1 billion people worldwide -- to propel Messenger Day to popularity. It's also positioning Messenger Day differently: Instead of sharing what they've been doing, Facebook wants users to share what they're going to do later so they can make plans with friends.
2) Facebook starts experimenting with Stories
Source: Business Insider
Soon after the unveiling of Messenger Day, Facebook unveiled Facebook Stories -- located at the top of the News Feed. Facebook confirmed to Business Insider that Stories would function identically to Instagram Stories -- users could post them to Facebook, where they would disappear after being available for viewing for 24 hours. At this point, Facebook Stories are being rolled out to only a few countries, but we'll report more when we can.
TL;DR: Facebook is coming for Snapchat. Snap Inc., Snapchat's parent company, cited the rise of Instagram Stories as a major hindrance to its user growth in its S-1 filing for its massive initial public offering (IPO) earlier in March. We'll keep you posted if these innovations by Facebook are on the way to taking down Snapchat, or if Snapchat's popularity among millennials and user engagement will keep it afloat.
3) Research demonstrates native Facebook videos are shared 1000% more than other formats
Source: quintly
Quintly analyzed over 6 million Facebook posts to gain insights on how many videos, and of which type, were shared on the platform. It found that 90% of Facebook profiles and Pages analyzed shared Facebook native videos, or videos created and uploaded on Facebook, and not hosted on another platform that the user links to on Facebook. On the other hand, only 30% of the analyzed profiles and Pages had shared a YouTube video on Facebook during the months the study was conducted. Furthermore, quintly found that native Facebook videos were shared 1055% more than other videos and achieved an 186% higher interaction rate overall.
The lesson here for marketers? Take the extra step to upload videos into Facebook to earn higher engagement rates. We recommend a distributed content strategy to earn new followers from different audiences, so you could even promote video content on Facebook and other hosting sites and analyze the results.
4) Facebook introduces a 360 app for Samsung Gear VR
Source: Facebook
Another Facebook launch this month comes from its video team, which created a Facebook 360 app for Samsung's Oculus Gear VR (virtual reality) device. The app creates a more immersive 360-degree viewing experience for Facebook users, who can comment, interact with, and share posts they like within the app while wearing the device. In the announcement blog post, Facebook also notes that users have shared 26 million 360-degree photos and videos to date. These VR devices are fairly affordable at $79.99, so we're curious to see if this app makes 360 sharing, or Gear VR use, increase.
5) Facebook allows more ads on Instant Articles
Source: Facebook
Facebook announced it would give advertisers more freedom to monetize Instant Articles -- by letting them place ads every 250 words instead of every 350 words, as were the previous rules. Facebook Instant Articles let publishers create and republish content within Facebook to get more readers without asking them to leave the social network.
This news isn't the best for anyone who enjoys reading online content uninterrupted -- but it also reflects Facebook's growing interest in collaborating with journalists and news publications. Earlier this year, Facebook launched the Facebook Journalism Project to address fake news, but also to collaborate with the people making the news. A huge percentage of Americans get news primarily from social media -- especially Facebook -- and this move notes another attempt to make it more appealing for publishers to work directly within Facebook so Facebook can grow and strengthen its user base.
6) Instagram rolls out "Suggestions for You"
I noticed this change while scrolling through my Instagram notifications. Instagram now suggests users to follow based on your Instagram friends, Facebook friends, and other posts you've liked. Instagram is honing its algorithm and making it easier for users to discover other profiles they might be interested in. This is great news for marketers publishing content on the platform -- keep it up, because now, you might be found even more easily by new potential customers.
7) Geostickers now available in Instagram Stories
In another step toward total Facebook domination of disappearing messages, Instagram started offering Geostickers for Instagram Stories. One of the only remaining differentiators between Snapchat Stories and its imitator on Instagram, these Geostickers are more customizable than those on Snapchat, which might make them more appealing to Snapchat users considering a switch.
Stars are already starting to move from Snapchat to Instagram for sharing ephemeral content, where their content can be more easily searched for and discovered. Snapchat cited Instagram Stories as an obstacle in its quest for user growth, and it will be fascinating to see how new, seemingly copycat features, impact that trajectory.
8) WhatsApp to allow businesses to chat with users
Source: Reuters
Reuters reported that WhatsApp has started testing letting some businesses communicate directly with WhatsApp users as a potential future revenue model. WhatsApp is testing this feature with businesses that are a part of Y Combinator, a competitive startup incubator that fostered Airbnb and Dropbox in previous years. WhatsApp is also surveying users to ask them about spam messages they've received on the platform.
We've started to see other businesses using messaging apps -- such as Facebook Messenger -- to communicate with customers. These experiments likely signal WhatsApp's first foray into that space, so if you're a user, keep an eye out. And if you're a marketer with a global audience, WhatsApp could be a path to communicate with customers -- WhatsApp has over 1 billion users worldwide.
9) Pinterest acquires search engine Jelly
Source: Biz Stone
AskJelly.com is a human-powered search engine (think Quora or the now-defunct ChaCha) where users can submit questions and answer them for other users. Co-founded by Biz Stone, one of the co-founders of Twitter and Medium, Jelly was recently acquired by Pinterest.
Pinterest launched Lens last month, a new in-app camera that lets users shoot an object and get suggested pins based on what they photographed. This acquisition of a search engine could be Pinterest's effort to improve the app's search capabilities. Alternatively, The Verge suspects it was a talent acquisition to bring new developers, and Stone himself, on board.
10) Many Twitter accounts are actually bots
Source: Twitter
A study released by the University of Southern California revealed that 9-15% of Twitter users are actually bots, capable of liking, retweeting, and replying like a human Twitter user. If the high end of this estimate is true, that means roughly 48 million of Twitter's 313 million active users aren't real people -- which spells trouble for the microblogging site.
Twitter's user growth is on the decline, along with its share of global social media users overall. It's launched live video streaming within the app and forged partnerships with major news and sports networks to increase user engagement and attract new people to the site -- especially those millennials who aren't using cable TV packages.
11) YouTube launches social video app, Uptime
Source: The Verge
Google's new startup incubator, Area 120, was created so employees could spend time creating their own business ideas. This month, Area 120 announced the launch of Uptime, a social video app wherein users can watch YouTube videos in group messages with their friends. Like other live-streaming apps and features, such as Periscope and Facebook Live, users can comment, like, and interact with videos they're watching in real-time with friends. At this point, it's only available for iOS devices with an invitation, but we'll keep you posted on new developments with Uptime.
12) YouTube will end unskippable 30-second ads next year
Source: YouTube
Do you ever find a YouTube video you really want to watch -- only to realize you have to sit through a 30-second ad that you can't skip after five seconds?
The good news: Those are on the way out. The bad news: You still have to wait a while longer.
A Google spokesperson told BBC YouTube will no longer support 30-second unskippable ads in 2018 and will shift focus to ads that bring revenue for advertisers without creating a bad experience for the viewer.
YouTube will still offer some unskippable ads -- in 5 and 15-second increments -- as well as ads between 30 and 60 seconds that can be skipped, but this is great news for everyone. By focusing on shorter and more engaging formats, YouTube will create a better experience for viewers, and potentially better results for its advertisers.
13) Heinz Ketchup adopts social media and ad campaign from Mad Men 50 years later
50 years later, and we still don't believe you should settle for fries without Heinz. #passtheheinz https://t.co/OpJNjMLwGM pic.twitter.com/FjfLS70xUZ

— Heinz Ketchup (@HeinzKetchup_US) March 14, 2017
Any Mad Men fans reading this post? Heinz Ketchup has decided on a new advertising campaign -- the one fictional creative director Don Draper pitched on Mad Men nearly 50 years ago.
If you remember the episode, Draper didn't win the account with Heinz, so it's neat to see his pitch coming to life in the modern era. Heinz is putting up bold billboards featuring the "Pass the Heinz" tagline in New York City, as well as running the campaign on social media channels. Keep an eye out for promoted tweets and Facebook ads featuring this neat union of popular culture, great copywriting, and creative advertising.
Did we miss any big social media stories? Share with us in the comments below.