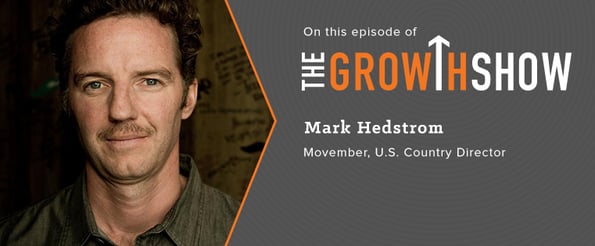 It all began as a bet in a bar.
Let's round up a group of people and see who can grow the best mustache in just 30 days.
Twelve years later, this bet has blossomed into Movember: More than five million people all over the world have joined the movement to raise awareness and funds to benefit men's health initiatives.
These five million people are having a huge impact, too: Since 2003, they've has raised almost $650 million.

How'd this bet turn into a globally successful movement? In this episode of The Growth Show, we sit down with Mark Hedstrom, U.S. Country Director at the Movember Foundation, to learn the nonprofit's secrets to growth.
Some episode highlights include:
How Movember manages to recruit people all over the world to join its movement
What the Movember Foundation does the 11 other months of the year

How Movember plans to get more women involved

Mark's tips for growing a really sweet 'stache
Click the play button below to listen to this episode in your browser, or subscribe on iTunes to download episodes directly to your phone:
Check out the latest recaps of The Growth Show episodes by clicking here.