When you logged into LinkedIn around this time last year, you may have noticed something different. Actually, everything was different, because LinkedIn completely redesigned its desktop site.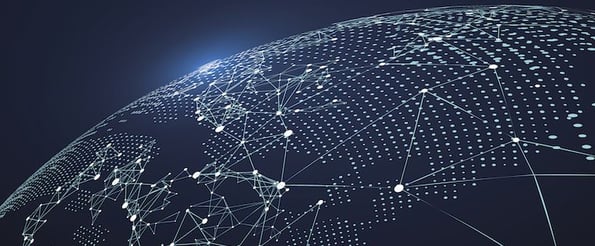 And with new features like native video and smart replies, this update continues to be important heading into 2018.
LinkedIn is the world's largest professional networking platform, with 530 million members worldwide. The company rarely discloses their number of active monthly users, but we do know the network has grown by more than 60 million total members since the third quarter of 2016. Is this a testament to the redesign? Perhaps, but there's a lot to unpack from this overhaul.
For example, the LinkedIn desktop site used to look something like this:
Image via LinkedIn
And this is what my LinkedIn homepage looked like when I wrote this article:
There's more to this slick interface than what you see here. LinkedIn sought to "create more value" for its members since being acquired by Microsoft in 2016, and, hopefully, make them want to spend more time on the site. Let's dive into some of the biggest changes to the site since the redesign and how marketers and users should be taking advantage of them this year.
9 Changes to LinkedIn You May Have Missed
1. A New Homepage
Using a combination of human editors and new algorithms, LinkedIn has surfaced more content and fewer status updates. The homepage feed will increasingly suggest organic, sponsored, and native advertising content users might be interested in reading.
In keeping with this business focus, one clear addition to this layout is the "Work" button to the right of your profile picture on the new navigation bar. This is the control center for a user's company page management, making it easier to advertise, find and attract talent, and conveniently equip employees with learning solutions right from LinkedIn.
These are deliberate moves to better connect professionals with the businesses they support and care about.
2. Trending Topics
The feed will now also help users follow trending stories … sound familiar? If LinkedIn is trying to make its user base engage more on the platform, further modeling a newsfeed in the style of Facebook is a safe bet.
To the top-right of your newsfeed, you'll now see the following news widget:
This function was seeded with popular topics picked by more than 20 editors, most of them former business journalists, and now integrates with LinkedIn's algorithm to show trends that are more specific to a user's connections and the content they engage with.
3. Calendar Chatbot
Next, LinkedIn is introducing a chatbot. It will look at two connections' calendars and find and set times for them to meet directly within LinkedIn's messenger platform. It hasn't been rolled out as of the time of this posting, but in another nod to Facebook Messenger and similar bots, this is an addition designed to keep users spending time on the site. Stay tuned for more news when the bot launches fully.
4. Smart Replies
Although a working chatbot hasn't yet gone live on LinkedIn, artificial intelligence (AI) is already making its way into the user experience -- with smart replies.
Inside LinkedIn Messaging, you'll see three suggested responses below an open conversation, based on the messages that were most recently sent. Although it may not appear in every chat window, LinkedIn says it will further customize these smart replies based on the person to whom you're writing. For example, "Thanks, Danielle!" as opposed to simply, "Thanks!"
As LinkedIn users spend more time connecting with businesses and colleagues, especially via mobile, we can expect AI and machine learning to make LinkedIn even more convenient in the near future.
5. More Analytics
LinkedIn now provides more analytics about how other users interact with the content you share -- not just who views your profile or who likes one of your posts. Now, users can see not only who likes their content, but which companies they come from, where they're located, what roles they're in, and even where they found your content.
Here are analytics from an article I posted recently on LinkedIn:
The platform also suggests other articles I might share with my network for even more engagement.
6. Native Videos
There was a time when you could only embed video content on your LinkedIn page from YouTube or a similar third party. But times have changed.
In a decisive attempt to keep people on LinkedIn's website, you can now upload native videos directly to LinkedIn through the LinkedIn mobile app. It's a smart move that could set the company up for features you already see on social networks like Facebook (think Facebook Live).
Native video also makes it easier for LinkedIn company pages to appear more authentic in their storytelling, helping individuals connect with and follow brands they know they can trust.
7. New (and Missing) Search Features
LinkedIn refined its search capabilities so users can search all of LinkedIn with a single, unified search experience based on certain keywords. Now, users can easily toggle between different categories related to search terms without having to move between different categories of the site.
Check out what the results look like when I search for "content marketing":
Whereas previously, LinkedIn users had to go into each of these sections ("People," "Jobs," "Companies") in order to conduct searches, now users can search from one place to get all of the results they're looking for.
Notably, LinkedIn removed some of the Advanced Search filters that were previously available on LinkedIn Premium and are now only available for the more expensive Sales Navigator tier of LinkedIn Premium. These filters include "years of experience," "function," and "seniority level."
8. Chat-like Messaging
LinkedIn recently rolled out messaging, which allows users to send InMail like a chat instead of an email. Users won't have to navigate to another pane to send a private message -- instead, they can send a direct chat without leaving the LinkedIn homepage feed, as shown in the image below:
Image via TechCrunch
In another nod to Facebook's Messenger layout, this change helps users easily spend more time clicking around the site. The difference is that this chat feature has also begun to include sponsored messages. This makes business professionals less likely to send the dreaded default InMail message if they know their outreach can appear like a chat instead of an email.
9. New Blogging Interface
LinkedIn also now features a slick new publishing platform. Before, publishers had to navigate to LinkedIn Pulse to write an original blog post. Now, users are one click away from a slick, easy-to-use blog publishing platform.
Check it out:
Blogging on LinkedIn could garner more attention to your brand's site if LinkedIn grows in popularity. In fact, content consumption on LinkedIn has increased over the last few years, so marketers should consider LinkedIn as a platform for reproducing or creating original content.
What's Next for LinkedIn?
Amidst these changes, marketers should keep an eye on where their audience is spending time. If LinkedIn's number of monthly active users increases in its next quarterly report, it might be worthwhile to invest more resources in running campaigns and creating content for the site.
We'll keep you posted on more changes to the platform and its usage as that news unfolds. In the meantime, click around the new website and experiment with the new analytics capabilities to see if your audience wants to spend time on LinkedIn with you. And if you need guidance for running a strong LinkedIn ad campaign, download our guide here.
Do you publish original content on LinkedIn? Share with us in the comments below.