Implementing a successful content marketing strategy for your business is a critical component for sustained growth -- and yet, 32% of B2B businesses rate their content creation workflow as fair or poor.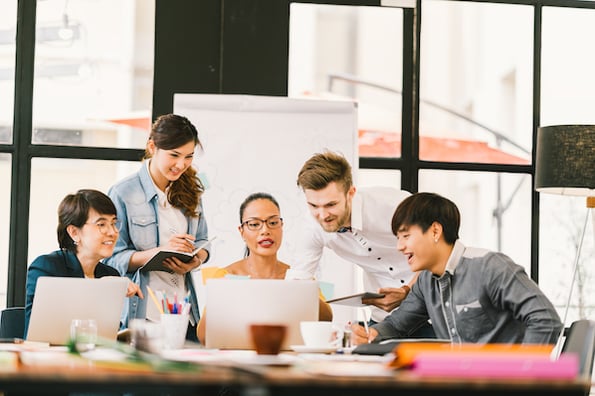 Nowadays, with marketing pertaining to everything from SEO to social media to PPC, you can't do it alone. Fortunately, there are plenty of impressive online marketing tools you can use to help create a more effective solution.
If you work for a small business, it's particularly imperative you find tools to help you manage the wide scope of your marketing demands.
Here's the problem, though -- the landscape of online marketing tools available now is huge, and it's only growing.
For instance, just look at the latest Marketing Technology Landscape:
7,040 tools … I'm willing to bet you don't have time to sift through that pile of technology.
To help you find the best online marketing tool for your business' needs, I've compiled a list of the 21 I use and love. Keep reading to learn about tools that will help you attract, engage, and delight both new and existing customers.
Online Marketing Tools for Small Businesses
Price: Free, or up to $3,200 per month for enterprise, depending on your plan
HubSpot is a full-stack growth software that includes marketing, sales, and customer service tools to improve all facets of your business. With HubSpot, you'll have everything you need to grow your business and increase conversion rates.
Several of HubSpot's products start out free. You can set up lead capture forms, send kickback emails, and get basic analytics reports for free. Additionally, you can track emails, schedule sales meetings, and live chat with visitors. You can even set up a help desk and ticketing system on the freemium plan, and then pipe everything into the free CRM to get a full view of your customer.
Of course, things get more sophisticated from there with Starter, Professional, and Enterprise tiers. And if you work with other marketing technology products (such as others in this list), it's highly likely you'll be able to integrate and use them with HubSpot.
Price: Paid plans start at $79 per month
BuzzSumo connects influencers with companies looking the partner with them. This tool is great for companies who are unsure of how to reach their target demographic. The user can search the database of top influencers in their field of expertise, and then reach out to form affiliations.
BuzzSumo also gives you the ability to view past trending topics and mentions. The analytics feature can give you a peek at what you should be monitoring, as well as areas you can improve.
Finally, you can use the tool to analyze the content most shared and referenced. Who is linking to it and sharing it, what do their follower counts look like, and how can you get on their radar? BuzzSumo helps you answer this.
Price: Starts free and goes up from $9+ per month, based on the number of subscribers

Moosend is an email marketing and marketing automation platform that offers a wide range of features to capture, nurture, and convert your audience into advocates for your business.

The platform's main features include:
Responsive email templates and an easy, no-code drag-and-drop editor.
Lead generation subscription forms and landing pages.
Advanced marketing automation and converting automated workflows.
Real-time reporting and analytics to track your email performance
For users that would prefer not to switch from one tool to another, there are more than 80 integrations with CMS, CRM, eCommerce, lead generation, and list validation tools. The Salesforce, Zapier, Facebook Lead Ads, and WooCommerce integrations are among the most popular ones.
All in all, Moosend's email marketing and marketing automation options allow users to create email newsletters, landing pages, or subscription forms while providing them with data to make meaningful decisions.


Price: Starts free with tiered pricing based on email volumes from $25 per month for 150,000 emails
Pepipost is a cloud-based email delivery service that helps businesses send important emails like notifications, newsletters, and updates fast. Their average delivery times are less than five seconds.
You can send billions of emails per hour with their scalable servers and reach the maximum possible inboxes powered by their AI-optimized inboxing.
The platform's features include:
Fast email delivery and inboxing that easily integrates with your custom applications including open source email marketing platforms like Mautic and Mailtrain
Multi-user rights management so you can share access to the dashboard without worrying about your data
Subaccounts to manage the billing and quotas for multiple sending domains from a single place
An AI-optimized backend that allows the identification of users most likely to engage, the best time to send, and the optimum throughput to reach inboxes without overloading recipient servers
If you're switching from an existing email delivery service, the APIs are easy to implement and their dedicated support team can assist with complete onboarding.
Price:$7.49 per month (billed annually), for up to 1,000 subscribers
SendX is an easy to use and affordable online marketing tool that enables you to reach your email subscribers and grow your audience.
With SendX, you can build your email list using email popup forms, inline forms, and landing pages. You can design your forms with ready-made themes, and integrate them with any website.
The WYSIWYG email editor helps you design emails without HTML, using pre-built email templates, personalization, and even a countdown timer.
You can make sure you're sending the right message to the right user at the right time. Email drip sequences and audience segmentation makes it easy to automate your email marketing. And the email campaigns are optimized based on more than 30 parameters such as time zone, domain name, past open rates, and more.
A heatmap report gives you a quick overview of which CTAs are working and which links people are clicking visually.
The pricing is straightforward, and every SendX paid plan comes with the ability to send unlimited emails to opted-in subscribers. No hidden limits or charges.
Price: Tiered pricing based on the volume of your website traffic, starting at $24 per month
Proof is designed to help you display your social proof on your website in the most effective and convincing way possible. It's very easy to download -- all you have to do is copy and paste their pixel onto your site page.
Once you paste the pixel, it will integrate with your site (or CRM) and show your targeted customers:
Social media posts
Reviews
Video testimonials
Hot streak notifications
Live Visitor counts
Additionally, you can get a look at your customer's demographics by looking at their Visitor ID information.
Price: Tiered pricing, starts free and goes to $42+ per month for enterprise
Survey Anyplace has streamlined the survey creation experience by allowing you to build your own surveys and tailor them to your brand's unique needs.
Far from the classic survey creator, they have streamlined for mobile and optimized the survey experience so that it's quick and simple, with a heavy visual emphasis if desired.
The more accurate data you get from your users, the better your insights can be -- ultimately, surveys are one step in the direction of increasing your conversions.
Price: Tiered pricing, starts free and goes to $42+ per month for enterprise
Trello is a content brainstorming and calendar service that allows you to collaboratively create and share ideas across multiple individuals and teams.
It operates more as a content planner than content scheduler -- you can create notecards for article topics, marketing campaigns, or other subjects your team may focus on. On each card, users can take notes, record instructions, update the project status, and assign cards to certain people.
Trello is a comprehensive tool for content strategists looking to really plan out their editorial calendar.
Price: Free for the standard version, $150,000 for Google Analytics 360
Analytics is a free service offered by Google that allows you to track and analyze customer data. It's the most ubiquitous analytics tool on the web, and for good reason -- it's simple to use, but it's also powerful and highly customizable.
While all it takes to get started is a simple javascript snippet (best implemented via Google Tag Manager), what you can do with the tool is really only limited by your imagination (and possibly your developer's time). I don't know many marketers who don't have at least a very basic understanding of Google Analytics traffic reports.
Price: Tiered pricing, free to $199
MailChimp is a popular email marketing tool and offers several key features:
Website traffic tracking
Email templates
Drip campaign design
Widespread software integrations
It's free for small companies
MailChimp automates your emails and makes campaign design a breeze. It's a simple tool to use, although some of their marketing automation features are a bit limited. If you want something more robust, you might want to consider a tool such as Autopilot or HubSpot. But if you're just starting out, MailChimp is great.
Price: Plans start free, $12.95 per month for teams, or custom pricing for enterprise
Canva is a subscription service for people who need web design to be easy and might not have the budget for a full-time graphic designer. Optimized for mobile, Canva makes design easy for amateurs with its visually appealing drag-and-drop features.
You can create shapes, logos, charts, graphs, and your own presentations with custom fonts using the design tools available in Canva. If you're an employer, you can also check on the status of projects assigned to your employees on a deadline.
It has millions of images in its library and access to them is right at your fingertips.
Price: Two plans are available -- one is free, and the advanced plan is $194.33 (USD)
This service is a website crawler that is designed to help identify your SEO issues in URLs and web pages. It will flag site issues like:
Broken links
Duplicate content
Redirects
Page titles
Metadata
This is one of the stronger SEO tools on the market and is a great way to analyze the technical components of your website to make sure you're well-optimized for search engines. Even in a simple use case, it's awesome for finding broken links and website architecture.
Price: Tiered pricing, plans range from $24 per month to $249 per month
Crazy Egg is a data collection tool for you to gain insights into your customers through testing. The service offers customers a range of tools, including:
Click reports
Heat maps
User session recordings
A/B testing tools
Scroll maps
All of these tools will help you gain insight into how your customers use your site, what they look at and for how long, and areas of friction that prevent conversion. This can improve the usability of your site, and will likely increase conversions as a result.
Price: Starts free and moves up from there based on traffic and data collection needs
HotJar is a world-class customer experience analytics platform. They offer several features to help you understand your website visitors' behavior better, including:
Session replays
Form analytics
On-site polls
Surveys
I like the product because it's simple to install -- all you need is a simple script to set up all the features across your site. Plus, it's incredibly affordable, and might even be free, depending on your needs.
If you're doing any sort of conversion optimization, it's a powerful research tool.
Price: Tiered pricing starting at $29 per month and goes up to $599+ per month for enterprise
Hootsuite is a social media scheduling tool in the vein of MeetEdgar and Buffer that allows you to plan and pre-schedule your social media posts. This enables you to post whenever you want on a 24/7 cycle to reach international audiences.
All of the social engagement functions operate within the system dashboard, so you can stay in Hootsuite without switch back-and-forth between services. You can also identify key influencers and hashtags.
Price: Starts free and goes up to $199 per month
Buffer is my favorite social media tool, and it's incredibly simple to use.
It works for large companies, but I find it's perfect for start-up or small business marketing teams who want to start automating and optimizing their social strategy. They make several different products that help with this, including their social media share widgets for websites, and their social post scheduler.
Price: Tiered pricing, plans range from free to $12.50 per month
Slack is a collaborative messaging tool ideal for small teams. It runs "#channels", which can be separated by topic so that important conversations on business topics aren't interrupted by discussions on team bonding activities.
Themed slack groups are great for networking and sharing your new content with relevant, powerful players in your industry.
Slack is another online marketing tool that is simple to use, but ultimately offers some advanced features. For instance, since Slack's developer network is so strong, you can likely find a Slack app for anything you want to accomplish.
It's also not too difficult to build your own Slack apps -- if you want to notify your teams of transactions, anomaly detection, or results from online experiments, building a Slack app might be a good solution for you.
Price: Tiered pricing, from free to $79 per month
Followerwonk is designed to mine your Twitter Analytics, so if Twitter is one of your strongest platforms, this is likely a worthwhile investment.
You can find relevant Twitter accounts that you want to target, develop a content and posting strategy, and figure out your followers' demographics to make sure you're delivering quality content.
Price: Custom pricing
Optimizely is, at this point, the gold standard in online experimentation. If you're doing conversion rate optimization (which you should be), this is the tool to consider.
Optimizely allows you to continuously run A/B tests and multivariate tests on your site to lift conversion rates and revenues. They've also expanded their feature set and run under the banner of "experiment everywhere", empowering server-side product experiments and deep personalization capabilities.
Finally, with their acquisition of Experiment Engine, they have a powerful workflow and knowledge management solution to enable insight sharing and documentation.
It's a pricey solution, so it's best left for enterprise programs or those who are very serious about conversion optimization -- but it's a good one if you can afford it.
If you're looking for an experimentation platform that is a bit more affordable, Convert.com is the way to go.
For most use cases, they've got feature parity with Optimizely. The vast majority of marketers will never reach the outer bounds of Convert's feature-set, and it's a more affordable option than Optimizely.
It's also a joy to use. The user experience is great, and the performance is top-notch.
Price: Tiered pricing, plans range from $29 per month to $299 per month
Sniply generates unique links to your content, so you can better track and analyze traffic sources. These links lead directly to your content and include a call-to-action on any page you need it.
Sniply also provides analytics so you can track visitors, bounce rate, conversions, or any other relevant data you might need.
Ultimately, these are my favorite online marketing tools essential for small businesses. From lead capture to SEO research to analytics, these tools are capable of helping you create a fully integrated and successful long-term marketing strategy. If you're looking to get up and running with a simple but effective stack, these tools will help you get there.
Best online marketing tools
HubSpot
BuzzSumo
ProofSurvey
Anyplace
Trello
Google Analytics
MailChimp
Canva
Screaming Frog
Crazy Egg
HotJar
Hootsuite
Buffer
Slack
Followerwonk
Optimizely
Convert.com
Sniply