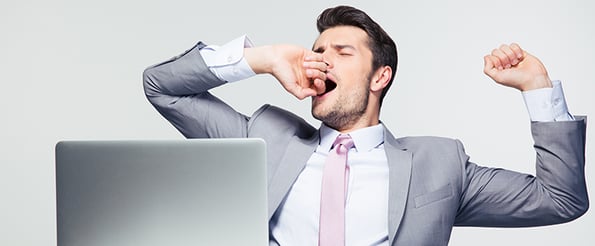 The emphasis that publishers are placing on their email lists is stronger than ever. HubSpot's Publishing Benchmarks Report shows that 64.6% of B2B and 48% of B2C media companies rely on email banner ads and newsletter sponsorship for monetization. The reason why is clear: email remains one of the most direct ways to engage audiences. Research from VentureBeat shows that email marketing delivers the highest ROI of all marketing channels.
It may seem tempting to jump in and do more of "what's working"— to send more emails, more often. But how much is too much, and how often is too often? Just look at what happened with display ads, as a point of reference: research says that consumers are likely to ignore anything that looks like an ad. If you're not careful, the same might happen with your email campaigns, with audiences tuning you out.
So how do you create a perfectly timed and perfectly positioned email campaign? The answer is as simple as it is complex: you need to listen to your audiences, between the lines of what they're telling you upfront. What triggers yield high unsubscribe rates? At what times of day will audiences ignore your messaging? Here are some tips for answering these questions.
3 Tips to Avoid Exhausting Your Email List
1) Optimize Your Open Rates
Part I of your campaign optimization strategy should focus on open rates. This metric will tell you whether your messages are getting read in the first place. You should A/B test headlines around different value propositions and also send emails at different points in the day (on different days of the week).
By optimizing your open rates first, you'll overcome hurdle #1 in email marketing: the question of whether your subscribers are receiving your emails. You may discover that you're sending messages on the wrong day, that you're communicating a lackluster value proposition to your segments, or that your campaigns are ending up in spam.
Make sure that your subscribers are receiving your messages, at a time of day and with a value proposition that resonates with them. The New York Times, for instance, has achieved a 70% open rate with its email newsletters. How? The media leader is sending tailored, targeted messages to each of its customer segments. Audiences are receiving information that they want, when they want to see it.
2) Reduce Unsubscribes
Many email marketers treat unsubscribe rates as routine costs of doing business. But you should pay attention to the people who are opting out and the campaigns that are triggering them to opt out. Why?
Even though some list turnover is normal, an unsubscribe is a sign that your email campaigns aren't providing value (or enough value). It's important to understand the reasons behind these trends so that you can take steps to improve.
It's easy to ignore their unsubscribe rates and focus on other optimizations. Don't fall into this trap. You need to roll up your sleeves and figure out exactly what's going on. Here are some tips to guide you:
Look for relationships in your data. Track timing of emails to see if people are feeling bombarded, and compare open rates to the topics you're covering. Make sure to keep all other variables constant, including the articles you share in your emails.
Look at the quality of your lists. Maybe your subscribers have been dormant and finally made the decision to unsubscribe. Keeping this potential trend in mind, the relationships in your data might be flukes rather than trends. Sanity check your metrics by cross-comparing reader data between campaigns.
Conduct customer development. Ask your subscribers if they'd be willing to hop on the phone with you (offer to compensate them for their time). Find out what your subscribers think about your email list and what might, hypothetically, trigger them to unsubscribe. Offer to compensate them for their time with a free print issue or bonus month of subscription.
This approach will not only reduce unsubscribes: it will treat the underlying issues, which are engagement and relevance of your messaging. Know what pushes people to disengage so that you can take preventative measures.
3) Track Your Calls to Action (CTAs)
When you send an email campaign, you want your subscribes to do more than just read (or skim). You want them to take action by responding to ads, reading articles on your site, and maybe even clicking some social share buttons. The big question: what' going to perform and what CTAs fit the context of email and newsletter marketing?
The best way to answer this question is to A/B your CTAs. What offers, anchor text, and information do your subscribers find compelling? What inspires them to want to learn more about a topic or advertisers? For instance, you may want to test CTAs that send audiences directly to advertiser offers or to learn more about a section of your publication.
Tracking links can help you uncover what your audiences care about and what incentives you should be promoting as a result. This vantage point will help you create higher quality, more tailored, and more relevant CTAs. In addition to creating great newsletter content, you can make sure that your CTAs are tailored to the right context and audience.
The Bottom Line
From your audience's perspective, quality trumps quantity. But publishers also need to produce content, and send emails, at scale. Optimization is essential: focus on making the most out of every interaction that you have with your email list. This process will ensure that you deliver the most compelling value proposition possible, both to your advertisers and to your readers.