Content marketing is getting complicated. The number of platforms we need to be active on has increased, from blogs to new social networks gaining steam. The types of content we need to create has gone up as well, as image-based content has become more popular and video has skyrocketed. And to complete this trifecta of pressure, we need to constantly tweak and optimize our publishing frequency of each type of content on each type of platform.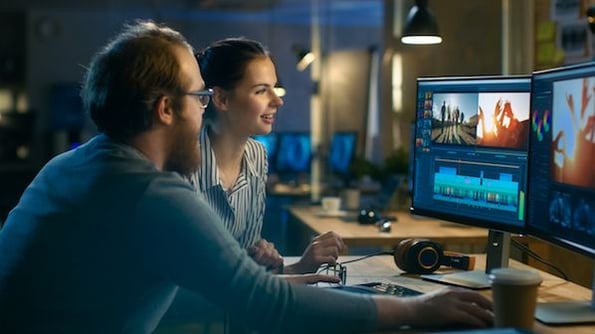 It's a lot to keep track of, so it's important to simplify your content marketing strategy as much as possible, and focus on the channels that have a proven impact for your business.
However, some tactics just can't be ignored, like video marketing. According to HubSpot's content trends survey, buyers want to consumer more video from brands compared to any other type of content like email, social images, blog posts, and ebooks.
Image source: HubSpot Research
Wyzowl, an animated explainer video company, has also found that 72% of buyers would rather watch a video to learn about a product or service than other types of content.
Committing to video marketing, however, is no small undertaking.
That's why simplifying and streamlining your video marketing efforts is critical to achieving success. Fortunately, mining your content archives to repurpose different types of content as videos is relatively simple.
Whether you're turning other formats into engaging videos, or extending the reach of your production clips, you end up with a diverse content library that can empower your audience regardless of their format preference.
Here are just a few ways you can get started.
6 Types of Content That You Can Easily Repurpose as Video
1. Create a video slideshow from a blog article.
If you've been writing blog posts for a while, you likely have a ton of valuable content hidden in your blog archives. But how much does it really get seen? Reviving them as slick, contemporary videos can re-communicate its message back to your audience.
You might think turning blog posts into videos could take too much time, but tools like Lumen5 can automate the process for you. All you have to do is pick a blog post, and the web app will leverage AI to pull your post's most important sentences and create a storyboard for you.
You can then tweak the automated storyboard and add relevant stock photos and music from their media library to your video.
Image source: Lumen5
2. Break up your webinars into smaller video clips.
Webinars are powerful pieces of content for lead generation, and many businesses put some of their best content into their webinars.
But the problem with making webinars your best type of content is that it has a short lifespan. Even if you make the recording available after its live stream, people won't ever watch it unless you consistently promote it.
To get more use out of your webinars once they're over, try breaking them into smaller video clips. Most webinar hosting software lets you export webinars into video files on your computer, and ClickMeeting's built-in clip editor will let you chop up your webinar recordings.
Image source: ClickMeeting
3. Capture quick testimonials and case studies during customer calls.
Even though video testimonials and case studies can be one of your best marketing assets most marketers don't seem to prioritize them. Reaching out to customers and recording them might seem like too much work and money. But video case studies don't always need to have such a high production value. If you just capture your customers' authentic feedback, then you'll have all the video you need. There's no reason to travel to their office and record them -- you can edit and polish the clip later.
Video software like Zoom can let you easily record a short interview of a bunch of your customer's experience with your product or service during customer calls.
Image source: Zoom
This allows you to generate them organically rather than the awkward and sometimes inconvenient process of seeking them out separately. Just remember to ask your customers if you can record your video chat and use parts of it in your case study reel.
Using this organic technique, you can easily compile a sizzle reel of candid and honest testimonials captured in the moment.
4. Turn internal videos into educational videos.
From sales to customer support, each of your company's teams spend a lot of time teaching your prospects and customers how to do things on personalized webcam or screen share video software like Loom.
Given the value of these videos' insights, though, shielding them from the public could be wasting a huge marketing opportunity.
Image source: Loom
If your sales, customer support, and other teams' Loom videos are of high quality, you can use them in your content marketing and provide a lot of valuable education to your audience through blogs, social media, and YouTube.
5. Turn videos into GIFs.
Once you have a library of video content, transcriptions and resource page embeds aren't the only way you can repurpose them. You can also break your videos down into one of the internet's most favorite darlings: GIFs.

Creating GIFs is easier than you think. In addition to helping you find the perfect GIF for any situation, Giphy has a Mac app called Capture that can help you easily create GIFs of your own.
Image source: GIPHY
On Giphy, you can break down your videos step-by-step, capture and highlight the most animated and engaging moments, add captions, adjust resolution, export, and embed. A GIF's simplicity is part of what makes it great, so you don't need to overthink it when you make one.
6. Create digestible video from podcast episodes.
Making a simple video from one of your podcast episode's audio track is an easy way to repurpose content, but an audio-only video doesn't command as much attention as a visually appealing video.
Plus, some publishers have found that up to 85% of Facebook video views take place without sound, so adding simple text transcriptions to those videos will grip your audience's attention. Tools like Anchor Videos can help you transcribe your podcast's audio clips in a visually engaging way, which are perfect for social media videos.
Image source: Medium
Keep on Clipping
Video content is only going to become more important as content marketing evolves, but too many brands are letting their perception of the amount of work involved hold them back.
Don't fall into this trap. Instead, commit to creating simple and streamlined video content. Use other content types that you've already created as building blocks, leverage video as much as possible, and don't try to start from scratch every time you go to create content. Reusing and repurposing old content will help you effectively integrate video into your larger marketing strategy.