Growing up, my town's local shopping mall was a bustling hub of commerce, chock full of busy shops and pesky tweens. But today, half the place has been gutted -- it looks like an empty morgue of stores now.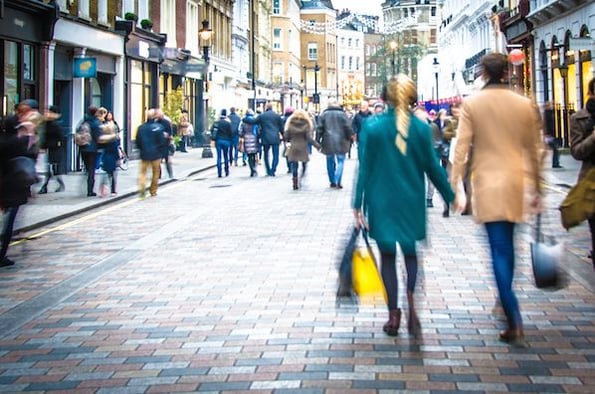 With the explosive growth of online shopping and a shift in consumer preferences for experiences over possessions, the retail apocalypse of 2017 was inevitable. Brick and mortar stores aren't essential for consumers anymore.
But contrary to popular belief, the retail apocalypse isn't the final nail in the coffin for retail brands. Consumer preferences might have changed, but recent technological advances have allowed retailers to adapt to them.
If brands truly want to rise from the ashes of the retail apocalypse, though, they must stay laser-focused on adapting to the evolution of this technology and their customers' preferences. More specifically, they need to embrace change and prepare for the upcoming trends that will transform their industry in 2019.
5 Retail Trends That Will Transform the Industry in 2019
1. Brands will sell experiences at their stores, not just products.
Most people cherish experiences over material possessions. And while we can attach material items like our new iPhone or car to our identity, these objects eventually lose their allure, and we throw them away to replace them with the newest, trend-setting product. Material possessions can really never be apart of your true identity.
On the other hand, we're the sum of our experiences, so they're ingrained in our identity. Sharing experiences with people also has a special ability to forge close relationships. And even if experiences end like your relationships with material objects do, they'll always be a part of your story, allowing you to bond with other people who've shared similar experiences.
For instance, who do you think you'll connect with on a deeper level -- someone who also studied abroad in Scotland during college or someone who wears the same Apple Watch as you?
By setting up special shops that only sell experiences, like Nordstrom or Sephora's new stores that only provide styling, makeovers, and sampling services, retailers can pull customers into delightful, memorable experiences that make much more of an emotional impact than buying a product.
These experiences also make for a compelling story that consumers will always remember and be more than happy to share with one another.
Image Credit: Retail Dive
2. The Internet of Things will make shopping easier, cheaper, and more convenient.
Since The Internet of Things connects over 11 billion everyday products, like home speakers, TVs, and cars, to the internet, retailers can collect hoards of data that provides context about their customers' product usage. This allows them to send relevant marketing messages to their customers throughout every phase of the buyer journey.
For instance, if you run out of milk or it spoils, a smart refrigerator can recognize your need and display a message on its screen or your phone about the best deals on milk in town. You can even order a carton through one of these smart devices if the refrigerator company partners with a grocery store.
Amazon has also sold a similar device, called Dash Buttons, since 2015. Dash Buttons are physical pieces of hardware that you press to buy everyday products, like laundry detergent, dog food, and snacks. As of today, the ecommerce giant has partnered with over 200 brands to sell their products through Dash Buttons.
Macy's has leveraged The Internet of Things to help customers save money, too. Since 2014, they've used beacons, which are Bluetooth devices that send alerts to people's smartphones based on their proximity to one of their stores, to promote discounts to any customer who walks by one of their stores and has their app.
The app can also pinpoint your location in a store, so if you're in the perfume section, the app will send you deals on the products and brands you liked online.
It's clear that The Internet of Things makes shopping easier, cheaper, and more convenient. And since Gartner expects consumers to possess over twice as many smart devices in 2020 as they do today, it's also clear that the technology could finally move beyond hype and enter reality in 2019.
Image Credit: Digital Trends
3. Consumers will message brands' Facebook bots more to vet and purchase their products.
With businesses and consumers exchanging over 8 billion Facebook messages with each other per month, and the retail industry exchanging the second highest number of those messages, Facebook Messenger is one of the most popular and convenient channels for consumers to research and purchase retail merchandise today.
53% of consumers also prefer to shop with businesses they can directly message on Facebook, so it's crucial for retailers to set up Messenger bots that can handle moderately sophisticated interactions, like welcome conversations and product discovery conversations.
To drive even more sales with Facebook Messenger, retailers should also build bots that can send abandoned cart messages and let consumers place orders directly in the app.
Some of the top retail brands are already using Facebook Messenger bots to accelerate their buying process. With H&M's bot, you can customize and buy your own outfits, and with 1-800-Flowers' Messenger bot, you can order and ship flowers in under five minutes.
Image Credit: MarketingLand
4. Brands will leverage cognitive computing to provide better, faster customer service.
Cognitive computing is technology that can analyze enormous amounts of data in the same way humans think, reason, and remember, so people can naturally interact with the technology and extract data-backed recommendations from it
Brands who implement cognitive computing into their customer support technology are able to assemble two-pronged customer service teams that help provide better, faster customer service.
By setting up computers and robots in their stores that can actually understand natural language and accurately answer people's routine questions, a retailer's human employees can service more customers who have more pressing needs.
For instance, Hilton Hotels introduced their first ever concierge robot, Connie, in 2016, and she can help guests find the best attractions and restaurants in the area. Connie can even move and point her body to direct guests toward any spot in the hotel. All the guests have to do is ask her their question, and she can quickly help them out.
With Connie's assistance, Hilton Hotel's front desk employees can focus on more important tasks, like picking up phones and checking in guests.
Image Credit: USA Today
5. Brands will use augmented reality more to market their products.
The best furniture brands understand their customers' decision to design a room is just like getting a tattoo. If they buy the wrong furniture, it could ruin the room's entire aesthetic. On top of that, they'd have to deal with the embarrassment of living in an eyesore unless they shell out more money on some new furniture.
Without being able to picture how a store's furniture would look in their own home, customers will either stall their decision to buy any furniture or get mad at the brand if they buy the wrong sofa.
To help customers avoid this situation, retailers like IKEA and Wayfair have developed augmented reality apps that can place fully rendered 3D models of their own furniture in their customers' home. All the digital furniture is also resizable to fit a room's dimensions and observable from any angle and in any light. Users can even save specific room designs for future reference.
By leveraging augmented reality, these retailers have made it a lot easier for customers to engage with their brand, pick the right furniture for their house, and, ultimately, buy more of their products.
Future proofing your retail store for 2019.
The retail industry will keep evolving at breakneck speed, but hopefully, preparing for these five trends will arm you with the insights and skills to grow your retail store in 2019 and beyond.