Sometimes a prospect comes to your website, finds exactly what they want, and makes a purchase. This post is not about these people. This post is about the vast majority, who visit your site a few times. They also visit other sites and comparison shop.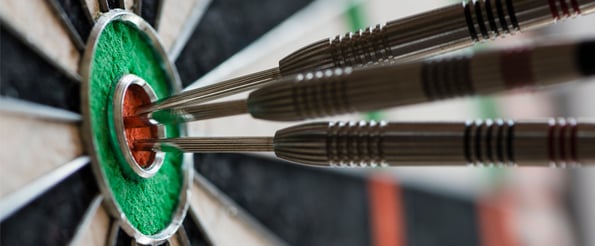 They mull over the decision to buy something -- researching, searching, reading, and thinking. This post is about these prospects. The people who just need a little nudge to get them over the finish line.
We know from research that on average it takes six touches before a prospect converts. So the obvious question most marketers should be asking is, how do you keep these people engaged?
Use Retargeting to Bring Potential Customers Back
Retargeting is a method of digital advertising that aims to entice users back to an advertiser's site after they have left. Advertisements are show to customers who have demonstrated what we call intent, which is an action they've performed on an advertiser's site that shows they're interested in a product or service.
Intent signals come from a variety activities. The classic use case is when a customer puts a something into a shopping cart, but does not complete a purchase. That action of putting an item into the cart shows clear purchase intent.
To be effective, web retargeting uses a combination of tailored messaging and targeted ad placement, that capitalize on the intent signals found on the website. With that in place, display ads are bought on digital advertising exchanges and served on news sites, blogs and other locations online -- wherever your customer might be browsing.
Web retargeting is popular in nearly every vertical from ecommerce and travel, to B2B and entertainment. It's great for any brand interested in engaging current or prospective customers online. The technology to find users again has grown to work across most websites, social networks and even email.
5 Proven Tips to Keep Leads Engaged With Retargeting
1) Segment your audience.
Poor segmentation is one of the main culprits of low performance in a retargeting campaign. Once segmented, you can target each group with creative and content that's most relevant to them.
You can set up basic URL segments with audiences defined by specific pages they visited while on your website. Some common groups to create include:
Homepage (Upper-funnel): Target prospects with branding message or discount offers to get new customers in the door.
Category pages (Mid-funnel): These users have demonstrated interest in a specific product type; re-engage them with a general ad for that product category (i.e., shoes).
Specific product pages (Lower-funnel): If a user has looked at a specific product offering (i.e., men's blue Nike Air sneakers), they can be retargeted with an ad for those specific shoes.
Shopping cart: These are very high intent users. Target these customers with ads for those specific products they looked at, and include an enticing offer, such as free shipping, to encourage them to complete the purchase.
2)
Leverage email.
Did you know that email can be easily incorporated as a inventory source for retargeting now? The best part about email retargeting is the inventory is free. Sending an email as part of a retargeting campaign doesn't require bidding on ad exchange for a placement. It does have some limitations, for example you shouldn't send out more than one email to a specific prospect per day.
A well designed email is a great way to remind a customer of a specific item they looked at, send a specialized offer or coupon code, or promote similar items to one that they pursued before. On average, retargeting emails have an open rate of 60%, convincing customers to click 15% of the times.
With some research, AdRoll discovered that when running both traditional email and email retargeting, email retargeting produced 3x the open rate and 6x the clickthrough rate.
3

) Dig into your CRM.

A typical CRM campaign is focused on one channel, email. Why limit your CRM efforts only to that channel? With CRM retargeting you can market to customers from your database with display ads. This has a few advantages over email including the ability to increase the frequency of messaging, emails can't be sent more than once per day.

It also helps your brand stay top of mind as customers browse the internet, not just when they look at their inbox. You can even upload a lead list of prospects and target ads directly at a specific segment that's not in your CRM.

To get started we recommend creating segments from existing prospects and customers, defining where they are in the funnel, and then using retargeting software to reach those segments with web and Facebook ads. Whether you're storing contact data in an email platform, already leveraging a CRM tool, or just storing customer purchase history in a spreadsheet, CRM data onboarding allows the flexibility to use multiple data sources to re-engage your contacts with relevant content.
4

) Use dynamic creative.

If you're not using dynamic creative, you should definitely consider it. Dynamic creative is a system that allows for an ad's creative to be generated on the fly, based on how well its various elements are performing.
For instance, a call-to-action on an ad might be susceptible to a higher clickthrough rate (CTR) when it's red as opposed to blue. Dynamic creative would test these variations and then serve up the winning color to the larger audience. It's popular with direct-response digital marketers and retailers because it simply performs better. Being able to show the exact product that a customer browsed in an ad is powerful.
And it performs better than showing a generic item that they might not like. Last year, AdRoll advertisers increased their campaign spend for dynamic-creative ads by 30% quarter over quarter (QoQ) from Q3 to Q4, compared with a 16% increase in total spend for static ads. And the trend was validated by results: highly-personalized, dynamic ad campaigns delivered costs per acquisition (CPAs) that were 60% lower than those for static campaigns.
Some best practices to consider include:
Use clean, mobile-friendly designs. You want to make sure your ads display well on mobile. A straightforward and simple design is better suited for display across multiple devices, they also load quickly, providing a better customer experience. Drop the flashy Photoshop art and use a white background that allows the product to be easily swapped out depending on what the customer last viewed.
Keep messaging consistent. This one is a given. You want to avoid confusing customers, so check all your creative and confirm that your promotions are consistent across different ad placements, campaigns, vendors and channels. Nothing is more frustrating for a consumer than seeing a discount for a item they just purchased for full price.
Showcase multiple products. Dynamic carousel ads on Facebook can display the most relevant products to customers, regardless of device -- desktop, mobile, or tablet. Each ad spotlights an individual product and its price. Consider including a call-to-action (CTA) button, such as "Shop now," to encourage clicks.
5

)

Get smarter with attribution.

In marketing or advertising, attribution is the process of identifying a set of user actions ("events" or "touchpoints") that contribute in some manner to a desired outcome, and then assigning a value to each of these events.

Because technology is evolving daily, attribution in advertising is oftentimes considered a confusing and complex topic. But, that doesn't mean you should bury your head in the sand and ignore it. It's obvious at this point that just using a last-click (meaning the last element a lead clicked on before converting) attribution model is an antiquated method of measuring advertising success.

At the most basic level, using last-click doesn't value any other advertising that a user saw prior to clicking. It also incentives platforms to bombard users with ads, who would make purchase anyway. It's like giving out coupons to people in the checkout line and then taking full credit for the sale. Clearly, that is not the best allocation of valuable marketing resources.

There are a variety of platforms, technology and approaches that you can use to improve how you do attribution. For example, AdRoll encourages people to use a blended attribution model. One that takes into both views and clicks. This is an easy way to account for viewing an ad, but also retains the immediacy and clarity of last-click.
The Bottom Line
Retargeting is a core aspect of nearly every digital marketer's approach. With these tips you should be able to get even more value from your retargeting campaigns, incorporate new innovations and maximize the return on investment.
Interested in learning more? Join AdRoll and HubSpot for our webinar on October 27th, Funnel Vision: Leveraging Display Advertising & Retargeting to Improve Your Digital Marketing Efforts