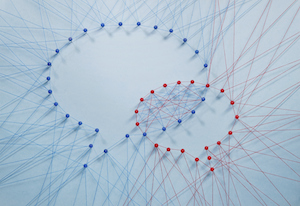 If you're running experiments and optimizing your presence on social media, it's easy to get stuck in the weeds. You run a test, figure out what works, and then do more of what works. And if you do that again and again and again, you can get stuck doing the same-old-same-old optimization techniques, ignoring exciting growth opportunities right under your nose.
To get out of that rut, it's helpful to look at larger social media trends and get inspired to try new things in your social media and content strategies.
That's why we've put together the following post. We collaborated with BuzzSumo to analyze the top one million articles by 190 top publishers across the five most popular social platforms over the past six months -- which totals more than 2.6 billion shares. We've processed all that data below to give you a better idea which platforms are driving the best results, which publications are receiving the lion's share of social traffic, and what types of content perform the best.
Which Social Network Drives the Most Engagement?
In 2013, the Pew Research Center's Internet Project performed a study to learn which social networking platforms were the most popular. In order, they were:
Facebook

LinkedIn

Pinterest

Twitter
(Google+ was not ranked.)

Pew's study also provided us with a look at the age and gender demographics of these networks:


via Frac.tl

However, the popularity of a social network is not a completely reliable indicator of share volume. Of the more than 2.6 billion total shares generated by the articles in our study, LinkedIn accounted for slightly more than 59 million, making them the fifth-most active platform for content sharing among users. Pinterest saw nearly 79 million shares, while Google+ garnered 115 million. Tweets more than doubled +1s with 231 million links shared, placing Twitter solidly in second place.

Retaining first place in both popularity and user shares was Facebook. The social media giant accounted for 2.18 billion shares -- more than 81% of all the shares that took place across all five networks.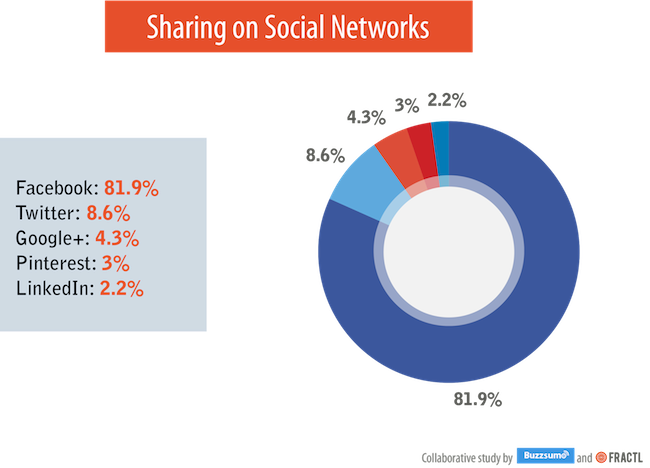 Facebook's users are both the most abundant and most engaged when it comes to sharing content, but no other network's sharing percentage reflects its popularity with users. LinkedIn's users seem to share much less compared to other networks, while Twitter users share more than their proportional presence on social media.
Sharing Sentiments by Network
In addition to network size and age/gender demographics, the emotional landscapes of these platforms are significantly different. To determine the tone of the most-shared content on each social media channel, we applied the Alchemy API to the 500 top-shared articles on each network. Alchemy uses a combination of linguistic and statistical analysis to interpret text, measure opinions and attitudes, and create an index of overall sentiment, rating it on a scale from negative (-1.0) to positive (1.0).

Based on the analysis below, Pinterest and LinkedIn emerged as sharing the most positive content of the social networks. Twitter showed the most even distribution of emotions, followed closely by Google+, which trended slightly more toward the positive side. Facebook, however, showed a preference for more neutral content sharing – but trended toward the negative end of the spectrum when we removed articles from top publishers BuzzFeed, Upworthy, and ViralNova.


via Frac.tl

Does this mean that Facebook audiences are more negative, or Pinterest more positive? Not necessarily. The volume of shares on these networks may be more of a reflection of the publishers who have figured out how to gear their content to these audiences most effectively.
BuzzFeed & Beyond: Publisher Performance on Social Media
If Facebook is the monolith of platforms when it comes to the sheer number of shares, BuzzFeed is its publishing counterpart -- although not quite so uncontested. The outlet best known for lists and quizzes received more than 400 million shares across all platforms for its top articles -- close to 150 million more than its closest competitor, Huffington Post.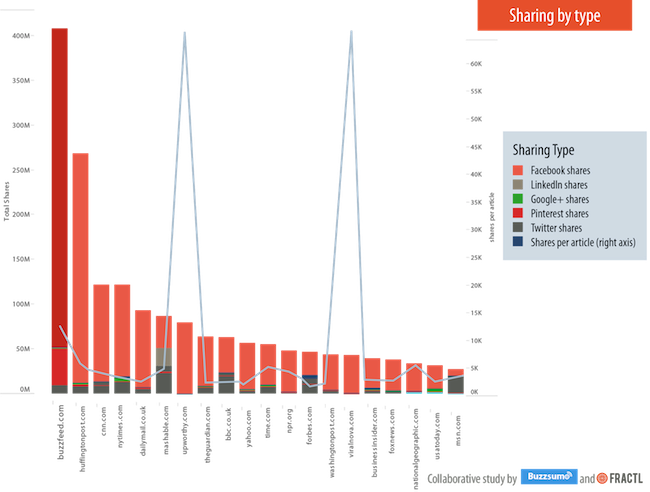 But when Facebook shares are removed from the equation, the difference in shares between top publishers becomes much smaller. Excluding Facebook, BuzzFeed remains the most-shared publisher by a scant million, and it does so based almost exclusively on the strength of its Pinterest following. With nearly 40.7 million pins, BuzzFeed dominates Pinterest's next-closest publisher, Women's Health, by more than 34 million pins -- five times Women's Health's share rate.
Despite BuzzFeed's sharing dominance on Facebook and Pinterest, it did not make the list of top five most-shared publishers of any other social platform (although it was a close sixth on Twitter), and having a strength in only one or two platforms is not unique to this publisher. In fact, of the 18 publishers that made the top five for any of the big social media networks:
Only 5 publishers made the list for more than one platform,

Only 3 publishers made the list for more than two platforms,

No publisher was in the top five for more than three platforms.
You can see the breakdown below:
| | | | | | |
| --- | --- | --- | --- | --- | --- |
| | Facebook | Twitter | Google+ | Pinterest | LinkedIn |
| 1 | BuzzFeed | Mashable | MSN | BuzzFeed | Mashable |
| 2 | Huffington Post | BBC | Wall Street Journal | Women's Health | LinkedIn |
| 3 | CNN | NY Times | Mashable | thekitchn | Forbes |
| 4 | NY Times | Forbes | Forbes | Greatist | inc. |
| 5 | Daily Mail | CNN | NBC | Better Homes and Gardens | NY Times |
Bottom line? If anyone is winning at social media, it's BuzzFeed. But beyond the number one spot, the social realm is wide open -- very few publishers have excelled at developing content sharing in volumes of millions on multiple channels, and none have become omnipresent.
The disparity in share numbers between the leaders and the rest is less of a gap and more of a gulch -- when measuring total shares, the second-place publisher (Huffington Post) has at least twice as many as the third-place publisher (CNN). The same is true when Facebook shares are excluded from the equation -- second-place publisher Mashable outpaces third-place publisher BBC in shares by more than 2:1. Beyond the top spots:
If you include Facebook,

94% of publishers earned less than 50 million total shares and

88% earned less than 25 million.

If you exclude Facebook,

89% of publishers earned less than 5 million total shares and

60% earned less than 1 million
The majority of these publishers are obtaining the bulk of their shares on two or more platforms, but there are a few notable exceptions.
Of the one million articles in this study, 6 of the top 20 publishers received more than 90% of their shares on Facebook alone. Of those, Upworthy and ViralNova receive more than 99% of their total shares exclusively on Facebook. These two publishers also have an extraordinarily high share-per-article rate. Both Upworthy and ViralNova saw more than 60,000 shares per article on average; a prodigious amount when compared to the 11,000+ shares per article that BuzzFeed received, or the <5,000 per article of nearly everyone else. Where BuzzFeed is ahead in effectively producing a large volume of highly shareable content, Upworthy and ViralNova are dominating in pushing a smaller quantity of material to even further reaches.
Sentiment Trends by Publisher
Of these publishing luminaries, there is one more unique characteristic to consider: their sentiment. We applied the Alchemy API to the top 500 shared articles from the top 20 publishers to determine whether there were any emotional trends among the top performers. Although some leaned more negative or more positive, most of the publishers' most-shared content covered a range of emotions. However, news publications such as CNN, Daily Mail, Fox News, and New York Times consistently showed more negative sentiment than positive.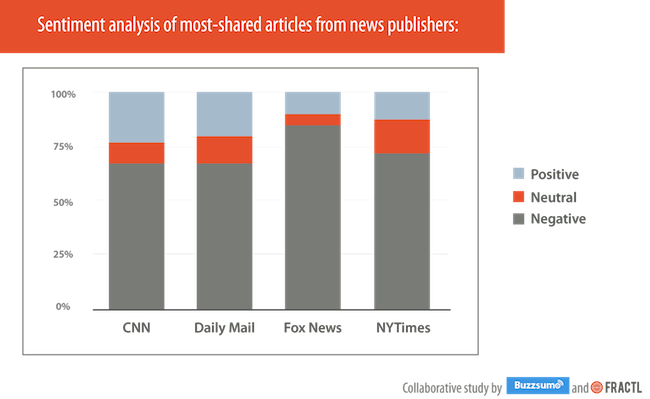 There were also three striking exceptions among the top 20 publishers. BuzzFeed and Upworthy ranked almost exclusively neutral; no other top-tier publisher fell so distinctly into a single emotional category. Meanwhile, Mashable was the only brand that trended more positive than negative.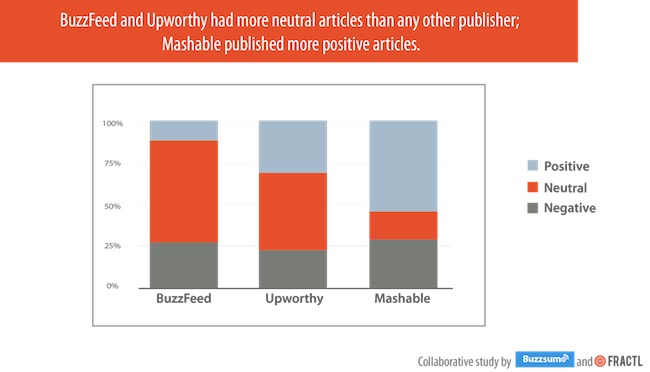 Which Words Work? A Look at the Most-Shared Articles
To better understand the factors influencing social media content sharing, we also looked at the top shared articles themselves. The top 10 most-shared articles by total shares were:
The 9 Oddest Job Interview Questions Asked at Tech Companies in 2011 (via Mashable)

What Career Should You Actually Have (via BuzzFeed)

What State Do You Actually Belong In (via BuzzFeed)

What Kind of Dog Are You (via BuzzFeed)

How Y'™all, Youse, and You Guys Talk – Interactive Graphic (via New York Times)

2 People Described the Same Person to a Forensic Artist and This Is What Happened (via Upworthy)

What City Should You Actually Live In (via BuzzFeed)

Which Decade Do You Actually Belong In (via BuzzFeed)

Which Classic Rock Band Are You (via BuzzFeed)

Which "Grease" Pink Lady Are You (via BuzzFeed)
One element leaps out of this set: the use of intrigue and surprise in the headline. These components are considered high-arousal emotions, and based on our previous research, an essential element to making content go viral. The quiz format, which BuzzFeed dominates, lends itself well to creating this effect, but it is clear that the top non-quiz posts also employed intrigue in their titles to their advantage.
However, removing BuzzFeed, Upworthy, and ViralNova reveals a wider range of topics and approaches to earning reader interest:
The 9 Oddest Job Interview Questions Asked at Tech Companies in 2011 (via Mashable)
How Y'™all, Youse, and You Guys Talk – Interactive Graphic (via New York Times)
Task Force for Global Health on the Forbes 50 Largest U.S. Charities List (via Forbes)
UNACCOUNTABLE: The High Cost of the Pentagon's Bad Bookkeeping (via Reuters)
Pushing for Sexual Equality in Jordan (via Aljazeera)
This Three-Minute Commercial Puts Full-Length Hollywood Films to Shame (via Gawker)
WestJet's Christmas Surprise for Travelers Will Make You Believe in Santa [VIDEO] (via Mashable)
Miley Cyrus – This Spread Eagle Should Be Extinct (via TMZ)
I Am Adam Lanza's Mother: A Mom's Perspective on the Mental Illness Conversation In America (via Huffington Post)
10 Reasons Why Handheld Devices Should Be Banned for Children Under the Age of 12 (via Huffington Post)
There is much less of a common thread among these article titles; there is a mix of hard news topics, entertainment and human interest pieces, and successful viral content marketing campaigns (including Dove's Beauty Sketches and Glassdoor's review of interview questions, among others). Formats also range from long-form articles to videos to lists.
However, one theme of all these headlines is a basic tenet of good headline writing: their employment of the information gap theory of curiosity, put forward by Dr. George Loewenstein of Carnegie Mellon University. This theory posits that people will take action -- in this case, clicking through to an article -- when they feel a gap between what they know and what they want to know. Good writing is clearly the trump card in the success of these articles, rather than the internet popularity of any particular topic.
This is a finding that is mirrored when we look at title keywords among the top 10,000 articles from all publishers in this study. By analyzing the keyness of the top headlines, we ranked the most relevant words to determine the top 200 of the set, and used a word cloud to display the data below. We also excluded proper nouns to factor out the temporal wildcards of celebrity gossip and world events. From this, no single topic or angle emerged as the overarching leader.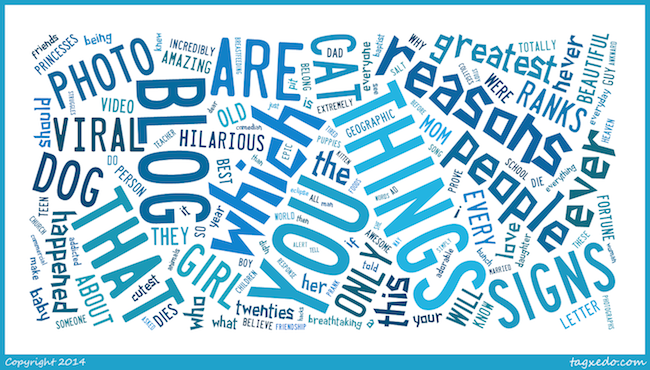 This is an important observation for content marketers because it demonstrates that there is no specific combination of themes or ideas that will guarantee a viral hit across all publishers or platforms. However, there are some trends to note when we look more closely at parts of speech.
The most prevalent adjectives are those on the positive end of the spectrum; greatest, happiest, hilarious, and cutest are some of the top descriptors. This is not a surprise, considering the high correlation between positive feelings and initial content views.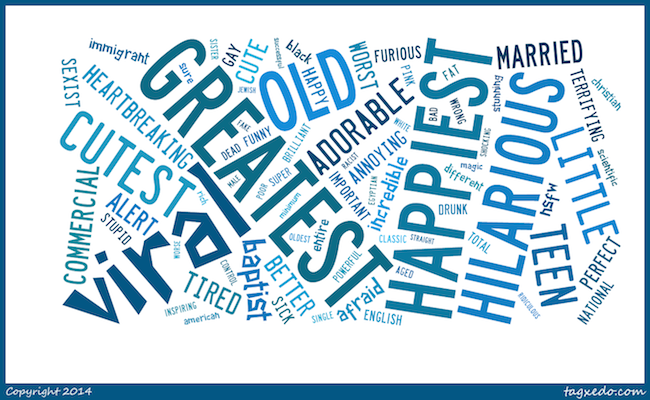 Another interesting trend emerged in the verbs category. Some of the largest of this set revolve around knowledge -- the word "understand" showed a keyness ranking of 142, while "ranks," the second-most relevant verb according to the keyness analysis, rated a distant 74. Similarly, words like know, prove, believe, and think occur frequently in this list, suggesting that article titles which are associated with intelligence may be more intriguing to audiences.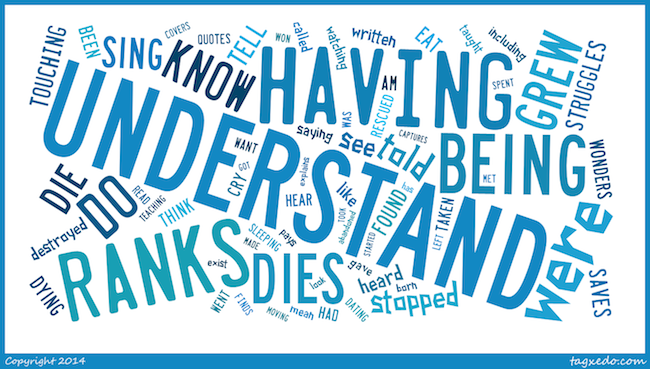 But aside from a few general trends, do keywords yield much insight into what drives engagement with online content? In such a broad set as this, François Rastier, linguist and research director at the French National Center for Scientific Research, would likely say no, arguing rather that keyness is relative to communities and contexts, and more insightful when applied to select segments. With this in mind, we parsed out keywords from individual publishers, revealing a more focused look at the trends in their content.


via Frac.tl

This provides us with a more specific look at the topics being shared most from each publisher. As might be expected, the most prevalent keywords from BuzzFeed are very different than those from Business Insider or ViralNova. This reiterates a finding that writers were adamant to tell us in our publisher survey: Each publication is different and covers different topics. Despite their differences, it is noteworthy that the word "photos" is prominent for each of these top-tier publishers; a signal of the importance of visual assets.

Just as different publishers have different rates of success sharing across platforms, we can see that the themes of keywords in shared articles also vary depending on the channel. Interestingly, "photos" was also a top keyword for every social media network except one -- LinkedIn.


via Frac.tl
Conclusion
After reviewing the top million most-shared articles, the publishers who produced them, and the platforms on which they were shared, it is clear that online content sharing is far from homogenous. Although some publishers are achieving success on some channels, the audiences and interests of different networks are so nuanced that no publisher has become dominant on every platform. This is reflective of our finding that there are no topic trends that transcend every channel, nor are the emotional sentiments of every channel the same.
For content marketers, this means that special attention must be paid to the preferences and style of target publishers as well as the attitude and interests of the target social media audience. None are the same, and a spray-and-pray approach will not be effective.
Originally published August 25 2014, updated July 28 2017