For my master's program at Syracuse University, we were required to attend two immersion weekends.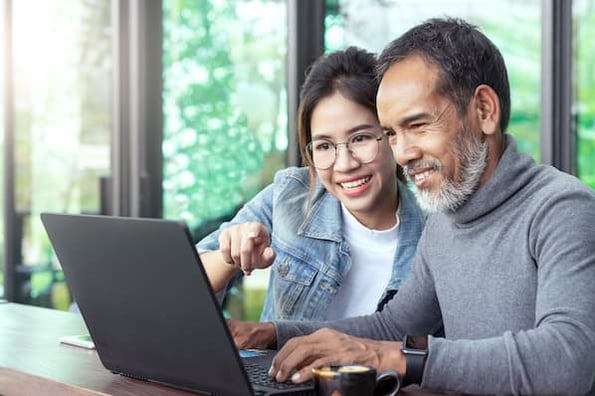 These weekends were filled with networking events, guest speakers, and industry leader presentations.
The goal was to interact with classmates, faculty, and industry thought leaders to discuss the future of digital communication.
One of the immersions in Los Angeles was focused on public relations. An amazing guest speaker was discussing company publics and one thing he said really stood out to me: "If you don't explicitly include someone, you implicitly exclude them."
It's important to keep that concept in mind when you're learning about social media target audiences.
Since you can't target everyone (though you can sell to anyone), you have to define, identify, and understand your audience so you can speak to them on social media.
Below, let's review what a social media target audience is and how to find it.
Social Media Target Audience
A social media target audience is a group of people that you've identified that you want to appeal to. This can be based on demographics such as age, job title, income level, education, location, or behavior. Your social media target audience consists of the people who are most likely to be interested in your product.
Typically, defining your social media target audience is similar to drafting your company's buyer personas and will help you develop brand guidelines.
You'll answer questions like, "What content will your audience relate to?" and "What tone or voice should you use?"
This is important so you can speak the same language as your audience, making them more likely to interact on social media, develop brand loyalty, and ultimately purchase your product.
Just like the guest speaker told us on that immersion weekend, your social media target audience should be highly specific and detailed. That way you won't implicitly leave people out who might be interested in your product.
Ultimately, a social media target audience will help you market your product effectively, and prioritize who you're targeting.
Now that we've reviewed what a social media target audience is and why it's helpful, let's dive into how to find your target audience.
How to Find Your Target Audience on Social Media
When you go to develop your target audience, it should be based on research and data. Below, we've outlined five steps that can get you started:
1. Identify or create buyer personas.
If your business already has buyer personas, then you can use that same information for your social media target audience.
However, if you don't, think about who your current customers are. What are their jobs? Age? Income?
A lot of the demographic details can be found by looking at your analytics. Look at your social media numbers and track any current campaigns. This information should allow you to build on what you already know about your audience.
Then, flesh out those demographic details. Answer questions like, "What are my audience's pain points?" or "What problems does my product or service solve?"
Additionally, consider traits such as spending power, spending patterns, and their stage of life. All of this information plays into how customers interact on social media and spend their money.
In the end, you might have more than one persona. For example, if you sell more than one product, it makes sense that you'll have different personas.
2. Find out where your audience is most active.
Once you have an understanding of who your audience is, figure out where they're hanging out online.
You have to identify if your community is even on each separate social media platform.
For example, older generations have increased their Facebook use in the past four years. In fact, the share of the Silent generation using Facebook has nearly doubled.
On the other hand, Twitter appeals to younger audiences. In fact, 38% of Twitter users are between the ages of 18-29, and 26% of users are 30-49.
Instagram also appeals to younger generations, with 35% of users being ages 25-34 and 30% being 18-24.
Figuring out where your audience is will help you prioritize which social media platforms you want to focus on.
Then, you can adjust as you go. For instance, if a post works well on one platform but not the other, you can adapt. Or if the people you're targeting aren't interested, but another group is, you can change your target audience.
3. Look at your competitors.
When you're trying to flesh out your target audience on social media, look to your competitors. What kind of voice are they using? Who are they appealing to?
You can figure this out by looking at who's responding to their posts and engaging with them. Also, take note of what social networks they're active on, who their top followers are, what their engagement rate is, and what hashtags they use.
Additionally, you can search for keywords that you're targeting on social media apps and see what competitors show up.
Plus, you can even use your own analytics to see other pages that your audience likes.
4. Survey your customers.
Although you'll have plenty of statistics available, it's always a good idea to talk to your current customers.
Surveys help you figure out who your real customers are and what social media networks they prefer.
You can ask what type of content they consume, what social media sites they like, or who they follow.
5. Search Facebook Groups.
If your audience is mostly using Facebook, it's a good idea to find them in Facebook groups. Facebook groups are becoming more popular amongst social media users and they're a good place to learn more about your audience.
What are they posting? What tone of voice do they use? Not only can you learn more about how to communicate with your audience, but you can also use it as an opportunity to create your own community.
Developing your social media target audience is an important step in creating successful marketing campaigns. Plus, you can focus your efforts on the right social media platforms and posts. Social media is an important place to engage with your target audience and learn more about them.
Once you've found your target audience, you can create a well-balanced content plan that appeals to them and begin drafting brand guidelines.