Our startup journey has proved it -- guest blogging is king, queen and all the aces in content marketing. Guest blogging lets you share expertise and build authority in the industry, and the backlinks you receive to your own website helps your SERP rankings.

We started Chanty from scratch. Thanks to the staircase guest blogging strategy I'm about to share, we managed to get our monthly traffic from 0 to 5-digit numbers in less than a year.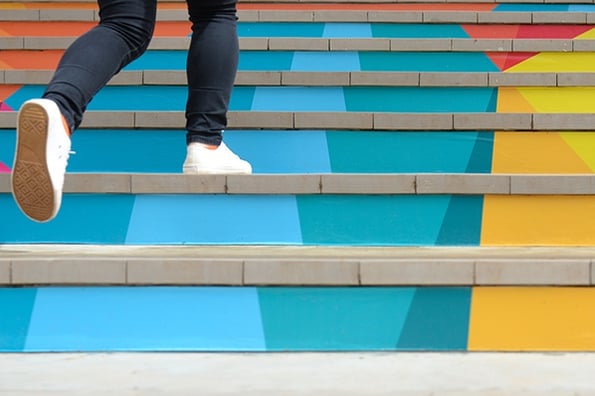 Chanty website traffic growth
Guest blogging is nothing new. There are tons of articles sharing guest blogging best practices. There are also plenty of posts teaching you how to write for top-tier resources.
However, it's hard to find resources that guide you through the entire process -- from the moment you decide to benefit from guest blogging, to actually getting published on Forbes and Entrepreneur.
Luckily, our team has completed this journey from A to Z. Just a year ago, most of our team had no idea how to write a blog post. As of today, we've written for well-known blogs like Foundr, GoDaddy, Search Engine Journal, SemRush, Marketo and many more. We set the bar high in the very beginning. Our grand milestone was Entrepreneur. Thanks to the staircase guest blogging strategy, my guest post for Entrepreneur was published just a few weeks ago. Now that our mission's completed, it's time to share our step-by-step process with you.
What is the staircase guest blogging strategy?
In a nutshell, the staircase guest blogging strategy is about writing high quality content for third-party blogs while gradually increasing the quality of the platforms you are writing for (climbing the stairs). You start by picking the low-hanging fruit and pitching the 'reasonably popular' blogs. The competition and the editorial calendar for these platforms isn't too intense. Once you build a writing portfolio, you'll be able to raise the bar higher and pitch more popular blogs with your next article. Although it sounds simple there are plenty of pitfalls along the way. Therefore, let's go into more details.
1. Start a loveable blog
When you are a no-name company writing your very first article draft, you obviously can't just reach out to Entrepreneur with a pitch. Although you can try your luck anyway, there's a good chance you won't even get a reply (I know this because the first time we reached out, we failed). However, you've gotta start somewhere.
When pitching a blog with a guest article, the best practice is to include examples of your work. When we sent our guest blog pitch for the first time, our writing examples were actually the posts we had written for Chanty. Luckily, starting a company blog is a breeze these days -- with platforms like Medium, you don't need to be tech savvy or even know how to operate Wordpress.
If you don't know what to write about, start with your experience. As you launch a startup, your way will be paved with many obstacles, pitfalls, and difficult decisions. Your brain quickly falls into the knowledge-consuming mode, constantly searching for answers and solutions. Therefore, you'll definitely have a few valuable lessons to share with readers, including issues you've solved and obstacles your company has successfully overcome.
For example, we've written a few posts on our blog covering SaaS pricing models and how we got the first 100 beta testers for our product, all based exclusively on our experience. As a result, we were able to write about similar topics for third-party websites. Another example of experience-based writing I love is Groove's "From 'Aha' to 'Oh, shit'" startup blog and Grow and Convert blog.
Our blog feedback from a reader
2. Put the content quality in the heart of your strategy
I must emphasize this -- it's hard to overestimate the power of content quality when it comes to climbing the guest blogging stairs. If you write some mediocre content, you'll certainly be able to publish it on the same mediocre platforms. However, low-quality content will never let you climb to the top. With that said, how do you make sure to deliver excellent copy?
My first advice would be to analyze the leading blogs in your industry. Check out the style, tone, and voice they use. What makes their content engaging, appealing and resonating? Is it the personal experience they share? Is it the storytelling approach that makes you want to keep reading? Moreover, it wouldn't hurt to analyze the top Google results for your target keywords. You'll have to write content that is head and shoulders above your rivals if you decide to compete for these keywords.
It goes without saying, but you must make sure your content does not contain mistakes or typos of any kind. Run a check with Grammarly to see if your writing can improve in terms of grammar. Paste your texts into Hemingway App to make them simple to read. Speak the language of your audience. Consider their age, gender, nationality and education. If you are based in Europe (like we are) but targeting the U.S. population with your articles, little things like $9,99 rather than $9.99 could easily determine whether you are a pro or an amateur.
3. Find the low-hanging fruit
Once you have a handful of well-written blog articles to showcase your writing skills and expertise, it's time to find the first guest blogging opportunity. There are a few ways to do this:
Make a Google search for 'guest blogging opportunities + keyword/industry'. You'll find a number of articles like this one with a long list of platforms that accept guest posts.
Make a Google search for 'inurl:write-for-us + keyword/industry' (e.g. inurl:write-for-us digital marketing). This will bring you directly to the writers' guidelines page of those websites where guest writers are welcome.
Create an extensive list of all potential platforms where you can pitch a guest article. Next, I'll show you how to check out these websites' domain authority and traffic numbers.
4. Check the traffic and domain rating
Not all website are equal. The exposure you'll get from an article published on a million-visits-per-month domain will be massive. However, with no previous guest blogging experience, you are unlikely to get into that boat. Therefore, let's stay patient and take it one step at a time. You can get an idea on how popular a website is by checking the estimated traffic, as well as the domain rating. The tools you'll need are Similar Web and Moz Rank Checker. There are browser plugins for these apps that you can download to conveniently use the tools.
SimilarWeb Chrome extension data on website monthly traffic
MozBar Chrome extension data on website domain and page rating
Along with other useful information, SimilarWeb shows you the estimated traffic a website gets every month. MozBar indicates the site's domain and page authority, which predicts how well a website will rank on search engine result pages. It ranges from one to 100 with higher scores corresponding to a greater ability to rank.
At this stage, you should have a list of websites with an estimated traffic and domain authority (DA) for each platform. Make sure to check the numbers for your own website as well. Now, go through the list and highlight the best candidates for a guest blogging outreach.
At that time, our Chanty domain authority was around 10 points, so we started contacting blogs with DA around 20-40 and estimated traffic of 10K+ per month.
5. Send a good guest article pitch
Once we started accepting guest posts to Chanty's blog, I realized what a hard life editors must live. You can't imagine how many low-quality pitches we've received. At some point, we even had to close down our guest blogging submission, as we started spending too much time going through bad pitches and inferior articles. Here's just one example of how not to pitch an editor with a guest post idea:
This writer doesn't mention which company she works for, doesn't give examples of previous work, and suggests only one topic for consideration. There's also no image linked to that email account to see who is reaching out. Nothing in this email makes the writer look trustworthy. What happens to an outreach message like this one? Sadly, it goes straight to the trash.
Many companies provide guest blogging guidelines that are an essential read before even sending a pitch. The key is to follow them precisely unless you want to upset an editor. Some websites require a specific form of a pitch, while others prefer to see a full article attached to the outreach email. If the blog you want to write for doesn't go into detail on pitching requirements, follow this simple formula:
Introduce yourself
Make sure you have a full name and a photo next to your email
Suggest several topics you wish to write about
Include clickable urls to your writing examples
This should be enough to start a conversation with an editor.
Here's an example of a good pitch:
6. Get published
Editors get a lot of guest post requests. Therefore, it might take a few follow ups from your side to ensure your message reaches the top of their inbox. Be ready to provide an outline for an article as well, since it's a common practice for some blogs. Once you've agreed on the topic, make sure to specify the blog guidelines and follow them thoroughly.
Oftentimes, the article may require some editing or rewriting, especially if you are at the beginning of your writing journey. One of the guest contributors who wrote for our blog had to fix the article eight(!) times before we could accept it. However, I'd like to acknowledge this -- our communication remained friendly and the writer was eager to polish the article to make it a perfect fit for our blog. Takeaway? Cooperating with an editor in a friendly and eager manner is key to a published article.
7. Raise the bar higher
Congratulations! You now have a few articles published to showcase some examples the next time you reach out to other blogs. Now, it's time to start climbing the stairs. Go back to the list of blogs you initially put together, and take a look at the publications where SimilarWeb and MozBar numbers are a bit higher.
You can also reach out to blogs that look attractive to you as a guest blogging platform, even if you are not sure whether they accept guest posts (meaning, if there isn't a page on their website dedicated to contributions). At this stage, our marketing team raised the bar higher and reached out to more popular blogs with MozRanking's of 50-60 points.
Although numbers play a significant role in choosing the right website to write for, you should also trust your common sense and intuition. Sometimes, just from the way a website looks, we think: "Nah, I don't want my article to appear here, despite all the cool numbers." Or, it could be the opposite: "These guys are small, but they are doing a great job with their blog, and I'd love to contribute."
8. ... and higher
When you've published on some well-known websites, get ready for a big move. Don't be afraid to climb the stairs even higher and pitch the top-tier blogs. However, you might want to use a slightly different strategy when outreaching extremely busy editors who get thousands of pitches every week. Usually, you'd follow the rules and send the article pitch in a form that a platform requires. However, more often than not, you don't get a reply even after a few follow ups. This is when you should make a step back and think about getting to know your editor.
First off, find and follow the editor on Twitter or LinkedIn. See what their life is about, and what content they post. It doesn't hurt to like, share or, even comment on their posts. Become the faithful follower of your editor so the moment you send out a pitch, your email account photo rings a bell. For example, here's the pitch I sent to an editor at Entrepreneur.
Persistence is key when it comes to top-tier platforms outreach. Despite the very detailed and personal email I wrote, it still took another three follow ups and about three weeks before I got the long-awaited "I'm interested in your article" reply.
Last words
You should always keep the content quality in mind, both when writing a guest post or an article on your company blog. The staircase guest blogging strategy is for those who have valuable insights to share with the world, not for blatantly building backlinks. It's for those who are ready to invest their time researching topics in-depth, and reflecting their personal insights.
It's not about hiring a $10-per-post freelancer -- it's about putting your heart into every article. At the end of the day, it's the one and only way to get to the top-tier publications. Now, it's your turn to make it to Entrepreneur. I'm confident you can do it. Good luck!