When was the last time you just went for something?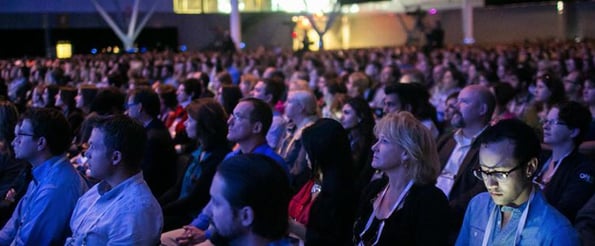 The simple truth is that as we grow older, our naive childhood fearlessness is often replaced with hesitation, causing us to miss out on countless opportunities for growth and betterment.
And while it's easy to allow this shift in perspective to sideline our aspirations, Torie Sullivan wasn't willing to make this kind of sacrifice when it came to her mission to attend HubSpot's INBOUND event.
Uncomfortable with the thought of asking for a handout, Sullivan made the difficult decision to take the plunge and launch a GoFundMe campaign to raise money for a ticket to the event this September.
The response? Nothing short of remarkable.
Just hours after the page was published, donations started flowing in. Between contributions from family members to INBOUND speakers such as Nasty Gal founder Sophia Amoruso (more on that later), it wasn't long before Sullivan raised enough to send her packing for Boston.
I recently caught up with Sullivan to talk about her GoFundMe campaign and dive deeper into the relentless determination that fueled her success.
Once a Go-Getter, Always a Go-Getter
All it took was one look at Sullivan's GoFundMe page for me to understand the type of passion she had for the industry:
"Work like this is the reason I made my major, and I'm incredibly fortunate to enjoy my work as much as I do. It's what keeps me up at night and gets me up in the morning. My passion. My drive. Me," she wrote.
And to be clear, yes, she really did make her major. After struggling to fit herself into the boxes they had predetermined for each program, Sullivan went on to combine the communication and management departments at her school to create a brand new major -- Integrated Marketing Communications. It was the very first of its kind at Hood College in Maryland.
But paving the way for a new major at her school was just the first of many "right steps" she would take towards advancing her marketing skill set.
After graduation, Sullivan went on to land a job as an inbound marketing strategist at TSL Marketing, a HubSpot Agency Partner. Thirsty for knowledge, training, and professional development opportunities to direct her new career path, Sullivan took an immediate interest in HubSpot's INBOUND event after receiving an email about it.
And when budgeting restraints put a cap on the number of employees her agency could send to the event, she accepted the challenge of making it happen for herself. At that point, it wasn't so much if she'd get to INBOUND, but how?
Planting the INBOUND Seed
After missing the submission window for several ticket contests, it became clear that if she wanted to attend the event, she would have to get creative.
But how did she arrive at the decision to create a GoFundMe account?
The idea hit her during lunch. Amidst usual lunch banter with a few co-workers, one mentioned how her friend was using GoFundMe to raise money for a particular cause.
It got Sullivan thinking. Could she use the same platform to get to INBOUND? After an extensive internal debate, she sat down at her desk and got to work.
"I put a lot of thought into every single world that I put on that page," she explained. Then, she published it.
And after the initial shock of hitting publish wore off, she proceeded to email the link to a handful of close friends and family, and share it on Facebook. While she assumed that the people who knew her would be her biggest supporters, she thought it wouldn't hurt to spread the word a little further.
"I went onto the INBOUND.com speaker page, and I realized that when I clicked on each presenter, there was a link to their Twitter account. That's when the wheels starting turning," she told me.
"I thought, 'Am I bold enough to do this?' And after realizing that I was already halfway there, I went for it. To be honest, I kind of blacked out for a minute -- my inbound brain turned off and I ended up tweeting to about 50 of these speakers to ask for help using the exact same message every time. It was a very bad look."
Now when you're tweeting to a group of marketers, the chances of you mass messaging them and not getting called out are slim-to-none. After a playful exchange with Marc Ensign about the importance of personalizing influencer outreach, Sullivan deleted a string of tweets and persisted with a more human, quality-over-quantity approach.
After posting a few more hopeful messages, she decided to was time to call it a night and head home. She unwound with an episode of UnPodcast in the car, but couldn't help but notice that her phone seemed to be buzzing, and buzzing, and buzzing ...
"When I got home and looked at my phone, I realized I had raised something like $700 in just a few hours. It was ridiculous," she explained enthusiastically.
Needless to say, the week that followed was a bit of a whirlwind for Sullivan.
"Jason Falls was the first big influencer to support me. He doesn't know me from a hole in the wall. I'm just like any other person in his sea of followers, yet he read something that made him take a minute to help me out," she explained.
And while Jason may have been the first INBOUND speaker to answer Sullivan's call for help, he wasn't the last. In fact, the original #GIRLBOSS, Nasty Gal Founder Sophia Amoruso, also responded rather generously.
"Not only did she donate, but she's the second largest donation on the list by a long shot. I was in shock," she said.
"It's been one thing for her to support me financially, but it's more than just that. Having the opportunity to engage with somebody that I admire so much, someone who is such a huge inspiration to me, just leaves me in awe."
Thanks to the support of Sullivan's family, friends, and new professional connections, she managed to reach her goal in less than a week's time.
She did it. She's going to INBOUND. But what will she do when she gets there?
#TorieGoesINBOUND
Once she hit her goal, Sullivan didn't waste any time before diving into the INBOUND website to explore the opportunities and sessions she'd soon have at her fingertips.
"There are only so many time slots, how could I possibly make a decision?" she joked when I asked her about which speakers she was looking forward to seeing most.
"One big thing I want to make sure that I do is attend sessions by speakers who have supported me. I really want to continue to engage with them and learn from them," she insisted.
Some of the must-see sessions on her list include: Jason Falls, Scott Stratten, Jeremy Goldman, Viveka Von Rosen, and of course, Sophia Amoruso.
Outside of meeting and engaging with her supporters, Sullivan plans on choosing sessions based on her current role in order to hone her skills.
And while her excitement was undeniable throughout the course of our discussion, I had to ask: Why INBOUND? Out of all the marketing conferences and events she could have gone after, what made INBOUND worth pursuing?
"I really trust, respect, and rely on the content I see coming from HubSpot. Not to mention, seeing all of these massive influencers, regardless of their ties to HubSpot and INBOUND, who are compelled to participate in the event was really a driving force for me to attend," she admitted.
"With this event, you're eating, breathing, and sleeping inbound. I've never had an opportunity to have such an immersive experience in terms of professional development, so this is just going to be next level. Completely."
What's Next for Torie?
Certainly Sullivan has her hands full with preparing for her trip to INBOUND this September, but that's not stopping her from continuing to remain focused on her future.
"To me, success is about creating value and making people care. I'm not driven by titles or money, I just want to feel good about what I do everyday," she explained when I asked her about her career goals.
If you ask us, Sullivan has the right idea. We're truly excited to see where her extraordinary ambition and undeniable passion take her next.
But for now, we just can't wait to see her (and you) at INBOUND.