Whenever a new app or technology is released, marketers are among the first to experiment with it -- and to start creating new content with it.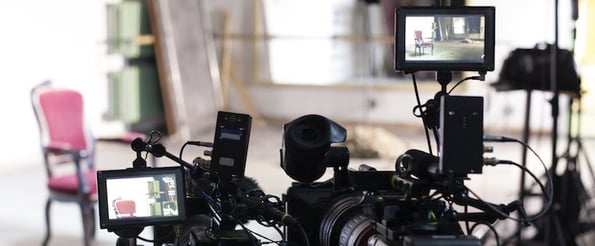 That's because marketers are constantly competing for their audience's attention -- and often by the most innovating and engaging means possible.
And right now, that means creating video content.
There's no getting around it -- marketers must create video content if they want to broaden their reach and connect with audiences across platforms -- such as on blogs, YouTube, social media, and search engines.
Video content isn't up-and-coming anymore. Audiences want to see more video content, and other marketers and publishers are creating more videos in response. In our 2017 State of Inbound report, nearly half of marketers reported they'd be investing in creating YouTube and Facebook videos in the coming year. And according to Cisco, video content will account for 69% of all consumer internet traffic by the end of this year.
Are you ready to start creating video content as part of your marketing strategy? We'll give you some ideas for videos you can film and offer up some tips for integrating them into your marketing.
20 Video Marketing Ideas to Try
Many marketers know that they need to start using video, but when it comes time to sit down and create one, they're lost for what to do. Here are a few ideas for both pre-recorded and live videos that your business could actually use.
Pre-Recorded Video Ideas
Beginner
Create short "thank you" videos from your team to new customers or customers that you upsell.
Film a screencast demo of your product.
Create an animated GIF of how to perform a function of your tool.
Film 15-second testimonials from real customers and evangelists.
Intermediate
Film extended customer testimonials and user cases.
Create longer product demonstrations and whiteboard-style instructional videos.
Do a short introduction of the company, its mission, and vision.
Advanced
Create a full product demo.
Turn blog posts into short, how-to videos and summaries.
Film longer interviews with key members of the company.
Shoot live presentations performed by company members and add in their slides in post-production.
Create videos for each of your calls-to-action (one for "call us," one for "sign up for a free trial," one for "tell your friends and get free credits," etc.).
Live Video Ideas
Beginner
Use Facebook Live or Twitter to broadcast from cool industry events you, your manager, or your CEO are attending.
Use Google Hangouts or Skype as a way to thank customers on a special occasion (one year of working together, etc.).
Intermediate
Hold a live Q&A / Ask Me Anything session with employees or visitors.
Live stream a conversation with a thought leader or influencer who is relevant to your audience.
Live stream relevant in-office events to showcase your company culture and thought leadership events.
Advanced
Show a live demo with your sales reps and include an open Q&A.
Film a live presentation with open Q&A.
Stream a "day at the office" with a company executive.
For more ideas on how to create compelling, inspiring and actionable videos, check out this article from the Digital Marketing Institute: 5 Secrets of Super Successful Video Marketing
How to Use Video into Your Marketing Strategy
So, now that you have the topics and the inspiration to create video content, you might be wondering where to use the videos. In some cases, the platform is self-evident -- Facebook Live videos have to be shared on Facebook. But you can invite people to tune in on Facebook Live broadcasts in advance -- and you can embed the recordings outside of the platform, too.
Here are a few ideas for where to use video content up and down the funnel:
1) Leverage user-generated content.
Marketers are great storytellers, but customers can sometimes be more effective. By showcasing how products can be used, user-generated content (UGC) can be more convincing -- and powerful -- than traditional marketing videos. Encourage customers and fans to create user-generated content by asking for it -- by hosting contests, giveaways, or otherwise incentivizing participation.
In the case of GoPro, its evangelists used the product to capture the content to tell a tear-inducing story of a kitten rescue, but just because your brand doesn't sell cameras doesn't mean you can't use UGC as well. Ask fans to take photos, videos, or share content on social media about how they use your products and why they love your brand -- it's more convincing than traditional advertising anyway. This content can be shared on social media platforms, on landing pages, and in marketing emails.
2) Tell customer stories.
Happy customers are your best advocates, and we use customer success stories to inspire video content here at HubSpot. Our audience learns about similar success they can achieve with our products, and we can share the content with prospects and leads in marketing emails and on our website to let our advocates speak for us.
3) Invite the online community to in-person events.
Try as we might, marketers simply can't invite our entire audience to join us for a live, in-person event. And when that happens, live broadcasting options on YouTube, Facebook, or Instagram are great opportunities to invite a broader audience to participate in an event -- virtually. Live streaming content and then reposting it on different channels is a way to make your audience happy -- and to repurpose content, too. For example, The INBOUND Studio repurposed this Facebook Live interview with actor Jeffrey Tambor on Instagram and YouTube.
4) Share behind-the-scenes looks.
Going behind-the-scenes is a neat way to give loyal fans and audience members a unique perspective on your brand personality or product. You can do this live or with ephemeral messaging on Facebook, Twitter, Instagram, or Snapchat, or you can create a pre-produced video like the one below that zeroes in on something audience members might not know much about. This content can make for great social media fodder, or you can use it to build rapport with leads and customers trying to learn more about your brand during the conversion and closing process.
5) Explain concepts and products to your audience.
They say a picture says a thousand words, and sometimes, video is the best platform to explain a concept or define a term for your audience and users. Videos like these are helpful, easy to digest, and go a long way towards helping people succeed using your product or service. Videos like Asana's below can be used on YouTube to capture search traffic there, or can live within blog posts or your company's knowledge base to help out customers.
6) Say thank you.
Saying "thank you" can go a long way, and it can even make for compelling video content. In the short and simple video below, Warby Parker provides a personalized customer service experience that makes the customer feel special, acknowledges feedback, and serves as a mini-advertisement -- since the employee is talking about making a customer happy. If you're just getting started, filming short thank you videos can foster customer loyalty and build brand awareness on YouTube.
What marketing videos are you going to start making this year? Share with us in the comments below.
Editor's Note: This post was originally published in June 2015 and has been updated for freshness, accuracy, and comprehensiveness.