We all know that words matter -- in life, but also in marketing.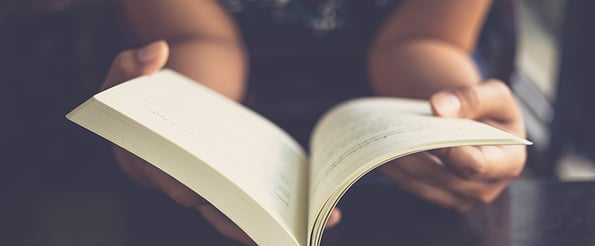 When it comes to landing page copy, many a debate have begun over which words to choose, the context in which they're used, the order they're presented in and the amount you use to convey a message.
"Shorter is always better -- no one has the attention span to read hundreds of words!"
"Longform pages get better results!"
"Use fear to persuade readers to act!
"Forget fear, pull at their heartstrings!"
The truth is, these quote-unquote best practices are the result of gut instinct and a ton of trial and error. And what works for one industry might not work for the next. So even if so-and-so does figure out the key to high-converting real estate landing pages, that same key might not unlock the full potential of your legal landing page.
I get it, you need more granular, data-backed insights to help inform your marketing copy. Hell, we need data-backed insights.
So we did a thing.
With the help of Machine Learning model and an Emotion Lexicon, Unbounce data scientists analyzed the behavior of 74,551,421 visitors to 64,284 lead generation landing pages to reveal what kind of emotional language is effective across 10 popular industries.
They looked at eight basic emotions (anger, anticipation, disgust, fear, joy, sadness, surprise and trust) and analyzed how copy associated with these emotions affected user behavior. Specifically, they looked at how language associated with these emotions correlated with the number of users who converted on a page. Not only that, they looked at how word count affected conversions -- helpful for marketers and copywriters alike.
Download the full report here, or check out some of the juicy insights below.
9 Industry-Specific Takeaways About How Emotion and Word Count Affect Conversions
1) In the Travel Industry, Keep Language Positive
Our findings showed that if even 1% of page copy evoked feelings of anger or fear, conversion rates could be up to 25% lower.
Data from The Unbounce Conversion Benchmark Report
Some of the keywords that evoke fear or anger include: "limited," "money," "hot," "desert," "endless," "challenge," "treat," "fee," "rail," "bear," "buffet," "bang," "cash" and "despair."
(I don't know about you, but limited money, hot deserts, and endless fees sure sound terrible to me.)
On the opposite side of the spectrum, words that established trust include: "enjoy," "secret," "top," "guide," "save," "personal," "spa," "policy," "provide," "star," "award," "friendly" and "recommend."
Keep in mind, though, this data was generated by an algorithm, so if you're using it as a jumping off point for optimization, use your best judgement.
2) Don't Disgust in Business Consulting
Business consultants get a bad rap. Television shows like House of Lies paint an image of the cutthroat consultant out to make a buck.
Whether or not this has any impact on conversion rates, we'll never know for sure. What we do know, however, is that you should probably avoid words associated with disgust.
Data from The Unbounce Conversion Benchmark Report
The study found that words like "blame," "cheat," "collapse," "disaster" and "offend" tend to negatively affect conversions.
Which, when you look at them together like that, is not all that surprising.
3) Fear mongering doesn't lead to more conversions (most of the time)
Words associated with fear often had a negative impact on conversions, particularly in Health, Legal and Travel.
Data from The Unbounce Conversion Benchmark Report
In Business Consulting, however, we found that filling between 1% to 2% of your copy with words that create a deep-seated sense of fear and unease can actually help conversion rates.
So, certainly don't be liberal with the scary words, but you might see improvement with a little peppering here and there.
4) Shoot for Short and Sweet Business Services Pages
When it comes to Business Services, treat your landing page like an elevator pitch and keep the copy tight and concise.
Data from The Unbounce Conversion Benchmark Report
Data showed that overall, pages with fewer than 100 words convert 50% better than those with more than 500 words.
And when you're considering words to cut or keep, keep in mind that words that evoke trust may have a positive effect on your conversion rates. The caveat? You have to be extremely trustworthy, meaning more than 8% of your language needs to imply trust -- words like "leading," "compliance," "account," "powerful" and "maintenance."
5) Spread the Joy of Higher Education
Advancing one's education is a beautiful thing, so it's no surprise that words associated with joy correlated with higher conversion rates on average in the Higher Education industry.
Data from The Unbounce Conversion Benchmark Report
Words associated with joy commonly found on Higher Education pages include "scholarship," "graduation," "share," "succeed," "success" and "excellence."
6) Trust Words Work in Some Industries ... But Not Others
Using words that subconsciously evoke feelings of trust can lead to higher conversion rates in the Travel and Business Services industries.
In Credit & Lending, however, trust words can hurt conversions:
Data from The Unbounce Conversion Benchmark Report
The study showed that words which reinforce a sense of trust should be used strategically and sparingly -- for up to 3% of your copy. Anything beyond that resulted in up to 10% lower conversion rates.
Among the common words associated with trust in Credit & Lending were "advice," "pay," "cash," "lender," "law," "fixed" and "council."
7) Keep Copy Concise in Credit & Lending
Analysis of thousands of lead generation landing pages in Credit & Lending revealed that less copy is often correlated with more conversions.
In fact, the study found that while keeping to under 400 words is good, pages below 100 words have nearly double the conversion rate.
Data from The Unbounce Conversion Benchmark Report
8) Avoid buzzwords in Business Consulting
If you work in the Business Consulting industry, you may think that words like "predict," "attainable," "achievement," "exceed" and "excel" help hype your offering, but your audience may perceive these as empty buzzwords.
The report showed that pages with more than 1.5% of copy building a sense of anticipation around the offer were correlated with pages with up to 25% lower conversion rates.
Data from The Unbounce Conversion Benchmark Report
9) Joy Isn't Always a Conversion Booster
Although joy had a positive impact on conversion rates for the Higher Education industry, having too many words associated with joy is correlated with fewer conversions in the Legal and Home Improvement industries.
Data from The Unbounce Conversion Benchmark Report
In Home Improvement in particular, the best converting pages tend to have less than 1% of their copy communicating joyful concepts. Words associated with joy for Home Improvement included sun, perfect, satisfied, money, pay, special, safe, happy and more.
Choose Your Words Wisely
When it comes to writing marketing copy that converts, no word should be selected without a purpose in mind. As you build your landing pages, make sure you're giving extra consideration to how each and every word will affect your target audience and influence conversions.
Did any of the data surprise you? Let us know in the comments!