Facebook -- namely, its CEO, Mark Zuckerberg -- has decided to change its tune on a few items in recent weeks.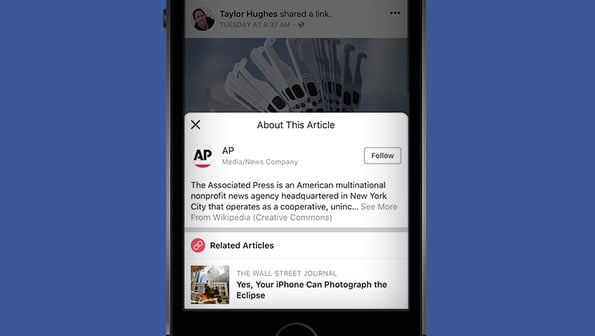 First, and perhaps most salient, was Zuckerberg's call to regulate Facebook: a move that, on the surface, came as a surprise to some -- after, roughly one year ago, he largely hemmed and hawed with resistance in response to questions from U.S. lawmakers about potential governance of the platform.
That, dear readers, deserves its own story.
This story is about a different instance of Facebook's -- nay, Zuckerberg's -- change of heart. And it's about the company's approach to and treatment of not only quality news, but also, the journalists and publishers behind it.
Zuckerberg recently said in an interview with Mathias Döpfner -- CEO of Axel Springer, one of Germany's largest publishers -- that the company is considering a future in which Facebook pays publishers what is essentially a licensing fee for "high quality news."
That's quite the contrast from from a major announcement made by Facebook last January: one where Zuckerberg proclaimed that, moving forward, the platform would overhaul its News Feed to shift the type of content users see first, and most often. The reason, according to the official statement: "So people have more opportunities to interact with the people they care about."
The News Feed algorithm change introduced last January signalled Facebook's pivot to less news and publisher content. But now, the company and Zuckerberg say, it could receive its own, dedicated section on the site, called the "news tab."
Here's a closer look at what a Facebook news tab could look like -- and the key elements of this story that we're watching the closest.
Appearances to Consider
One key question about the news tab: How and where would publisher content appear?
As Zuckerberg described it, a dedicated news tab would be built "to surface more high quality news." Some noted that it would likely come in the form of an icon on the footer of the Facebook app, much like the current Facebook Watch app.
Similar to the approach of Facebook Watch -- and other premium video content services and models -- a Facebook news tab would build on what Zuckerberg described as a potential "direct relationship" between the company and publishers, so as to make "high-quality content" accessible to users.
In fact, it was Facebook Watch that served as one of the initial introductions of a dedicated space for "high quality news" on the site, when the platform announced last June that it would fund a slate of eight news shows. (In February, however, some outlets reported that Facebook likely won't renew most of those shows.)
The Timing of It All
But Zuckerberg's more recent remarks about a dedicated space for quality journalism comes at an interesting time for news: one where thorough, accurate reporting is considered by some to be "premium content," opening a debate as to whether it should be supported by ads, or subscription revenue.
The latter monetization model -- subscriptions -- has been a particularly pointed topic since Apple unveiled its News+ platform: a news subscription service where users can subscribe to their choice of more than 300 magazines and newspapers for $9.99/month in the U.S. (or $12.99 in Canada).

Notably absent from the list of publishers on News+ are the New York Times and Washington Post: a possible byproduct of grievances aired by many outlets with Apple's "cut" of subscription revenue, which is rumored to be as high as 50%.
"To succeed, publishers need attention, data and revenue," said Josh Constine of TechCrunch shortly after the product was unveiled, "and Apple News+ gets in the way of all three."
In a way, the flaws of Apple News+ open an opportunity for Facebook.
If Facebook can provide one thing, it's arguably engagement data -- not to be confused with personally identifiable data that's led to unwanted scrutiny of the company -- and insights that provide publishers with a more detailed look at how content is performing, who's engaging with it, and when.
Layer on two additional factors:
For most people, at least in the U.S., Facebook is still the primary source of news discovery.
Facebook has been promoting its efforts to fight fake news since it was first revealed that its platform was weaponized to spread misinformation prior to the 2016 U.S. presidential election. (For context, the company announced yesterday a slate of changes to further combat the spread of misinformation on the site.)
By creating a dedicated news tab for strictly "high quality news," Facebook has the potential to achieve a number of goals.
First, it can beat Apple where publishers seem to take the most issue with the News+ program: a cut into their subscription revenue. If Facebook can pair its data insights with the licensing fees Zuckerberg says the company is considering paying publishers for this quality news content, it provides an alternative, but potentially promising, distribution model.
Second: One differentiating factor of the news tab in comparison to Facebook's other news aggregation efforts -- e.g., the News Feed, as well as the now-defunct Trending news section and Explore feed -- is the idea of enlisting human editors and curators to decide what should appear in this section.
The idea of human editors has become a bit of a novelty in the area of content curation -- one that Apple has used as a selling point in promoting its own news aggregation services. When News+ was first unveiled, Sarah Frier of Bloomberg compared Apple's approach to building a quality news distribution channel to Facebook's:
To address fake news —
Facebook:
-3rd party fact checkers
-Algorithm ranked by news trustworthiness poll
-"how to spot fake news" education
- less news in feed
- publishers in political ad database
- not being "arbiters of truth"
Apple:
-human editorshttps://t.co/hsqE5rHIcj

— Sarah Frier (@sarahfrier) June 25, 2018
Then, an article about Zuckerberg's conversation with Döpfner appeared in the Guardian with the title, "Facebook Considering Hiring Editors to Pick Quality News for Users".
By emulating the News+ model -- with added incentive for publishers -- Facebook is experimenting with new, more sustainable methods of curbing the spread of fake news.
But there's just one problem -- and it has to do with yet another recent change of heart from Mr. Zuckerberg.
Where Is News in the World of Private Messaging?
The entire idea of dedicating a section of Facebook to high-quality news only somewhat strays from other recent remarks from Zuckerberg: a vision for (eventually) pivoting Facebook -- and its portfolio of companies, including Instagram and WhatsApp -- to a "private, encrypted services" platform, with a specific focus on messaging.
This raises another question: If Facebook pivots completely to messaging, what is the role of news on the platform?
Greg Galant -- CEO of Muck Rack, a platform that connects journalists with sources -- believes that if Facebook wants to succeed as both a quality news aggregator and a private messaging platform, it will have to find a way to make these two products work in tandem.
"Apps like Signal, Telegram and WhatsApp are increasingly popular among journalists for interacting with sources and each other. Facebook could find success in both private messaging and the [news tab] because of this," Galant explains. "Messaging apps have emerged as the fastest growing force for news sharing, with peer-to-peer sharing functioning as a mechanism to cut through the noise of traditional social media, while also resulting in more frequent secondhand news recounting."
But WhatsApp -- an end-to-end encryption platform that Facebook acquired in 2014 -- is already dealing with a host of issues from the spread of fake news on its platform, which have sometimes resulted in brutal violence.
"Zuckerberg built a service used by over a billion people. Surely he can add a news tab, but it will only work if it's a top priority."

- Greg Galant, CEO of Muck Rack
So is it truly possible for Facebook to do both: to serve as both a source of human-curated, high-quality news, act as a friend to publishers, and curb the spread of fake news -- while also maintaining a guaranteed encrypted messaging platform?
In the end, Facebook -- and Zuckerberg -- may have to choose just one of these two directions and, in order for it to succeed, make it a priority above all else.
"If Zuckerberg truly believes in this push into high quality news and makes it his top priority, I'd be hesitant to bet against Facebook," says Galant. "Zuckerberg built a service used by over a billion people. Surely he can add a news tab, but it will only work if it's a top priority."
Another priority for Facebook, Galant notes, should be to rebuild trust in its platform and how the company operates -- among consumers and journalists alike.
"Facebook needs to shift from being viewed as the usurper of journalism's ad revenue to being an ally of journalists [and] needs a productive relationship with publishers more than Apple does," Galant says. "Even if Facebook loses money in their news ventures, it'd be worth it for them to improve their image."
Featured image source: Facebook