As a legally blind person who's held roles that involve editing, design, and highly visual tasks, I thought I had it easier than a lot of other visually impaired people in my field.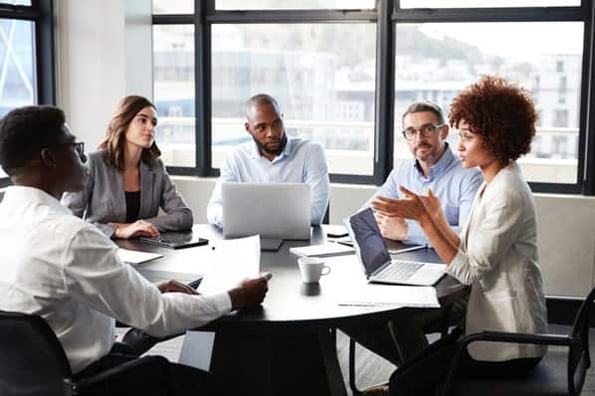 I'd never been blatantly discriminated against or felt like I didn't receive an offer due to my vision. In fact, I've been lucky enough to work on teams run by women or diverse leaders.
However, as I got older, I realized that I hadn't completely evaded misjudgments related to my eyesight. While I've had a handful of great experiences, I've run into a few subtle job interview scenarios that seem more and more unacceptable each time I reflect on them.
In my first job search after college, I realized that disclosing my blindness would always result in a look of concern or an incredibly awkward series of questions from a hiring manager. Many of these questions didn't even have to do with the job role I was interviewing for.
Sometimes, an interviewer would try to hide a look of concern. Then, they'd make things even more awkward by trying to relate to me with statements like, "My second cousin is blind too! I should ask her what she has."
Ultimately, I followed my instincts and didn't work for any of these people. However, even after I built a list of glowing recommendations from past employers, those uncomfortable interview memories stuck with me.
Because of how these experiences, I felt like I had to give certain prospective companies a "fluffier" description of my sight to protect myself against any possibility of job discrimination.
For example, if a hiring manager noticed my low vision, I'd say, "I'm just visually impaired" or "I'm super nearsighted." If I didn't think they could tell, I'd say nothing about it until I was handed an offer. Even when filling out anonymous self-identification forms on job applications, I'd always decline to check the "disabled" box.
It wasn't until I learned more about self-advocacy and workplace inclusion that I realized that some of the interview experiences I had weren't okay. And, by following my gut instinct of not working for employers that made me feel uncomfortable during the interview process, I ended up working for employers that accepted and empowered me.
Today, I work at HubSpot, a company that heavily invests heavily in diversity and inclusion. Because my organization is always taking steps to make everyone feel a sense of belonging, I find it much easier to open up about my own differences.
But, as I've learned, most companies aren't as forward-thinking as HubSpot. And the sad reality is, people like me still do feel that they need to protect themselves from job discrimination.
Although my negative workplace experiences have been light, I personally know plenty of people who've dealt with something worse due to a disability, cultural background, or gender identity.
In fact, three in five people have experienced or witnessed workplace discrimination.
Scary right?
This is why businesses need to invest in diversity and inclusion.
Diversity and inclusion isn't just a strategy that helps managers keep employees feeling psychologically safe. Embracing diverse backgrounds also opens the door to better problem solving and innovative ideas.
In fact, diversity is so important to innovation that HubSpot's CTO Dharmesh Shah took the main stage at INBOUND 2019 to make the case for it.
In his speech, Shah told the story of YouTube's early days. When the platform first launched its app, they realized that 10% of users were uploading horizontal videos upside-down.
Upon further research, YouTube's team realized that 10% of the population was left-handed. When these left-handed users filmed videos from their own perspective, they held the phone in the opposite way that the average right-handed users would. As it turns out, there were no left-handed people on the app's early team to point out this UX issue before the launch.
When the app feature was fixed to include left-handed tilts, the user experience was better for all possible users.
The moral of the story?
"Magic happens when different but complementary people intersect," says Shah.
When you have diverse people and perspectives on your team, your product will benefit. This is because there's a greater likelihood that someone with different experiences will pitch a great idea that you haven't even thought of yet.
But achieving success with diversity and inclusion isn't just about hiring someone who identifies as different and speaking to them in a politically correct way. It's about looking at talent for their accomplishments, recognizing how their differences can help you, and creating a culture that encourages your employees to similarly embrace diversity.
If you're aiming to truly embrace your team's unique qualities in 2020, here are 25 stats to know about the state of workplace diversity, how it benefits companies, and where companies are still falling behind.
25 Stats About Diversity in the Workplace
General Stats
How Diversity Improves the Workplace
Improvements in Workplace Diversity
Where Workplaces are Lacking
Embracing Diversity in the Workplace and Beyond
As you can see, embracing diversity can provide numerous benefits to your company. And while diversity and inclusion still have a long way to go in the workplace, your company shouldn't stop there. Inclusion should span every aspect of your company, from your people operations to your marketing campaigns.
To learn more about how to cultivate an inclusive work environment, check out this helpful blog post. If you want to take things further by embracing diversity in your marketing, here's a rundown of seven brands that nailed inclusive marketing.
Want to learn more about the benefits of diversity? Click here.