Since launching The Growth Show podcast in February 2015, we've been fortunate to land interviews with some really busy people, including executives of billion-dollar businesses and founders on the cusp of building the next big thing.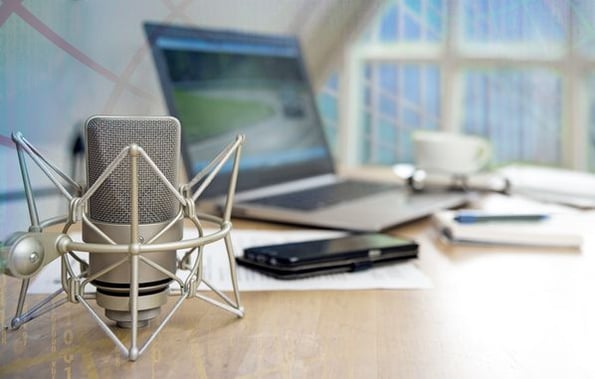 For some of them, we had an "in." Somebody knew somebody else and happily made the introduction.
But we weren't so lucky with some of the other guests. We wanted to get in touch, but didn't have mutual connections. So I'd send them an email -- targeted, relevant to their interests, and completely custom, but still the first email I had ever sent them. In most situations, this is called a cold email. And somehow, among all of the other pitches they get for podcast interviews, speaking engagements, and business consulting, these guests noticed my emails in their inbox and actually responded.
What Is a Cold Email?
There isn't a set formula for the perfect pitch-based email. In fact, cold emails -- messages that are sent to many recipients without any previous relationship or conversation with them -- are widely discouraged in the marketing industry. And if you send commercial emails to recipients living in Europe, the General Data Protection Regulation (GDPR) requires that your contacts opt in to the message before receiving it.
So how did I manage to get a response from the guests I wanted to host on our podcast?
Although the emails I sent did serve to help develop our brand, media relations follows a slightly different etiquette than your average email marketing campaign when communicating to the brands you want to work with. See the bullet points below to get a general sense of that etiquette:
Pitch an idea, not a subscription.
Address one person, not dozens.
If there's something in it for both parties, you're more likely to get a response.
It's true. Some of our show's desired guests employ PR reps whose job is to manage the type of outreach I was sending.
My experience contacting potential podcast guests doesn't mean you have to be a member of the press to send an email to someone you've never met. However, it does mean you need to be careful with whom at a company you reach out to, what your message is offering them, and how you landed their email address in the first place.
Below are a few things you can do to give yourself the best chance at getting a response. This advice will help you whether you are trying to find a guest for your podcast, network with a member of your industry, or even pitch a local reporter to get some solid earned media attention.
How to Write a Cold Email That Isn't Actually Cold
HubSpot customers: It is against HubSpot's Acceptable Use Policy to email multiple sales or marketing leads, with whom you've had no prior conversation (also known as "cold emails"), when creating email sequences through a HubSpot product. The following information is meant to educate readers on improving their pitches, introductions, and similar one-on-one email conversations -- especially in the media relations space -- such that these emails do not conflict with the GDPR and anti-spam regulations around the world.
Avoid the Classic Cold Email Subject Line
You could spend an entire day writing the best email body copy known to man, but if no one opens the email, your efforts will go to waste.
To make sure that doesn't happen, you need a compelling subject line. This advice might sound obvious, yet there are still so many poorly written subject lines. Just open up your inbox and see how many emails are in there that you'll never read. You can only get so many subject lines like, "The leading cloud-based software in hyper-local social media marketing."
So, how do you write a good subject line? Figure out what you are ultimately trying to say and then boil down that request to five to seven words. Once you get to those five to seven words, make sure those words speak to the interests of your recipient and clearly communicate what you'd like from that email exchange. Here are a few more guidelines to ensure your subject lines entice someone to open.
One of my favorite ways to get someone's attention is to put their name in the subject line. For example: "Brandee -- having you on HubSpot's podcast" or "Chris -- source for your article on marketing trends." I use this every time I conduct media outreach.
Make It Clear Why You're Reaching Out to Them Specifically
Here's how most cold email outreach is done: Write a pitch, copy, paste, send, repeat (and maybe change the greeting to really spice things up).
You might've gotten these types of emails before from sales reps -- isn't it annoying?
Your recipient has gotten them, too. To avoid the typical irritations of cold email, you need to make it clear why you're reaching out to them specifically. Adam Grant, a professor at Wharton and author of Give and Take, talks about how when people feel they have nothing unique to contribute, they will feel very little responsibility to help.
So, when writing a message for media relations or a similar effort, warm it up so it doesn't sound like an annoying cold email. Don't just make it clear why you're reaching out -- make it clear why you're reaching out to them. The best pitches highlight what specifically drew you to that particular person. Using the example of reaching out for a podcast: Add a sentence or two about how specifically that person's work would be a great fit with your audience and why.
Showing that you did your homework isn't just important because you need to be relevant, but it also shows that you put some time and effort into reaching out. This is one of the easiest ways to show that your email isn't just another canned message from a sales rep or a PR pro.
Use Social Proof and Point to Results
Adding in a little social proof and some high-level stats to your pitch will take your homework from a B- to the top of the class.
If you've interviewed a colleague of your desired contact or spoken to someone they know, include that in your pitch (in sales, this could be a case study or a local customer reference). This also works if you've interviewed someone that they would consider a peer or competitor. The chances of you landing the CEO of Nike, for example, would dramatically increase if you could tell their PR team that you just finished an interview with the CEO of Adidas.
If you have the numbers to back up what you're pitching, include those as well. Would you rather be on a podcast that 100 people were going to listen to, or 100,000?
Keep It Short, Simple, and Written Like a Human
Everyone is busy and their inbox is already full. Don't make things worse. Try and keep your email short, sweet, and to the point. In media relations, this is all the more important -- you need to ensure your message sticks out among the rest of the press pitches they get. Would you read a five-paragraph essay from someone that you've never talked to before? Probably not.
One of the best ways to keep things short and sweet is to write like a human. If you saw this person out in public and had to walk up and say hi, how would you start your conversation? You wouldn't jump right into your pitch. Most likely you'd start with something like "Hey Emily, I'm Dave. I read your column every week and love how you're focused on startups in Boston. I wanted to talk to you about my company because ___." Writing your email like you were talking to someone in real life makes it feel much more approachable and relevant.
There isn't a formula for writing an email to someone you've never spoken to before, but using the tips above can help you make a better impression and hopefully earn a response from your recipient.
Nailing your pitch to potential guests is just one part of getting your podcast off the ground. Want help with the rest of the process? Here's everything you need to know about starting a podcast.