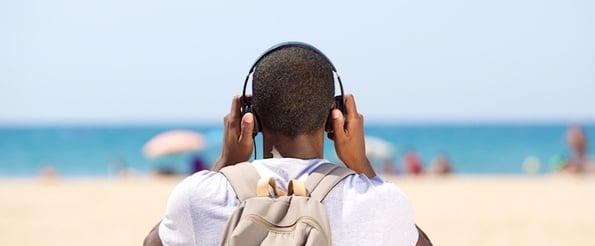 You know the feeling: You get to work ready to take on the world, put in a few good hours, then break for lunch. And as soon as you get back to your desk, the afternoon slump hits.
We've all been there -- that moment you sit down and realize that you just don't want to do anything. It's a pretty crappy feeling, and if you let yourself succumb to the doom and gloom it's easy to dig yourself into a hole you can't climb out of.
That's where music comes in. Music is scientifically proven to affect your mood and productivity, and while taking a vacation or a midday nap might do more for your state of mind than a song, we know it's not always possible to do so. So pull out a pair of headphones and jam out to the 16 tunes below to get your afternoon back on track.
1) "Unstoppable" -- Sia
Fresh off her newest album, this power jam from Sia will make you feel unstoppable too.
2) "Wake Up" -- Arcade Fire
If I had a walkup song, this would be it. I hope it kickstarts your days as much as it's helped mine.
3) "Lose Yourself" -- Eminem
This song is an absolute classic for a reason. Approach every day like Eminem does in this song and you'll never let yourself futz around at your desk again.
4) "Roses" -- The Chainsmokers, ROZES
Sometimes all you need to get energized is a really good drop.
5) "My Shot" -- Original Broadway Cast of Hamilton
The third song from this year's hottest musical, "My Shot" is founding father Alexander Hamilton's self-introduction to his relentless work ethic and ambition. Channel a little of this energy the next time you want to give up and go home.
6) "Sun Is Shining" -- Axwell /\ Ingrosso
This feel-good track from two powerhouse Swedish DJs is guaranteed to make you feel better about yourself and your day.
7) "Nothing's Gonna Stop Us Now" -- Starship
Dealing with rude prospects and mean managers? Let Starship build you back up.
8) "Stronger" -- Kanye West
"That that don't kill me can only make me stronger." It's like this song was written for salespeople.
9) "Started From the Bottom" -- Drake
Languishing in the business development ranks or just starting over at a new job? This one's for you.
10) "I'm Shipping Up to Boston" -- Dropkick Murphys
Okay, so this one has literally nothing to do with sales. But I'd argue "I'm Shipping Up to Boston" probably has one of the top-five greatest opening riffs of all time.
11) "Baba O'Riley" -- The Who
Also on that top-five list? This classic.
12) "Here I Go Again" -- Whitesnake
Sales can be a lonely endeavor -- after all, the buck starts and stops with you. But going it alone is a little better with Whitesnake providing a soundtrack.
13) "Carry on Wayward Son" -- Kansas
This song is actually pretty dark if you listen to the lyrics closely (it might be about the afterlife?), but don't worry about that. Just focus on the rollicking solos throughout.
14) "Let's Go" -- Calvin Harris, Ne-Yo
If there was ever a song written to get you to stop making excuses and get on the phones, this one's it.
15) "Anna Sun" -- Walk the Moon
Infectiously fun and upbeat, take a five-minute break to absorb this song's optimism through osmosis.
16) "Holdin On" -- Flume
Just hold on. No matter how bad your afternoon slump, you'll get to go home in a few hours and start a new day fresh.
Like these songs? Listen to the whole playlist on Spotify below.