Generating new leads is a big priority for B2B salespeople. In fact, many companies exist for the sole purpose of sourcing leads — and not just any leads but qualified leads actively in the market for your product or service.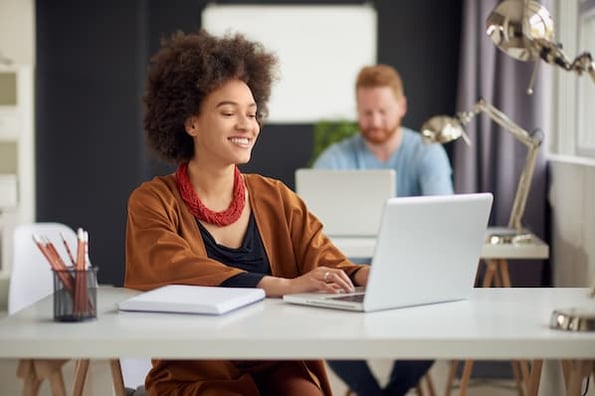 Here, I'll share how sourcing leads from existing reply emails can grow your list of best-fit leads. I'll also share how automating this prospecting process gives you an even bigger competitive edge.
Lead Sourcing 101: A Crash Course
If you're unfamiliar with the term "lead sourcing" or "email mining" you're probably at least familiar with the concept. In the context of this article, lead sourcing is the process of reviewing replies (both human and automated) to your email campaigns and looking for new and updated lead or account data.
These replies often contain new, alternate, or replacement contacts, titles, phone numbers, and other valuable data you didn't previously have. The most common type of auto-responses includes:
Out-Of-Office
Left-the-Company
Change of name/email address
Let's see lead sourcing in action with a typical "Out-Of-Office" reply, which accounts for 87% of all auto-responses:
By mining this single reply, we uncover:
Mark's title
Mark's cell phone number
New contact: Stephanie's title, email & phone number
New contact: Bruce's title, email & phone number
Mark's return to office date
That's loads of good information, plus two net new contacts from just one reply. And this situation is far from an anomaly; on average, more than half of all "Out-Of-Office" replies contain an alternate contact.
What does that mean for your list building efforts? Consistently mining the replies to your email campaigns can yield 20% or more net new contacts annually.
7 Reasons to Mine Auto-Replies For List Building
It's not just the sheer number of contacts added each year that matters, when list building. It's also important to consider the quality of the new leads and information — and this is where using auto-responses to your existing email campaigns really gives you an edge. Here's how:
1. Discover best-fit leads in target accounts
One of the strongest reasons to build your database from campaign replies is that new leads you discover are "best-fit" leads. They are generated directly from within your target accounts — from the exact companies you're already engaging with and trying to expand into.
When you discover best-fit leads from email replies, they could be the very key influencers, gatekeepers, and the decision makers you want to get in front of.
2. Prevent database decay
In sales, one of the most frustrating things you'll encounter is when you attempt to contact a lead only to find the information in your database is bad. Unfortunately, this is pretty common when you take into account that today's B2B databases decay at an incredible 70% annually.
Consider that when you pay for a lead list, that list is nothing but a flash report from … you guessed it … a database. By its nature, the second you get a list of leads, you're already dealing with old data.
In contrast, information from campaign replies is as fresh as it gets. When a "Left-the-Company" reply hits your inbox, you know your old lead should be deleted and the replacement lead added.
When you find a new phone number in an "Out-Of-Office," you know it's the best number for your lead as they just put it in their OOO a few days ago.
3. Increase connect rates
"Out-Of-Office" replies nearly always contain a return date. This information is an excellent way to set an appropriate time to contact the lead regarding your campaign. Set a date for a follow-up call or email one or two days after your lead.
At this point, they should have seen your initial campaign emails and be ready to discuss your offer. If the auto-response contained information about their whereabouts (vacation, seminar, etc.), you can use it as a topic to open the conversation if appropriate. For example, "Welcome back from Bali! What an incredible place. I can only imagine that's making it 10X more difficult to get back to work. My name is …".
4. Automate email mining to save time and amplify results
It's pretty clear that in terms of the quality of leads and accuracy of data, email sourcing is a superior way to build your email list. However, the manual review of every single campaign reply and data entry into your CRM can be tedious, time consuming, and laden with human error. The solution is an automated reply email sourcing service that can help you realize all of these benefits without losing time to manual review.
5. Give more time back to your reps
I recently spoke with a prospect that told me her company gathers all of the sales development representatives at 3:00 PM every day to review auto-replies. Each team member manually reviews their auto-replies, identifies the valuable information, and enters it into their CRM. This company devotes 25% of the sales team's time to leveraging the powerful data in replies.
The more efficient solution is an automated reply email sourcing service that runs seamlessly in the background without interrupting your regular course of business. It analyzes campaign replies to identify new contacts, clients who have left the company, and any data changes within the client record (titles, phone numbers, etc.).
Best of all, the data is automatically and instantly entered into your CRM. This effectively frees up to three hours of your salesperson's day so they can spend more time on what matters most: selling.
6. Instantly route human replies and cleanup your inbox
If you have a lot of contacts in your database, replies to your email campaigns can quickly create a disorganized mess in your shared inbox.
Aside from the challenge of the sheer number of replies, there's nothing to differentiate a standard "Out-Of-Office" reply from a human reply from a decision maker. This is where automation comes in.
An automated reply email sourcing service will automatically identify, sort, and file each reply by type into nice, tidy folders in your shared inbox. In addition, human replies are automatically routed directly to the lead owner's inbox for immediate attention.
By eliminating the manual review and forwarding process, your sales reps can respond to human replies instantly and gain a timing advantage over competitors.
7. Identify valuable sales trigger events
In sales, we know that certain types of replies merit immediate action. Highest priority replies include human replies (described above) as well as "Left-the-Company" (LTC) replies. LTC replies should trigger a conversation with the new contact, as well as research where your former contact landed.
Because an automated email sourcing service sorts replies by type, all of the LTC emails will be in one folder, so you can easily prioritize your actions. Again, by immediately identifying and acting on an LTC, you can be the first one in front of the new contact, gaining a significant edge over your competition.
The Automated Bird Gets The Worm
Now you've seen how automated reply email mining can grow your lead list, improve your database health, clean up your inbox, and instantly prioritize human replies for you. But hopefully you've noticed another trend that automation provides — timing against your competitors.
Ultimately, when you cut out the time needed for manual reply review, the manual data entry into your CRM, and the dependence on a middle man to manually forward human replies, what you get is a system that sets you up to reach new or interested leads first, before your competitors.