If you associate craft chocolate with long beards, serious stares, and masculine aesthetics, you aren't alone -- especially if you were part of the chocolate industry in 2002, like Jean Thompson was.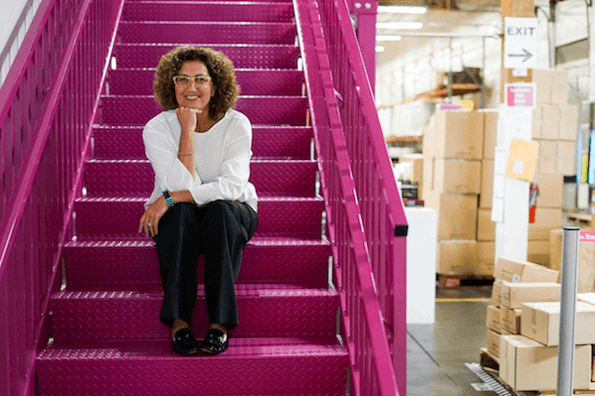 In 1991, Thompson left a career with Microsoft to become a stay-at-home mother for nearly a decade. But an investment, earthquake, and lifelong passion for chocolate moved her to reenter the workforce and step in as CEO of Seattle Chocolate.
In the nearly two decades since, Thompson has worked to rebuild Seattle Chocolate as a primarily women-run business focused on their local community, creative marketing, and the idea that sometimes a spreadsheet is no match for intuition, good design, and a great product.
"What's this housewife going to do to help the company?"
When asked what made her decide to return to work, Thompson said, "I've lived through the female empowerment movement and the choice that came out of that movement. I was a single working person, then a stay-at-home mother, and now I'm a working mom." She continues, "It's given me a lot of perspective about the choices available to women today."
During her time as a stay-at-home mother of two, Thompson became an investor in Seattle Chocolate. Throughout their early years, they struggled, and the 2001 Seattle earthquake meant the factory had to be rebuilt from the bottom up.
"I went back to Seattle Chocolate because, at that point, I owned it and it was failing. I knew it had potential and I believed in the product. I started off working as a member of the Sales and Marketing team, but when the CEO quit six weeks into my tenure, I had to make a decision: hire a new CEO or step into the role myself. I chose the latter."
So, how does a first-time CEO teach herself how to run a company? "The first thing I did was to go around the office speaking with people. I firmly believe a good leader must listen and learn how to trust and delegate. I took on the position knowing I needed to identify a better way of doing things."
While this might seem daunting to some, Thompson remembers, "I approached every day one decision and one crisis at a time. That's how the first few years went."
On-the-ground learning worked well for Thompson. Once she had a few years of experience in the role, she also benefited from taking ad hoc collegiate courses on operations and financials. "The more I know, the better I can hold the experts who work for me accountable," she explains. Thompson has also lined up a few mentors, "Women who run large, successful companies who can help me during this growth phase."
While she's enjoyed many early successes, there were challenges as well. The biggest? A lack of faith. "I had 25 employees and heard comments like, 'What's this housewife going to do to help the company?'" Instead of feeling overwhelmed, Thompson remembers, "That was rocket fuel for me.
I immediately closed a deal no one thought we had a chance at. When I called an all-company meeting to make the announcement, everyone thought I was shutting the business down.
Instead, it was a turning point that showed our staff I was eager to stay and succeed." She moved forward by working with each department individually to reorganize and re-staff.
Turning Chocolate into a Cure for Hunger
Part of refocusing Seattle Chocolate as a business was to define a strong mission -- and execute on it. "We knew we wanted to help the Seattle community but weren't sure how. We settled on hunger."
Thompson continues, "Chocolate's a community food that's often shared. But it's not a food you must have. One out of every six Americans is food challenged, so we created the chocolate brand, jcoco, to help."
They partnered with local food banks in New York City, San Francisco, and Seattle, so all proceeds from the jcoco brand give people access to healthier food. To date, they've provided 3 million food servings with an eye on an eventual 10 million.
Thompson even got the mayor to declare December first "Chocolate Gives Day." Now, every year, the proceeds from all chocolate purchased that day go to local food banks.
The Sticky and Sweet of Taking Creative Risks
While they've clearly created a name for themselves in Seattle, where does Thompson's company stand in the broader competitive space? "Everyone drawn to work here is open to creative ideas," she explains. "We thrive on brainstorms and creative expression, and we tend to overspend on design. But it sets us apart."
For example, the company recently completed a rebrand. Historically, chocolate brands have tended towards earth tones and neutrals. Seattle Chocolate partnered with artists to create vibrant and completely unique packaging for each of their bars.
The result was something retailers were drawn to. "Our chocolates dressed up their shelves and made our offering pop," Thompson says proudly.
Cutting-edge design has been a passion of Thompson's since her first days with the company. She quickly identified and questioned why their product wasn't selling to women. The answer was simple: previous leadership hadn't understood how to merchandise to women.
"I had fun with bright colors, pop-art, and uniquely feminine branding. When I met with large retailers to pitch our chocolates, they were very interested in hearing what I had to say and why I thought it would sell. The chocolate market is a big one, and I knew how to reach a huge audience segment within that market. It was important to communicate that women weren't just waiting for men to bring home chocolates for them."
The company has also found success with Bing advertising. Bing's target audience aligns well with Seattle Chocolate's audience, which allows them to reach just the right person with every dollar spent. In fact, Bing's ads have outperformed those on Google for each of the company's last two campaigns.
While daring designs and creative advertising have often led to big wins for the company, Thompson is candid about moments when risks haven't paid dividends. "I closed a deal with a national retailer but thought what they were going to charge for freighting was outrageous. I figured I could do it cheaper, so I bought two semis ... and immediately realized this was a much bigger task than I'd anticipated. I had to admit I couldn't do it better. Sometimes you really do need specialists."
Retail hasn't always been an easy win for the company. Thompson recalls hiring a VP of sales who thought fast growth was the only measure of success. "He sold bars quickly, but he did it by offering heavy discounts. It was more than we could afford, and we couldn't produce enough chocolate to fill his orders."
She recalls the company swelling to three-times their size and losing a lot of money in the process. "We just didn't have the infrastructure necessary to meet the demand. I had to hire people too quickly and the cashflow to support that growth wasn't there."
Thompson learned the importance of selling to retailers at the right time -- and of letting executives go who didn't support her company vision. "He wanted to grow fast and flip Seattle Chocolate. I didn't agree."
The Secret Ingredient
So, what's really behind Seattle Chocolate's meteoric rise? Thompson's answer is quick: "Hiring the right people is so important. I like smart people. But it's more than that, you must have aligned values."
Thompson also touts the benefits of hiring millennials. "They are my rocket fuel. If they agree with your giving mission, your approach to philanthropy, and how you treat people, they'll love working for you."
She says, "Understanding the people component is the most important part of running a successful business. You can coach performance issues, but you can't coach a good attitude or negative energy."
When asked what advice she has for other entrepreneurs stepping into similar roles, Thompson says, "Trust your instincts. I read the book 'Blink: The Power of Thinking without Thinking' and it's all about trusting your gut -- do that and you'll always do the right thing. There's nothing wrong with ignoring the occasional spreadsheet and going with what you think and feel, instead."
I'd like to think she also meant to add, "And always eat your daily serving of chocolate."
Want to learn more about becoming a successful entrepreneur? Check out this article. For more on Bing Ads, click here.