If you sell, bots are your new best friends.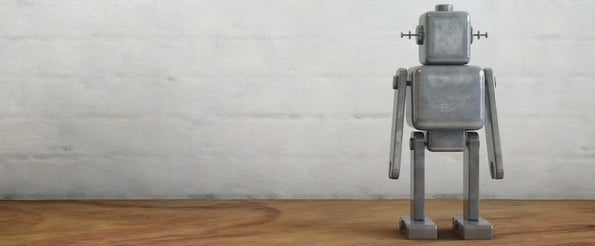 Why? Because time is your most precious resource. The more time you spend on manual tasks, like researching prospects or creating personal sales reports, the less time you have for selling activities, like prospecting or following up with buyers.
Bots can handle these administrative chores for you. It's like having an army of personal assistants living inside your favorite chat platforms, ready to help you out at any time.
Here are the best 16 bots for sales professionals.
Best Bots for People Who Work in Sales
Chorus
Attentive
Invoiced
Leadsync
Donewell
TechCrunch
Growthbot
Hipmunk
To-do bot
Google Calendar
Uber
Lyft
Poncho
Mosaic
M
Troops
Purpose: Sales insights
Platform: Slack
Chorus.ai records, transcribes, and summarizes your sales calls, so you can instantly see key moments, action items, and KPIs like your talk-to-listen ratio and question count.
The Slack bot makes this tool even more useful. Once you've connected Chorus.ai to Slack, you can share specific clips from your calls with your team. If you want the bot to automatically share specific moments -- like any time you discuss pricing, an opportunity is at risk, or there's upsell potential -- you can set that as well.
The daily digest keeps you up-to-date with your team's important calls, your own call log, and highlights.
Purpose: Lead intelligence
Platform: Slack
You need to know when your prospect's situation has changed right away -- not next week, next month, or next quarter. After all, the deal often goes to the first salesperson to reach out.
Attentive is one of my favorite solutions for getting real-time updates on leads. With this bot, you can follow companies or people and get notifications in the app for trigger events. They've received funding, launched a new product, or made a key hire? You'll have a meeting in the books before your competition even knows what happened.
Purpose: Payment
Platform: Slack
I don't know about your sales team, but at HubSpot, it's always a celebration when the customer sends the signed contract. Most reps try to avoid counting a deal as "won" before this moment -- they've been burned too many times.
With the Invoiced bot for Slack, payment updates will go automatically to your Slack team's Invoiced channel. And if you'd like, you can also have automatic updates for new customers, invoices viewed, and more.
Purpose: Lead updates
Platform: Slack
Do you use Facebook Lead ads? Connect the Leadsync bot to your Facebook ads account, pick which channel you'd like to receive the updates in, then watch your leads roll in. You can call or email them without skipping a beat.
Purpose: Sales insights
Platform: Slack
Donewell is an easy-to-use tool that layers over your CRM to help you set sales goals, choose the right metrics, and measure progress.
The bot lets you create customized reports, goals, and challenges within Slack using your CRM data. You can also schedule notifications for any channel or user; for example, you could request a weekly "meetings booked" report for a rep who's struggling to hit her meetings quota or a monthly "new business" report for your entire team.
Purpose: News
Platforms: Facebook Messenger
TechCrunch's Messenger bot helps you stay informed on your industry, improving your conversations with prospects and ensuring you never miss an important development.
Subscribe to different topics, authors, or sections of the site. Once a day, the bot will send you an update with all the stories you're interested in. You can also ask questions, such as, "What is Google Pixel 2?"
Purpose: Productivity and entertainment
Platforms: Facebook Messenger, Slack, Twitter direct messages
Growthbot, a bot created by HubSpot cofounder Dharmesh Shah, is like a sidekick for marketers and salespeople. It connects to HubSpot, Google Analytics, and other databases to give you instant answers.
You can ask questions like, "What are top articles on [topic]?", "Company overview for [website]", and "What software does [website] use?"
Even better for salespeople, you can look up emails for specific prospects and find potential customers by searching "Show me [type of company] in [location]."
Purpose: Travel
Platforms: Facebook Messenger, Skype, Slack, Email, Google Calendar
Whether you're traveling to client meetings, conferences, or simply trying to get a break from the go-go-go of sales, Hipmunk's travel bot will be a big help.
Describe the type of flight you're looking for -- including non-stop, which airlines you prefer, how cost-sensitive you are, and where you'd like to arrive and depart from -- and Hipmunk will find you the best options.
It'll even help you plan a trip, from location and travel dates to category (think "foodie," "adventure," etc.)
Purpose: Task management
Platforms: Slack, HipChat, Cisco Spark, Skype
If you have a hard time staying on top of your tasks -- or you spend valuable minutes every day creating, editing, or updating your to-do list -- this bot will be a lifesaver.

Once you've connected it to your chat platform of choice, you can create new tasks, edit existing ones, set task deadlines and reminders, mark items as complete, and assign tasks to someone else (like your BDR, sales manager, fellow salesperson, or AE). And that's all without leaving your chat tool. It doesn't get more convenient than that.
Purpose: Productivity
Platform: Slack
Simply looking for a bot that'll help you stay on top of your schedule? This Google Calendar bot for Slack does the trick.
It posts reminders before an event, summaries of the day's and week's events, and notifications when an event has been updated. Your entire team will benefit.
Purpose: Transportation
Platforms: Facebook Messenger, Telegram, Slack
Sales professionals who use Uber once per week or more should take full advantage of this bot. It does everything the Uber app on your phone does, but with greater efficiency and speed.
Request a ride, get status updates, and see your ride receipts (shown in a private message). When you're running late for a work meeting, share your trip with coworkers via Messenger so they'll have a real-time estimate of your arrival.
Purpose: Transportation
Platforms: Slack
Lyft users can also experience the productivity benefits of hailing their ride from an app. With Lyft's Slack bot, simply type "/Lyft [pickup address] to [drop off address]" to request a ride.
In addition, get updates on your driver's ETA, use "/gohome" or "/gotowork" to go to your default addresses, and request different types of rides, like a Line or Plus.
Purpose: Weather
Platform: Facebook Messenger, Slack, Kik, Viber
Poncho's bot sends you weather updates every morning and evening, so you're always prepared and wearing the right outfit. You'll also receive alerts for severe weather and rain.
If you're a runner, just let Poncho know -- the bot can even help you find the optimal time to go for a jog.
And when you need a quick pick-me-up, just type "jokes."
Purpose: Productivity
Platform: Facebook Messenger, Slack, Amazon Echo, SMS
Mosaic is like a personal assistant making your day a little more seamless. Send your requests via Facebook Messenger or Slack, and the bot will use AI to process your commands and follow through.
You can tell Mosaic you want to know your schedule for the day, and it will check your Google Calendar and let you know what you have planned. Or you can write "good morning" to turn on your Phillips Hue or Lifx lights, increase the temperature of your home using your Nest thermostat, and get the day's weather forecast and traffic conditions.
Right now, Mosaic is most useful if you have multiple smart devices. But the creators are continually rolling out new features -- so in the future, it'll be handy for the average person.
15) M
Purpose: Productivity
Platform: Facebook Messenger
M is Facebook's AI assistant available in both English and Spanish. If you use Messenger, you already have access to M -- the bot's suggestions show up when you're having a conversation and it finds an opportunity to help.
The list of suggestions is constantly growing. As of now, M can suggest:
Initiating a voice or video call
Requesting or sending a payment
Getting a ride
Making a plan
Creating a poll
Choosing a "quick response"
Sending URLs, videos, pages, stickers, GIFs, and movies
Sharing your location
Setting reminders
As a salesperson, the first two are probably the most useful. Talk to your prospects on Facebook Messenger. When they express interest in a call, use M's video call suggestion to speak right then, while the iron is hot.
Once you've closed the deal, M's payment suggestion makes getting paid quick and hassle-free.
Purpose: Productivity
Platform: Slack
Build intelligent Salesforce reports, use their workflow builder, enjoy pipeline automation, and make the most of meeting workflow when you use this Salesforce-meets-Slack tool.
Catch stuck deals by receiving alerts when deals are going stale. Respond to leads faster by routing and assigning leads in Slack in real-time.
Get automatic notifications of critical deal chances, and discuss next steps to coach reps in closing and progressing deals. And log meetings through Slack prompts by integrating your calendar to receive timely workflows for logging calls and updating Salesforce.
At the end of the day, Troops helps you drive revenue and achieve CRM excellence. Sound like something you're interested in? Give them a try.